CityNews – On 27th December 2010, a 16-year-old Orachorn "Praewa" Thephasadin Na Ayudhya drove her Honda Civic into the back of a van on the elevated Don Muang highway in Bangkok. The van tumbled over the safety barrier at the edge of the road and passengers were violently thrown from the vehicle, which landed on the concrete several metres below the road above. Nine people lost their lives that night, because Praewa was preoccupied with her mobile phone.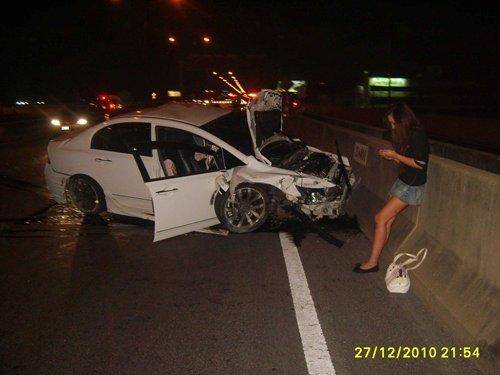 Praewa stands by her Honda Civic just after the crash four years ago.
She was indicted in June 2011 and charged with driving without a license and reckless driving causing death, but it was only in August 2012 that she was sentenced to two years in prison with three years suspended. However, that initial sentence soon became a three-year suspended jail term because she was considered "helpful" during the investigation.
On Tuesday, 22nd April, the Appeals Court announced that it would uphold her conviction and reduced her sentence to a two-year suspended sentence, which will require the 21-year-old to perform public services for 48 hours annually for the next four years. She's also banned from driving until she's 25 years old.
The latest update in the case has led to outrage among the Thai public, who feel Praewa has received special treatment because her family is well-known in Bangkok's high society. She has been vilified by online commenters who share the photo taken of her shortly after the crash, where she is seen standing near her totalled car texting on her phone, while the bodies of those she killed (many of them university students) lay littered on the ground below her.
The victims' families are now seeking tens of millions of baht each, adding up to 120 million baht in total compensation. However, the families are finding it difficult to move on because of the injustice in the case. One father of a victim, a police officer whose daughter was a first-year University student, said, "She never apologised, only brought us flowers and then appealed against the ruling."
The families are concerned that Praewa will try and prolong the proceedings against her, as the Civil Court has temporarily halted the case pending a final criminal ruling. A mother of a victim said she was seeking 19 million baht in compensation, but that no amount of money would make up for the crimes that Praewa had committed against her and the other families of those who had died.