CityNews – Typhoon Haiyan is being hailed as one of the worst storms in history, and has already ravaged typhoon-prone Philippines, where it is estimated up to or over 10,000 people are feared dead in Tacloban. The storm made landfall in central Philippines during the hours of early sunrise on Friday 8th November, with winds reaching up to 379 km per hour and deadly waves as high as 15 metres.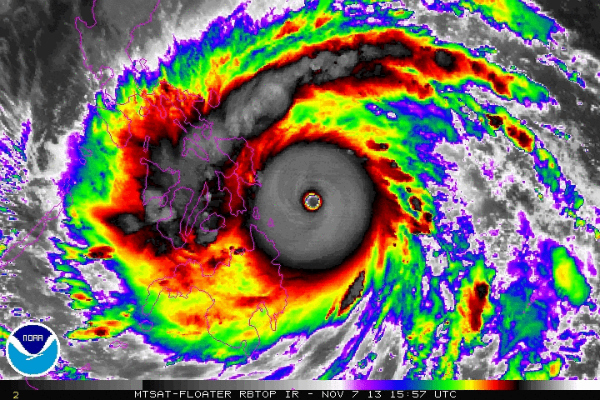 Leyte province was the worst hit, where it is estimated that 70 – 80 percent of structures were destroyed on impact, and survivors reported that nearly all the deaths they witnessed were from drowning. Tsunami-like waves barraged down on land armed with debris, including walls and roofs from destroyed houses.
Samar Island was the first place Haiyan made landfall, where it was recorded as a Category 5 Typhoon, which is ranked as the most catastrophic hurricane that can form on planet Earth. Typhoon Haiyan (known in the Philippines as Typhoon Yolanda) has already become the deadliest cyclone on record in the most-exposed country in the world to tropical cyclones.
Leyte, Samar and the northern part of Cebu are said to have suffered the brunt of the storm, while it has now progressed along its predicted path towards northern Vietnam. Although it has weakened to a Category 1 Typhoon, it is said that 600,000 citizens have already been evacuated. People are still panic-stricken as they consider the massive casualties that took place in the Philippines, even thought the government had managed to evacuate nearly 800,000 people preceding the storm.
Northern Vietnam and parts of southern China can expect to suffer destructive winds, flash floods and dangerously heavy rains.
Here is a list of organizations that you can donate to in an effort to help those affected by this great human tragedy.
– The International Rescue Committee (IRC), who have dispatched an emergency rescue team in the Philippines to battle the humanitarian catastrophe.
– Doctors Without Borders, who are providing invaluable medical aid to victims of the storm
– The United Nations' Children Fund, who are working to aid up to 4 million affected children in the Philippines.
– The Philippine Red Cross, who are providing a tracking service for people to find and reunite with their loved ones.
– The World Food Programme, who are providing families and children with emergency food supplies.