CityNews – On 6th August at the Empress Hotel, the National Command Centre for Drugs Elimination Chiang Mai, announced the results of their efforts to prevent and solve drug problems according to the national government policy between October 2012 and July 2013 (10 months).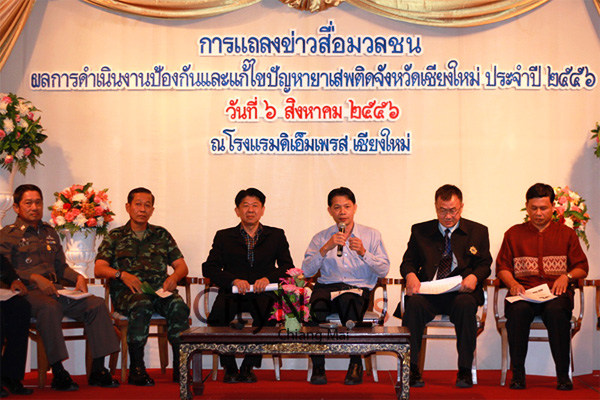 In Chiang Mai, the target for this time period was for 2,178 villages and communities which encompass around 7,800 drug users and addicts as well as the support for 16,422 patients undergoing rehabilitation. A group of children just at the cusp of the danger age, so those at 11 and 12 years old, numbering 34,260, in 315 schools and educational establishments and 32 White Businesses were included. In total there were 7,525 cases of arrest for possession with 788 cases going to court, with a total number of confiscated good and money valued at 49 million.
With a target of 7,800 recovering addicts targeted, the campaign exceeded its target and actually helped rehabilitate 9,659 people. Only 67% of the youth group targeted were reached however. As to the 7,525 cases of arrest, so far 96% have gone through the court system and out of the 788 cases targeted, only 22 remain unsentenced.
In matters of cross border drug control, extra checkpoints, patrols and investigation along the borders have yielded results with 185 arrests and over 600,000 ya ba, 296 grams of heroin, 11,266 grams of opium, 2,067 grams of ice and 29 grams of marijuana confiscated.