CityNews – Ajarn Chalermchai Kositpipat made an announcement that with support from locals and the government, he will repair the earthquake damage at Wat Rong Khun within two years. Although he had previously said the temple was beyond repair, this he admitted was a publicity stunt to get the attention of the government.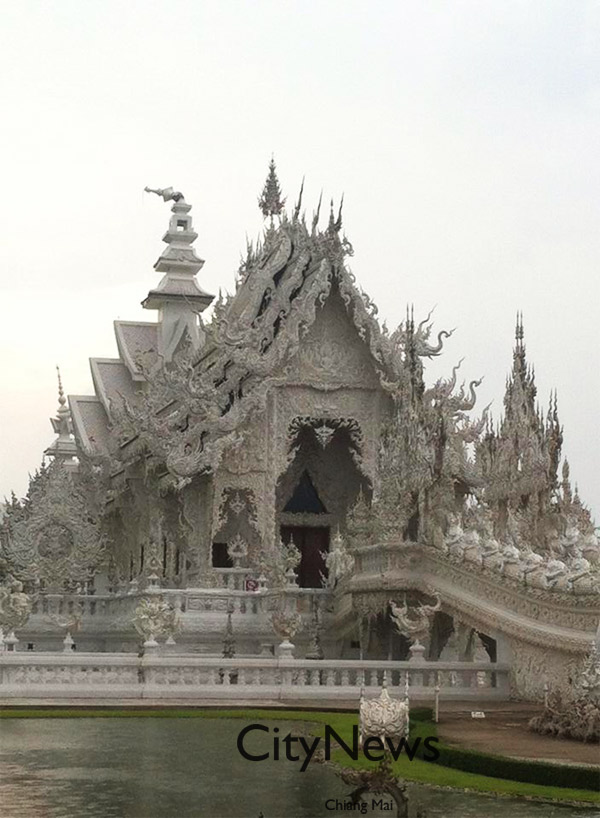 After the 'quake
At 10 a.m. on May 7th, National artist Chalermchai Kositpipat made an announcement at Wat Rong Khun in Chiang Rai that he will begin restoration on the temple after it was damaged by the earthquake on May 5th.
Wat Rong Khun (also known as the White Temple) is an ongoing project started over 20 years ago by Ajarn Chalermchai with over a one billion baht budget. It is located only 26 km away from the earthquake epicentre. The first quake measured at 6.3 on the Richter scale caused the initial damage followed by two aftershocks of 5.6 magnitude. The temple officials told the public that it would be closed indefinitely on May 6th.
"The closing announcement was a publicity stunt to test the government. I wanted to know if they care about the temple and the local communities. This morning, many government and private organisation representatives visited us and promised their support in the restoration. The Department of Public Works had sent a team of engineers to survey the damage. They confirmed that the main structures are intact. Chiang Rai Army and many universities will send their personnel to help with the repair. I received thousands of phone calls giving me support. The temple is considered national treasure. We will try our best to finish repairing in two years. The temple will be reopen except the main building which sustained major damage" said Ajarn Chalermchai.
For photos and story in Thai, visit DailyNews Regional.