CityNews – Concerns have been raised by the Public Health Ministry regarding the spread of disease during the rainy season 2013. 2012 saw almost 900,000 people become ill during the monsoon, with 764 deaths.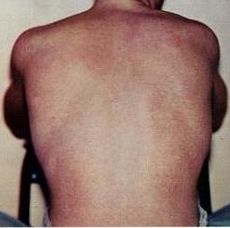 The dengue fever rash as show on Wikipedia. Not all those who contract dengue fever get the rash
Minister of Public Health Dr. Pradit Sintavanarong warned of 17 common diseases often found during the wet season, adding that people should endeavour to stay as healthy as possible.
Diseases to be aware of include fever, dengue fever, hand-foot-and-mouth disease, pneumonia and influenza.
He also called upon hospitals to be cautious and pay extra attention to patients with corona virus, pneumonia, and the H5N1 virus. As well as this he has also urged hospitals to look out for the H7N9 bird flu strain, though no cases have been reported in Thailand yet.
Statistics show that over 880,000 people contracted a disease during last year's monsoon; 108,000 reportedly caught pneumonia, 47,000 caught influenza, 44,000 caught dengue fever, and 33,000 caught hand-foot-and-mouth disease. There were a further 764 deaths.
The Minister urges anyone feeling unwell to immediately consult a doctor.
The Department of Disease Control can be contacted at 1422 for more information or advice.