CityNews – The London-based Environmental Justice Foundation released a report on Tuesday, 4th March, that accuses the Thai government of doing too little to curb human trafficking and human rights violations in the fishing industry. They have called on the United States, the country where most of the exported seafood ends up, to impose economic sanctions on Thailand until they clean up their act.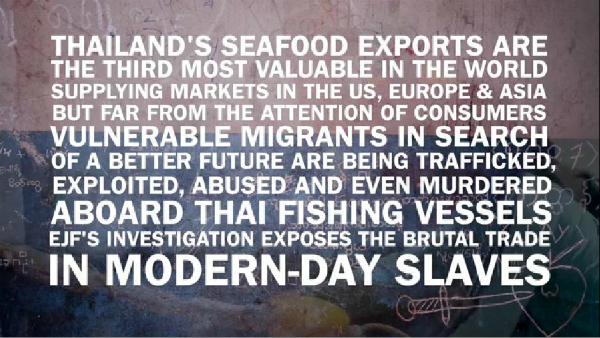 The introduction in the movie "Sold to The Sea", which you can watch here.
Globally, Thailand is the third largest seafood exporter after China and Norway, with a sector worth around 7 billion US Dollars a year. While the average worker comes from Myanmar and Cambodia with the desire to earn a decent wage, the truth is that most earn barely minimum wage of 300 baht per day, if they are paid at all, and suffer through brutal working conditions. This has led to many organizations and human-rights groups around the world to view Thailand's fishing industry as a haven for trafficked and forced labourers, who are too often denied their basic human rights.
According to the Environmental Justice Foundation, "Endemic corruption, poor enforcement, inadequate victim support, unacceptable working conditions and deficient migration policy," are the issues that the Thai government have failed to address. However, the Deputy Permanent Secretary of the Thai Labour Ministry, Mr. Boontharik Samiti, said that the government is making a serious effort to help and protect workers in the industry.
Executive Director of the foundation, Mr. Steve Trent, said that unstable environmental practices within Thailand's fishing industry worsened the problem, as overfishing has led to declining catches and therefore profits. In the 1960's, the average fisherman in the Gulf of Thailand brought in 300 kg of fish per hour, whereas now in 2014, they pull in barely 25 kg. This means employers are more tempted to use the cheapest labour to maximise profits and keep workers at sea much longer in order to make the catch.
The U.S. State Department has also noticed the lack of progress in human trafficking, and many expect that Thailand will be dropped to the worst of four categories in the annual "Trafficking in Persons Report". Thailand could face restrictions on seafood exports to the United States as a consequence.