CityNews – The winner of the national beauty pageant, and holder of the title of 'Miss Universe Thailand' has caused an uproar after offensive public posts she made on her Facebook page written prior to the competition held on Saturday May 17th.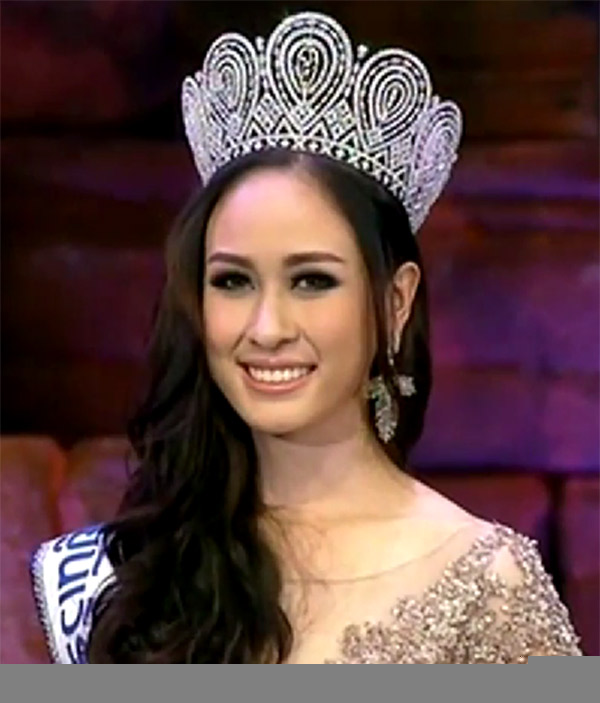 Weluree Ditsayabut (22), nicknamed 'Fai', has been reprimanded by pro-government supporters for her derogatory comments about the Red Shirt movement, posted publically on her Facebook page.
Weluree also accused the Red Shirts as being "anti-monarchy dissidents". She wrote that Thailand would be "cleaner without the dirty Red Shirts", a comment possibly inspired by the recently created pro-royalist Rubbish Collection Organisation who claim they will 'exterminate' anyone who insults the monarchy.
"I'm so angry at these evil activists. They should all be executed." Weluree wrote on her Facebook Page, causing widespread condemnation of her victory as Miss Universe Thailand on social media. Many believe that to despise a group of countrymen with differing views is not acceptable as someone who has been elected to represent all of Thailand internationally. It has also been suggested that background checks should be conducted more thoroughly to avoid such scandals.
Weluree won the Miss Universe Thailand competition, and is an accomplished actress, talk show host, and is currently studying English language at Kasetsart University. Despite many media outlets attempting to contact her, Weluree has not been available for comment.