CityNews – The 12 year old Karen hill tribe girl Air who was kidnapped in 2008 and continuously tortured by a wealthy Thai couple for five years, having managed to escape earlier this year, is now said to be on the mend at Bangkok's Ramathibodi Hospital.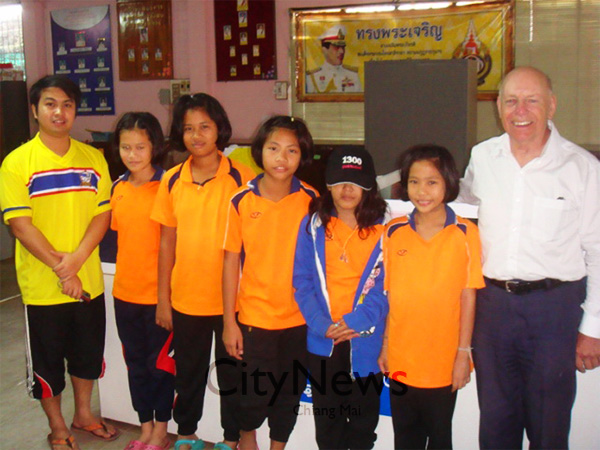 Titmus with Air at the care home
Chiang Mai expatriate Derrick Titmus was moved by the tragic story and earlier this year visited Air at the Kamphaengphet Child and Family Emergency Home where Thai and Burmese governments were supposed to be paying for her treatment.
Titmus was told he could not visit Air when she moved to the Ramathibodi Hospital, where she began to receive her treatment for her burns, for security reasons. He was alarmed, however, when the hospital told him they did not have enough money to fund Air's operations.
"They said that they did not have enough money for her operations and proceeded to give me a bank account number where money could be sent to help her,"? Titmus told CityNews in April.
He was advised not to send any money, and wrote several letters to determine who was actually paying for the treatment but he was unsuccessful in finding out.
Recently he returned to the care home where Air had been staying.
"I knew I would not see Air but I wanted answers to some questions," Titmus said, adding, "It turns out that the Thai government are paying for all of her treatments at the Ramathibodi Hospital in Bangkok."?
Titmus says the hospital misinformed him, and asked for donations that were not needed.
The good news he says is that, "Air can now move her left arm which was burned to her left side. She will be in hospital for at least another two months and then return to the care home."?
Her parents have not been returned to Burma and remain in Kampaengphet, working on a farm outside the city.
"The couple who tortured the little girl has not been found yet," Titmus explained. "I did send a letter to the Police Commander at Kampaengphet and asked him if after looking under desks and in cupboards for the couple did they think of looking outside the Police Station for them…"?
He says Thai friends then warned him to stay away from the case.
Titmus has now also been granted permission to visit Air in the Ramathibodi Hospital in Bangkok.