CityNews – Ambassadors and Representatives from 18 European Union member states visited Phuket for meetings on 14 and 15 June. They met with the Governor of Phuket Mr Maitri Inthusut and local officials, European Union and other Honorary Consuls and tour operators.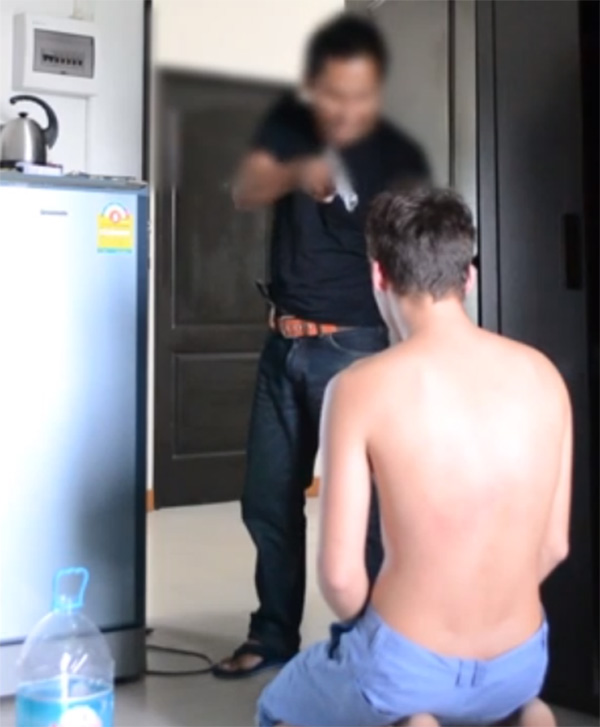 Clip from a June 6th video of Russian being threatened by Thai man shouting 'This is Thailand'. Today's press is again discussing 'image'
Citizens from the European Union make up a large proportion of foreign tourists visiting Phuket. Their per capita spend is high, making an important contribution to the local economy. Tourists need to feel safe and that they are being treated fairly.
In this respect, European Union embassies are keen to see:
An efficient and fairly priced public transport system in Phuket which is available to foreign tourists and residents alike.
An end to intimidatory and violent behaviour by an element of tuktuk and taxi drivers.
Strict enforcement of marine safety standards, including flags on beaches to indicate when it is safe to swim.
Strict enforcement of standards of behaviour for public officials, including police and immigration, to ensure that foreign visitors and residents feel protected, treated in a fair way and never at risk of extortion.
An end to scams involving hiring of equipment such as jet skis or motorbikes
Strict enforcement of Road safety regulations.
Promotion of environmental issues, including monitoring of water quality.
European Union embassies in Bangkok believe that these concerns are shared widely among the diplomatic and wider international community in Thailand.
European Union ambassadors and officials were pleased to have the opportunity to discuss their concerns with the governor of Phuket in a constructive manner. They welcomed his commitment to continue to cooperate with embassies and the national authorities in Bangkok to deal with the challenges. They in particular welcomed his openness to direct contact from the embassies and his commitment to holding regular meetings with Honorary Consuls in Phuket. For their part of the European Union embassies will continue to maintain a dialogue with the relevant national authorities such as the Ministry of Tourism, as well as ensuring through their travel advice that their citizens have accurate information and advice available to them.