CityNews – On May 6th, the Central Development Company Ltd. (CPN) released a written press release claiming that the recent earthquake did not damage the structural integrity any of the four Central Shopping Centres located within the earthquake damage radius.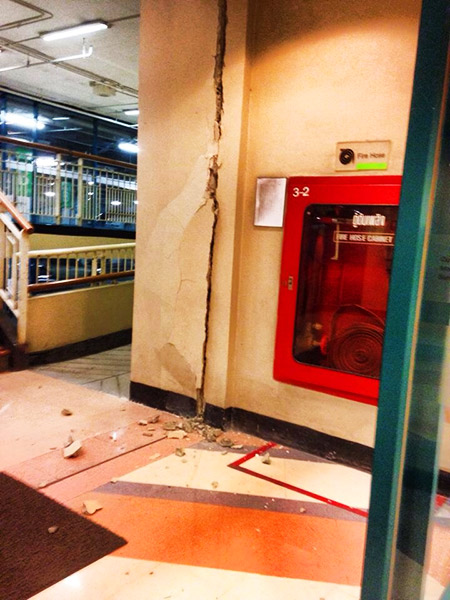 The photograph
The category 6.0 earthquake that hit the northern region of Thailand on Monday 5th May at 6.08 p.m. reportedly did not affect the structure of all four Centrals: Central Plaza (Chiang Rai), Central Plaza (Chiang Mai Airport), Central Festival (Chiang Mai) and Central Plaza (Lampang).
CPN stated that during the earthquake all Centrals were evacuated safely. After the earthquake a reconnaissance team checked all integral systems and structure of the Central buildings, including the electricity, air conditioning systems, sanitation systems, and gas. They concluded that no serious damage occurred and all Centrals are open for business as usual.
The reconnaissance teams mentioned that there was only minor superficial damage to some of the walls in some of the Central centres. A photograph taken from Central Plaza Chiang Mai Airport has circulated social media, which questions the results from the structural survey. However, CPN has expressed that there is no danger to visitors of the malls as a consequence of the earthquake.