CityNews – Throughout 2014, soldiers from various teams and divisions from the US military have and will be surviving in the Thai jungles as part of their training for Exercise Cobra Gold 2014.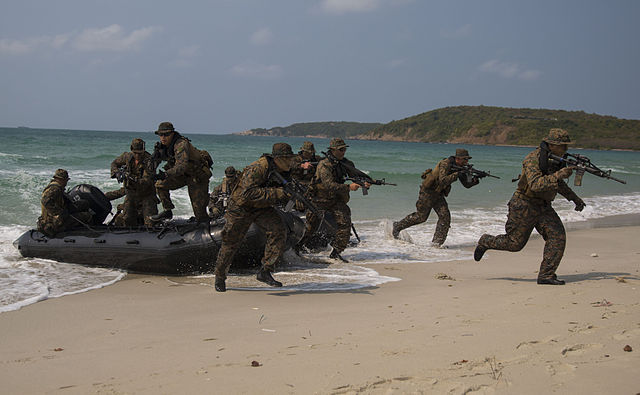 US Marines at Had Yao Beach in Krabi.
Cobra Gold is the biggest military exercise in the Asia-Pacific area, and is held annually around Thailand, being headquartered in Bangkok. Countries that have regularly participated in the exercise in the past are Japan, the USA, Singapore, Malaysia, South Korea and Indonesia. Observer nations are also invited to the annual exercises and are usually China, the Netherlands, South Africa, Russia and more.
This year, the exercise will use members of the militaries of Thailand, the USA, Singapore, Japan, Republic of Korea, Indonesia, and Malaysia. The People's Republic of China is also involved, but only in a non-combative way (humanitarian and civic assistance projects).
The Jungle Survival Training is being carried out in the western part of Sukhothai Province, and is meant to familiarize the US soldiers with necessary survival skills in a jungle landscape for long periods of time with little to no support.
The US soldiers reported that the training has been quite difficult, and that the environment presented challenges that the soldiers had not been previously exposed to on home soil. However, all superiors monitoring the exercises have been impressed with their performances.
Around 300 US, Thai and South Korean military personnel conducted a drill on Had Yao beach in Krabi on 14th February, using amphibian assault vehicles and helicopters.
Yesterday, 18th February, Chinese troops joined the exercise for the first time, with their mission being to practice the delivery medical aid and other humanitarian efforts during a crisis.
It is believed that this year's Cobra Gold exercise will further strengthen regional relationships between the various countries, and enhance effective methods of response and military-operated plans of action in the face of crises.