CityNews – Prem Tinsulanonda International School hosted the biggest-ever Chiang Mai Model United Nations conference (CMMUN) from 20 to 21 March 2015.  The theme of the conference was "Human Rights: Freedom from fear"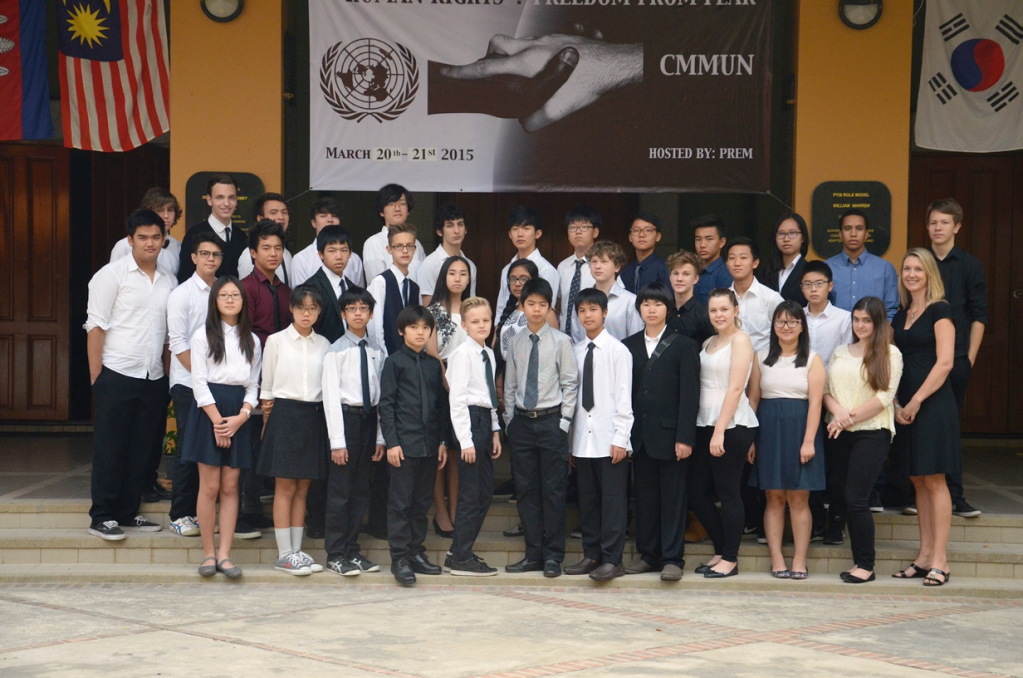 This conference was well received with over 200 participating students from Prem and other international schools in Chiang Mai, Chiang Rai and Bangkok.
The conference began with an opening address by Joan Carling, the Secretary General of the Asia Indigenous Peoples Pact.  As an indigenous activist from the Philippines, Ms. Carling has been working on indigenous issues for more than 20 years and is a leader in ensuring indigenous rights are included in the UN Framework Convention on Climate Change and mechanisms relating to human rights and sustainable development.  She is well known as an informed indigenous activist engaging with international bodies who has given public addresses to UN agencies and governments worldwide.  It was exciting for students to hear about the experiences of someone who has devoted their life to fighting for Human Rights and Freedom from Fear.
The two-day conference was a great success, with intense lobbying leading to intelligent debates and insightful resolutions in each of the 5 committees represented.  Debate on resolutions was briefly interrupted on Saturday morning as an "emergency issue" was presented. In this scenario, the leader of the Russian Federation, Vladimir Putin, began what he labeled as a 'Soviet Reunion', by annexing the disputed territory of Ukraine, and aiming to quickly reunite the 'lost members' of the former Soviet Union.  Students had to think on their feet and assess how each of their nations would react in reality, and many quickly got to work writing a Resolution to block the Russian Federation's bold move.
Student feedback from the conference was overwhelmingly positive, as this quote demonstrates: "It was my first time at the event and I learned a lot from everyone else, the Chair's and the other delegates were really nice, and they never judged me for saying the wrong things sometimes, and because of this, I feel much more confident for the next time. The food and snacks were also really, really good. The setup of the entire thing was amazing, it looked like a real UN conference, and everything was very professional."
A huge thank you to Ajarn Prim for her help with the MUN club, to Ajarn Claire and the hospitality class for their immense efforts to organize and orchestrate many of the logistics of the conference.  Many thanks to K. Viroj, K. Ning and the housekeeping and maintenance departments who all worked very hard to create and maintain the 'amazing, professional' set up.  It was a wonderful event that would not have been worked if it hadn't been for all these generous people willing to work together to give students this memorable experience.
Please watch the CMMU Conference video from this link: https://www.youtube.com/watch?v=I6UJgI3gCdE