CityNews – Cambodia's Ministry of Foreign Affairs and the Cambodia-Thai Border Relations Office have previously claimed that fewer than 20 people have been killed trying to cross the border from Cambodia into Thailand in 2013. That figure is far less than 69, which Cambodia's Interior Ministry stated on Tuesday, 18th February, at a conference where more than 500 senior officials were present.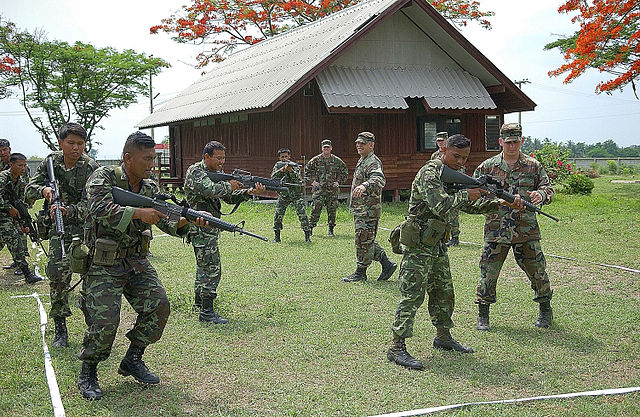 Thai soldiers practising tactical instructions.
Secretary General of the Interior Ministry, Khieu Sopheak, told the officials, "There were 55 reported cases of shooting Cambodian illegal border crossers by Thai soldiers last year, killing 69 people. In addition, another 165 Cambodian illegal labourers had been imprisoned in Thailand last year."
The claim has been disputed by Cambodia's Ministry of Foreign Affairs, whose spokesman, Kuy Koung said, "There were about 13 people shot dead… I am not sure about the death toll reported by the Ministry of Interior. The government has strongly paid attention, and the ministry previously sent a diplomatic letter calling on Thai soldiers to stop shooting Cambodians."
According to the Ministry of Foreign Affairs, only 30 Cambodians trying to cross the border into Thailand were shot dead by Thai soldiers in 2012, while the Interior Ministry's figure for 2013 is more than double that, and some believe it to be higher.
"I agree with the death toll reported by the Ministry of Interior, and the real death toll could be even higher than 69." Said Srey Naren, a co-ordinator for Cambodia's oldest human rights organization ADHOC, who says that information on these killings was hard to find because witnesses to the murders often fled the scene and could not be located.
Cambodian border crossers into Thailand have frequently been shot at or arrested by Thai soldiers patrolling the 800 km border between the two countries. Cambodia has urged Thailand not to shoot their citizens, saying it is inhumane.