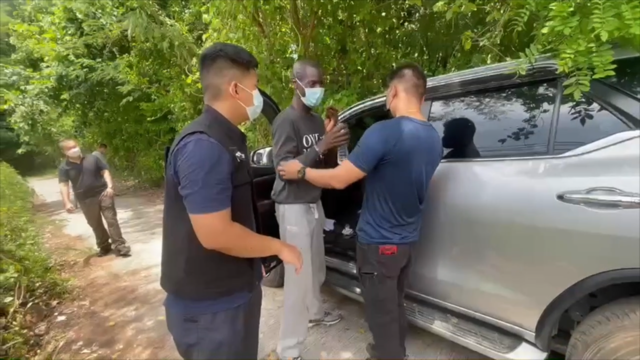 A British national made international news when he charged a monk with a machete at a temple in the Nam Phrae district of Chiang Mai on the 16th of May. The drama was all filmed on the temple's CCTV. Clive George Davidson hacked at a neighbour's door with his machete, moments before he moved on to the temple.
After the incident, Davidson retreated and barricaded himself in the house where he had been staying, but refusing paying rent, since November of last year. After a four hour standoff with Davidson yelling profanities at the police and villagers, the police left the property to wait for an arrest warrant and search warrant.
The next day the police chased Davidson to Hod District, where he was arrested and charged with drug possession. He ran a police check point and his tires were shot. They brought him back to search the the house where he has been staying, and found more drugs.
Davidson was already on bail for an overstay charge when this incident took place. That should legally result in a five year deportation. When he was initially arrested for overstay in early March, he fought with three officers and broke one officer's nose. Despite this violent history, within 48 hours he was released and given the keys to the house where he has been squatting.
The owner of the home where he has been staying is a Canadian national, and currently stuck in Canada due to covid. She rented the property to Davidson in mid November 2020. He did sign a rental contract, but after more than two months of excuses for not paying the rent or deposit, she asked him to leave and began working with Thai lawyers towards a legal eviction.
At this point everything changed. Over the following months he sent a number of long and disturbing rants by both voice and text message. Common themes were threats of violence and destruction. The homeowner says he has a particular hatred towards monks, often focusing on those at the temple where the incident took place. "The temple is only 100 metres from the house and he has to go past it every time he enters or leaves the property. I'm not surprised he targeted the temple given the horrible things he has said about the monks. I worry about them."
When the homeowner (she has a 30 year land lease) learned that Davidson was released on bail, she immediately summarised the last voice message he sent. The 55 minute rant, sent just two days before the incident at the temple, listed more than 100 organisations and individuals who "will be executed".
The list includes high ranking public officials including chiefs of police, Thai business owners, Thai university faculty, and a long list of Thais and foreigners who had crossed him in some way during his nine year stay in the kingdom. He said that all monks in Thailand will be executed and all temples destroyed. He would see personally to the destruction of Wat E Ranthawan, where the incident took place.
While the homeowner appreciates that it is not safe to put someone into a jail where covid is rampant, she feels that a release back to the community is also a big risk. "I am worried about the people of the village and others he has named to be executed. I've talked to people in and outside the village and people are afraid. And the way he talks about the monks, they should definitely be afraid."
She has since translated the time stamped summary to Thai, and forwarded it, with the original voice message, to the police. "I think Clive needs help and I hope he gets it. But people are scared and I don't want to see anyone get hurt".
Thai media suggested that Davidson had a criminal history in the UK before coming to Thailand in 2012. A Google search reveals that he was a director of a company in London, Prestige Fine Wine Ltd. This company was shut down in 2011 because it was determined to be illegitimate. In one instance, a dementia patient was allegedly conned into paying £150 for shares in the fake company.
The owner knows about six different police reports filed against Davidson, by both foreigners and Thais, at four different police stations. The complaints are mainly for threats and harassment, but include non payment of rent in the last house where he stayed in Mae Rim. "I expect there are many more police reports filed at many different police stations. He names many police stations in his rant where executions will happen. This is a pattern. The big question is how does he keep getting away with this bad behaviour? Anyone who has had a bad experience with this man should contact the police. Maybe it will help."
CityNews called Hang Dong police this morning who said that the man is now under arrest awaiting deportation, though where he is in custody, whether in Hang Dong or with immigration police are unclear.