CityNews – Police arrested Atit Sukmuang on August 10th after he was accused of firing drugs from a slingshot into Chiang Mai's Central Prison.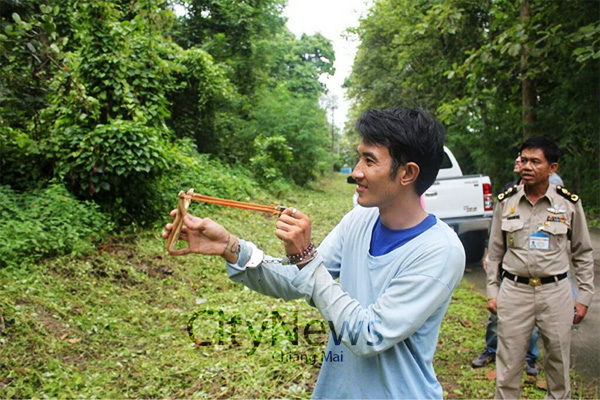 Atit showing police his modus operandi
Police also arrested Samit Srisuk (30), Apitcha Intapan (30), Samart Pongchai (39). Samart, a prisoner in Chiang Mai Central Prison, would collect the drugs. Samit and Apitcha, police say, delivered the drugs to Atit who was used solely for his slingshot acumen .
After police arrested the four people they seized 300 pills of amphetamines, 4 mobiles, 2 motorbikes and 2 wooden slingshots.
Chiang Mai police became aware that drugs were entering Chiang Mai prison and so started an investigation. The investigation led them to a meet where three of the arrested were found with drugs at a PTT Station on Chotana Road.
The group confessed that Samart had ordered the drugs and arranged that Atit would use the slingshot to get them into the prison. Atit was reportedly paid 3,000 baht for his slingshots skills. It was also to be the second time he'd done this for payment.