KILLED AT THE WHIM OF A HAT written in 2011 by former Chiang Mai resident Colin Cotterill is the initial Jimm Juree crime novel. It is set in Chiang Mai and the south of Thailand, where Colin Cotterill, originally from England, now resides. The Jimm Juree series comes after Colin's hugely successful Dr. Siri crime series, about a Laotian coroner, which won the Crime Writer's Association, Dagger in The Library Award in 2009.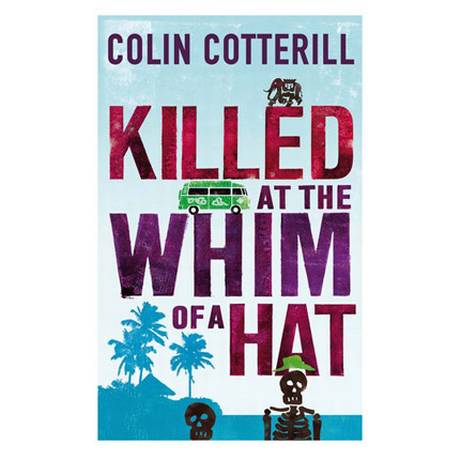 Full disclosure: I have not met Mr. Cotterill but I did request a favor of him once. The cartoon drawing of the frog in the coconut shell featured on my blog and at the end of this review is art work by Colin. That does not affect my review of this book other than to conclude some people have a lot of talent.
It would not surprise me if Colin Cotterill is a fan of American cartoonist Charles Addams, known for his Addams Family drawings. Because protagonist Jimm Juree, the female investigative crime reporter at the Chiang Mai Mail, is part of the kookiest family I can ever recall since, Pugsly, Wednesday, Uncle Fester, Gomez and Morticia lived in the same house. Juree's Thai family consists of Granddad Jah, a former career traffic cop with an eye for detail but ears that don't hear much, the matriarch, Mair whom may or may not be lapsing into Alzheimer's, Jimm's older brother named more aptly, Sissi since he is an aging post-operative lady-boy beauty whose talents include the title of Ms. Pattaya World 1992 and being a current world class computer hacker. The youngest brother is Arny, a short but wide body-builder, which helps him disguise his hyper-sensitivity; he was born as Arnon but being a Schwarzenegger fan, Arny it is. And then there is our protagonist: 32 years old, smart, educated, single, and sometimes defensive. She has to accept that when Granddad says, "you're wasted as a girl, Jimm Juree" that is a compliment.
The family is in a bit of upheaval as Mair has sold the home in Chiang Mai and bought the small, unprofitable, Gulf Bay Lovely Resort on the beach in Maprao across the river from Pak Nam on the Gulf of Thailand. No one is pleased. Only Sissi remains back in Chiang Mai where she can run her computer "ventures".
Since Jimm Juree had to quit her job as crime reporter to make the move to the quiet southern fishing village, she expects her life to change for the worse. But luck comes in the form of two skeletons discovered while laborers were excavating land near a well on a palm plantation. The remains of two hippies are found, buried and seat-belted inside a 1970s VW Van and the deaths are ruled thirty years old. If that were not enough to keep Jimm busy, a monk is murdered in a neighboring town at a local temple. Jimm Juree is now our woman on the spot in the formerly sleepy south.
I cannot recall the last time I read a crime novel with a female protagonist written by a male author? To say that Colin Cotterill is in touch with his feminine side would be limiting him and the book. Colin Cotterill is in touch with his creative side as few authors are. While there are three dead bodies in this novel, with crimes to solve and one or more killers to be found the book moves nicely, creatively and playfully at all times. It is the playfulness, with words, with family members and with Thai society that makes KILLED AT THE WHIM OF A HAT such a fun read. The George W. Bush malapropisms used to start each chapter are a bonus.
A sample of Cotterill's dialogue as Mair explains to Jimm why she sold the Chiang Mai home to move south:
"Child, in Chiang Mai we were five people in a house. Five individuals with nothing in common but a surname. We were hemmed in by traffic and breathing soot. We floated in noise and aggression and other people's troubles. We were all so inside ourselves we stopped living for each other. I hoped coming here might pump life into us as a family. I wanted my children and my father back while I could still recognize them, before it was too late."
More good things happen to the family in the south than bad. One dog, named John, gets poisoned and dies. But another, named Sticky Rice, is a hero, helps solve one of the crimes and lives to be a beachcomber for another day.
The Jimm Juree series is off to a fine start. Cotterill fans can argue which is better: Juree or Siri? Thailand or Laos? The Juree series has what I like in crime fiction: good settings, good characters and good lines. The second novel was recently published in 2012. It is titled, GRANDDAD, THERE'S A HEAD ON THE BEACH. I wonder how that one starts off?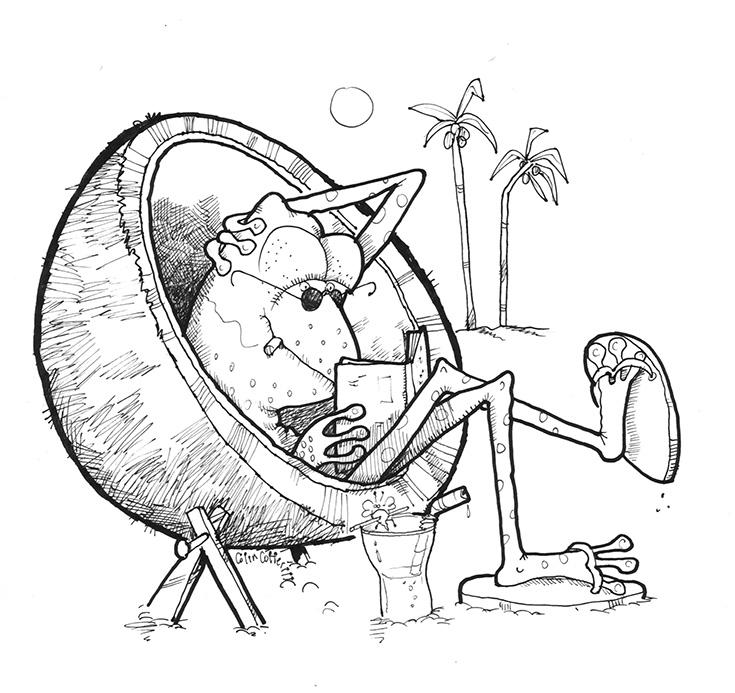 By Kevin Cummings at Thailand Footprint www.peoplethingsliterature.com