CityNews – The Tourism Authority Thailand (TAT) Chiang Mai Office held a press conference today, November 9th, to report on this year's overall performance along with announcing its plans for 2019.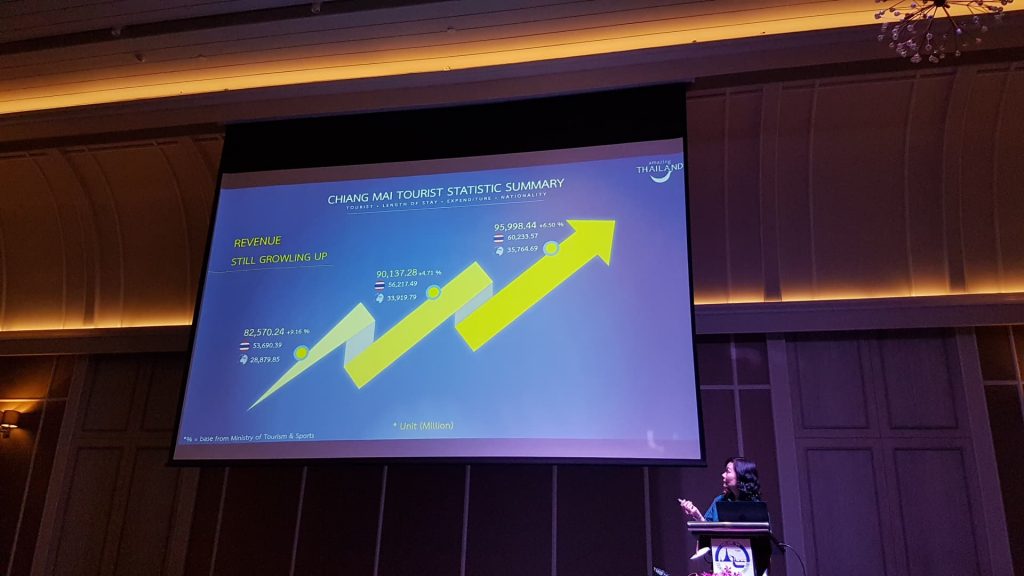 Visroot Inhyam, the director general of TAT's northern region highlighted the issues with tourism promotion in Thailand that it is clustered only in few areas that are already known in the market. "When events are held repeatedly in the same place, what happens is the destination is swamp by people. The question we, and entrepreneurs, need to ask is how to spread the crowds to other places," said Visroot, pointing out that income distribution is the ultimate goal for the office.
Statistics from January to August this year show that Chiang Mai has welcomed approximately 10 million visitors, a 4% growth from last year, generating over 95 million baht. The majority of tourists are Thai while 30% are international visitors. Among Thai visitors, 40% are from the central region with a large number from Bangkok, and about the same ratio from northern Thailand while the other regions see numbers of less than 10%.
Chinese travellers remain the largest crowd in this year's report followed by those from the US, Japan and UK, with an average stay of three days and spending about 4,000 baht per person per day.
Pakkanan Winijchai, the newly appointed director general of Tourism Authority Thailand Chiang Mai Office stated that the goals are to accelerate the spending of mass tourist, penetrating niche market sand spreading tourism destinations. This year's target markets reportedly remain in the same groups which are millennial who are below 30 years old, the silver age, woman travellers and millennial families under the concept "amazing story of north & local hero."
"Millennium people love chic and cool crafts and Chiang Mai is so rich in that," said Pakkanan presenting last year's events which including Sawassdee Craft, Chiang Mai Design Week, Baan Tawai Creative Craft Village and more. While the silver age group who are retired people, the office sees that they have plenty of free time and less bound to their work. The plan is to promote traditional, conservative activities such as temple routes, sightseeing tours in the old city and visiting craft villages. As for woman travellers, next year the office will concentrate on local textiles, focusing on Mae Chaem and San Kamphaeng and as to the millennium families who enjoy hands-on kids friendly experience, the promotion will be on local farm stays. The target for next year is to increase domestic travallers by 10% and international travellers by 12% with the revenue growth at 11.5% from this year.