CityNews – Police arrested four people and seized 5,200 yaba pills after breaking up a small party in an apartment in Changpuak district on Sunday.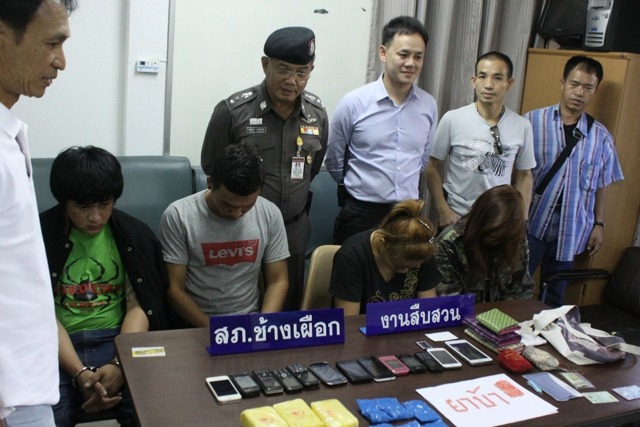 The four with police after their arrest. Photo: Weerasak Panyachod.
Four people were found taking drugs – Kirati Thanakasemkij, 24, Warakorn Nangthala, 22, Chamaiporn Jiwjan, 27, and Pikul Tanjai, 23. They were taken to Changpuak police station for prosecution.
Police also seized around 1,000 plastic bags for storing pills, a car and 12 mobile phones.
Kirati, who rented the room, told police that he was severely addicted to yaba and had to take it every day. He had invited his friends to a party in his room, where they played music and took drugs.
Because the pills were expensive, he said, he had decided to deal yaba, ordering 10,000 each time by telephone.
They were left by the side of Liab Kanklong Chonlapratan road, and when he picked them up he would distribute them to other dealers in central Chiang Mai. He spent his takings in pubs and bars, and by holding parties with close friends, he said.