CityNews – Chiang Mai citizens expressed sadness when Friends of the Asian Elephant Foundation announced it was closing due to the founder's poor health and a lack of funding.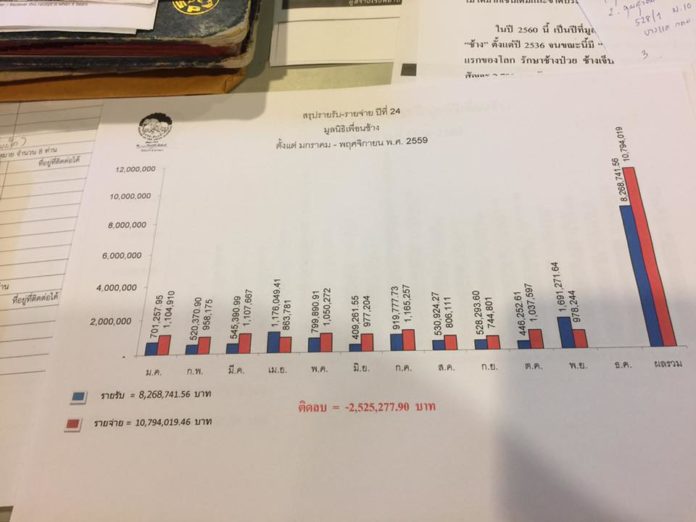 Through a post on the Friends of the Asian Elephant Foundation Facebook page, Sorida Salwala (founder and director of the foundation) announced that due to a period of poor health and a lack of funding leaving the foundation spending more than it receives, it must cease operations.
Friends of the Asian Elephant Foundation worked in partnership with governmental and non-governmental organisations, and with the local company Elephant Parade.
The foundation has been open for over 25 years. Sorida expressed regret in her announcement which came out just days after the Thai Elephant Day established in 1998 by the Thai government to promote elephant conservation and awareness.
The foundation fought for rights for the Asian elephant, prevention of elephants being kept in cities such as Bangkok, and was responsible for the full time care of disabled elephants Motala, Mocha and Pai Bobo.
The foundation reveled that they had had a negative balance sheet for 11 consecutive years, overspending by over 2 million baht.
The post also asked that if anyone was willing to donate to help the foundation in its final year, they may transfer money to Kasikron bank via Ramintra branch at 088-2-20983-0 or SCB bank account, Ratchayothin branch at 111-2-27207-8 or pay cash addressed to Friend of the Asian Elephant at Hang Chat District post office. Evidence of donation can be sent to the foundation via email fae@elephant-sorida.com or by fax 054-829-308.
How to donate to @FAEeleHosp please visit: www.friendsoftheasianelephant.org