CityNews – Officials yesterday arrested a 58-year-old Chiang Mai man who had allegedly been posing as a monk for three years to collect alms and money.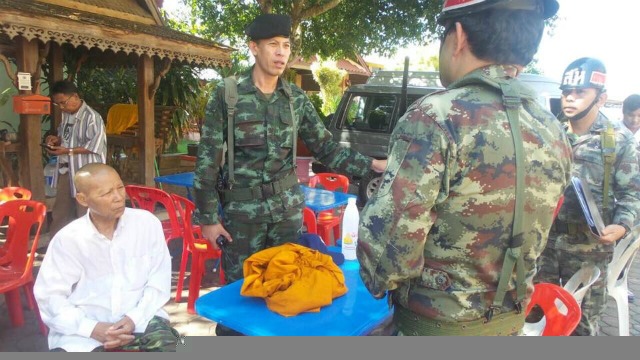 Boonmee following his arrest at his home yesterday. Photo: Weerasak Panyachod.
Boonmee Pankaew, of Sansai sub-district, would dress in monks' robes and collect money from residents and tourists at Ton Lam Yai market and Somphet market each morning, it is claimed.
Narong Song-arom, the director of the Chiang Mai Office of Buddhism, said he would leave home around dawn in his pick-up truck or a hired songthaew, and then change into the robes and walk around collecting money until about 9am. He would sell any food he collected to grocery stores to get money to feed his family.
Boonmee was arrested at his house by police, soldiers and officials from the Office of Buddhism, following a tip-off. They also seized his yellow robes and an alms bowl.
He faces a fine of up to 2,000 baht and/or up to one year in jail for impersonating a monk. Officials said they had been informed about many other possible fake monks, and they would investigate each case.