CityNews – Provincial authorities on Friday declared cold weather disaster areas in five districts of Chiang Mai.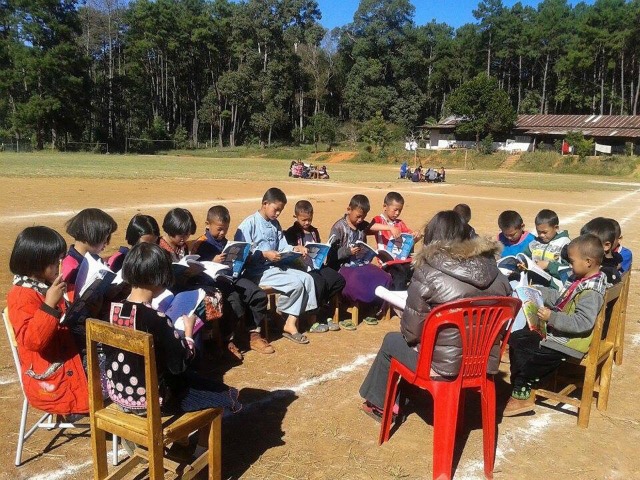 Pupils at a school in Mae Cham district sit outside in the sunlight in a bid to keep warm last Thursday.
A meeting of the provincial Disaster Prevention and Mitigation Office agreed to declare cold weather disaster areas in three sub-districts of Kallayaniwattana, four sub-districts of Mae Chaem, three sub-districts of Wiang Haeng, six sub-districts of Omkoi and two sub-districts of Fang after temperatures fell below 15 degrees Celsius for three consecutive days.
Residents will receive grants of up 250 baht each to buy warm clothes. Each province has a budget of around 1 million baht per year for cold-weather relief.
Tens of thousands of residents have been affected by the current cold spell, the office said. Health authorities say there has been an increase in the number of people suffering from respiratory tract diseases during the recent cool weather.
The temperature in Mae Chaem district was measured at 0 degrees Celsius – freezing point – on Friday morning.
Mountain peaks in Chiang Mai have seen frozen dew in recent days, and many tourists are flocking to the mountains to experience the cold weather, the National News Bureau of Thailand (NNT) reported. The temperature at Doi Ang Khang in Fang district fell to -0.5 degrees yesterday, it said.
Meanwhile, the Northern Meteorological Centre has warned the public to prepare for a new period of cold air flow from China from today until Thursday, the NNT reports.
The temperature is expected to drop by 4-6 degrees Celsius, and there will be strong winds. People are advised to take care of their health and be careful when starting fires for warmth.