CityNews – An exhibition highlighting the problem of blocked footpaths has opened in a canteen at Chiang Mai University.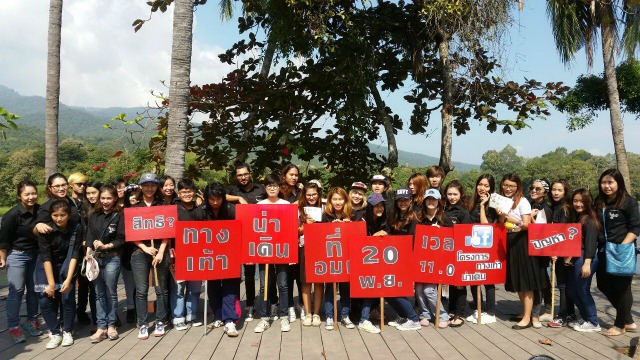 Students involved in the project. Photo: Weerasak Panyachod.
Students from the Faculty of Mass Communication organised the exhibition, titled "Footpath – Step Forward". It looks at obstacles such as advertising signs and vendors' stalls on the pavement along Huay Kaew Road.
Paisarn Surathammawit, secretary to the deputy mayor of Chiang Mai municipality, presided over the opening ceremony last Thursday and received information about the problem from students.
The opening was also attended by Assistant Professor Nattaya Tayanon, a teacher in the faculty, and Wichian Thalar of the non-governmental organization Green Beauty Scented Chiang Mai Network, as well as around 100 students.
Assistant professor Nattaya said the project was a part of a course that fourth-year students had to take. Some semesters, students survey areas in districts such as Jomthong and Fang but this year, due to limited time, they surveyed communities in central Chiang Mai instead.
A total of 82 students walked along the pavements outside CMU to Hua Rin corner, and discovered many advertising signs, parked vehicles and stalls blocking the way, as well as holes that had been dug to install signs. The students also asked members of the public to fill out a questionnaire on the subject.