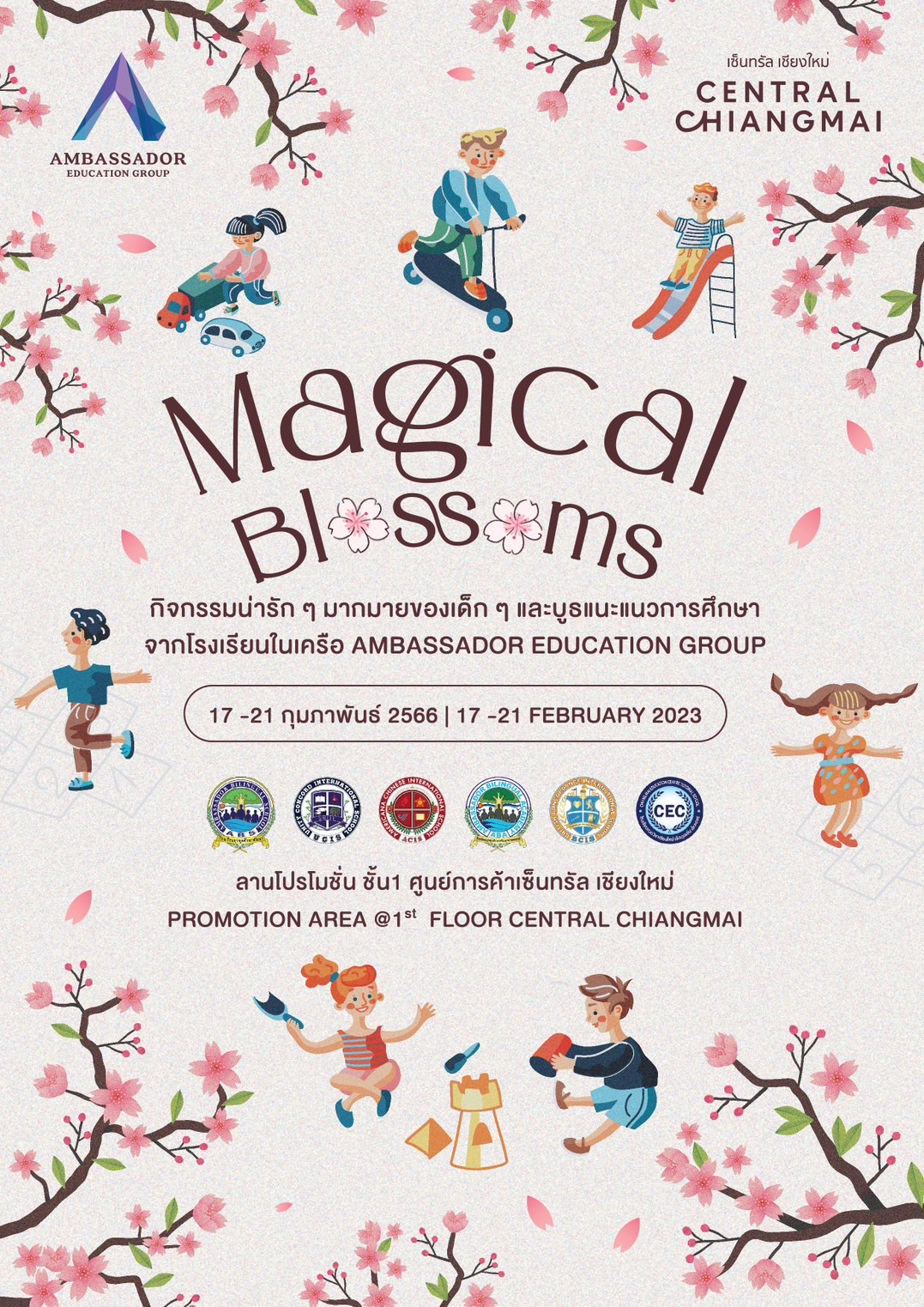 Ambassador Education Group would like to invite you to join us for "Magical Blossoms" on February 17-21, 2023 at the Central Festival Chiang Mai on the 1st floor.
This event is organized under the concept that flowers can be bright, and beautiful, it naturally comes from caring, watering, and getting good fertilizer. In a similar way is like a little child that needs care, love, nurturing, knowledge, and good experiences for them so that they grow bright and bloom beautifully, wonderfully like a flower.
At the event, you will meet with representatives from all our schools in the Ambassador Education Group (AEG),
– Ambassador Bilingual School (ABS)
– Ambassadors Bilingual Academy (ABA)
– Americana Chinese International School (ACIS)
– Unity Concord International School (UCIS)
– British Concordance International School (BCIS)
– Chiang Mai Tutoring School Education Center (CEC)
At the event, potential students will be introduced to the teaching, curriculum, and activities for each school giving them the choice of which school best meets the needs of their family specifically.
We will also have activities that will enhance color, brilliance, fun, and skill-building for those who attend the event. This activity will bring STEAM (Science, Technology, Engineering, Arts, and Math) together to educate young people participating in the event under a beautiful atmosphere surrounded by cherry blossom trees, and wonderful performances on stage from our affiliated students that we are proud to present.
A special guest lecturer presenting the topic "How to navigate your life, mind, and heart in the new world through emotional intelligence" (Adapting to a Changing World with emotional intelligence) by Mr. Andy Amir, who has traveled to more than 29 countries and has given lectures to more than 240 places around the world.
Health education by Bangkok Anitaging Center and Coway
We will have many games and prizes for participants who join us for this special activity, daily from 11:00 A.M. – 8:30 P.M. A special prize will be provided for only families where NEW students enroll giving the opportunity to win a COWAY air purifier worth 10,000 baht, and 5 additional prizes.
For more details please contact:
Call 081-9506659, 052-135061
Website: www.ambassadoreducationgroup.com
E-mail: info@ambassadoreducationgroup.com