On 13th March, police came across a secret jungle camp in Songkhla where more than 200 Uyghur people had been living, and 120 of them were later fined by Thai police despite pressure from human rights groups to help the group of instead of punish them. Since then, police have been investigating the case, and have issued arrest warrants for two men that might be involved. During this time, 112 additional Uyghurs were discovered in the Sa Kaew province last week, bringing the total amount of illegal Uyghurs detained in Thailand this month to 409.
The police are now hunting for Songkhla-natives Sulaiman Madadam (58) and Yagop Heenhame (46) who are believed to have been involved in bringing the first group of 218 Muslim Uyghurs into Thailand. Authorities are eager to charge Yagop with helping to transport them to the country, but cannot yet say how. They want to arrest Sulaiman for hiding the illegal migrants and providing them with shelter. Investigators are frustrated with the group for not cooperating or offering up any leads, while the group is most likely refusing to speak out of fears for their safety.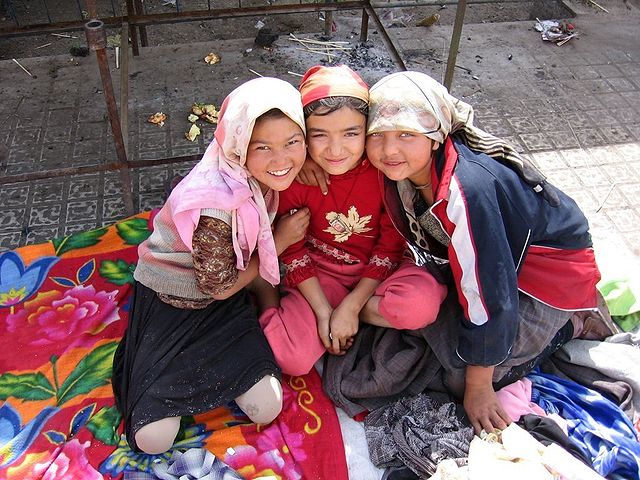 Some young Uyghur girls in Xinjiang, where about 43% of the population are ethnic Uyghurs.
Of the 218 people found in Songkhla, the men are being held at the Padang Besar Immigration Office, while the women and children are living at a temporary shelter. Thai, Chinese, and Turkish authorities are still trying to verify their nationalities while the group reiterates that they are trying to make their way to Turkey. The police have made the following statement, which will no doubt worry the human rights groups closely following this case: "No matter where they are from, we will try to deport them back to their country."
Authorities believe that the capture of the migrants will cost the bosses of this human trafficking gang around 50 million baht. It's believed that each adult in the group paid up to 100,000 baht each for themselves and 50,000 for each child to be brought into Thailand without being detected. If they had arranged to buy forged Turkish passports from within the country infamous for its fake document black market, they would be looking at paying up to 100,000 baht each.
The second group of 112 people that were detained near the Thai-Cambodia border last week were also believed to have been smuggled into the country by a human trafficking gang, and are now awaiting decisions about their future in a central immigration detention centre in Bangkok. Chinese officials have been allowed access to the group, and have identified at least 30 of them as Uyghurs. Human Rights Watch has again called on Thailand to do the right thing by not sending them back to China, where it is highly likely they will face punishment in the form of torture or worse.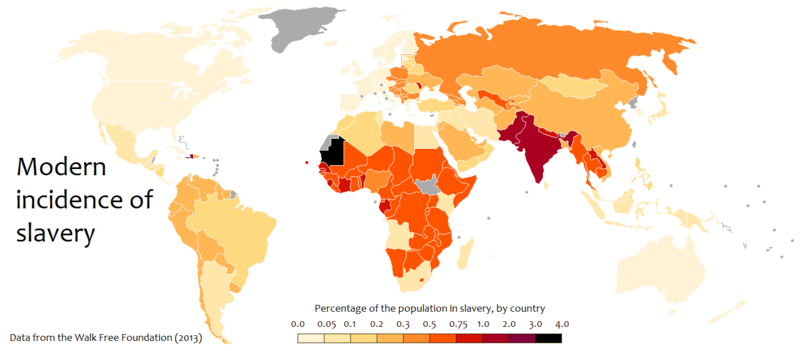 A map depicting the numbers behind modern human slavery around the world.
As the case is being closely monitored by numerous overseas human rights groups, as well as the US State Department and United Nations Refugee Agency, Thailand has to satisfy the demands of humane treatment and protection in order to "save face", and show that they are tackling the country's severe human trafficking problem. Leaders of human trafficking outfits often work with corrupt officials or government contacts to obtain the passports and other sensitive documents they need to carry out their work.
Brad Adams, the director of Human Rights Watch Asia, says, "Thailand needs to act quickly to ensure that these people are protected and not sent into harm's way… It's really not that complicated: returning Uyghurs to China exposes them to severe abuse. Thailand will be violating international law by sending any of these people back."