A somewhat manic phenomenon of recent years to afflict Chiang Mai is the burgeoning of apartment houses or condominium buildings.
Rather than an orderly and planned development of high density housing in the West of the city centred on Nimmanhaemin Road, there proceeds a competition to pour as much concrete and steel as possible into the area, restrained only by height limits for the airport flight path above. No public parks are in walking distance nor are on the city's plans for this slum housing concentration of the future.
Watching over all this in Sukkasem Road, just off the direct flight path, is the eleven storied 103 Condominium Project 3, built in the boom days before the 1997 crash.
The extra 3 floors above the surrounding norm gives commanding views from its rooftop terrace over the city. Yet judging from the mess of satellite dishes in the roof the residents would rather take in views, not of Doi Suthep to the west, nor Doi Luang Chang Dao visible during the rainy season 60 km to the north, nor the eastern range marking the Lamphun border, but pictures assembled courtesy of television. Looking down to the roofs below, to the West Unique has only four dishes one of which appears lost, and to the South East on Bahn Thai none are to be seen.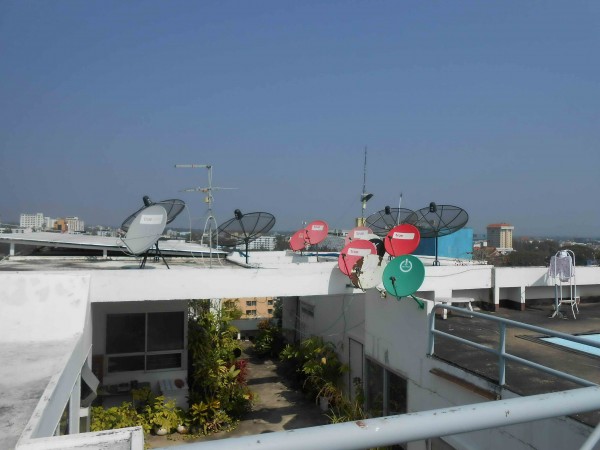 Why the discrepancy? Don't the neighbours love CNN, HBO, RT, BBC, etc? After all with next to no views of the countryside they may feel compelled to watch TV. Or do they manage to share the signals in some clever way as part of a plot to do the dish makers and local trades-folk out of a living? Please advise.
And just in case you wondered. Construction proceeds apace on another 8 storey apartment monolith to the North of 103. Who needs a breeze with air-con? Or to put it another way "Who needs air-con when there is shade and a breeze?