"All the world's a stage, and all the men and women merely players; they have their exits and their entrances."
This quote from Shakespeare is very apt for Stephen Turner, founder of the Gate Theatre in Chiang Mai. His entry into Chiang Mai brought about the first English language theatre group which produces about four shows a year in a variety of genres, from comedy to drama.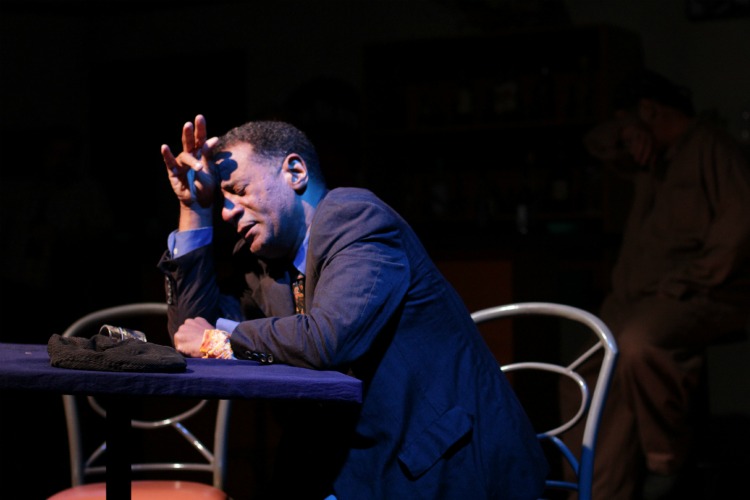 Stephen onstage in The Dodo Bird
I met with him on a Tuesday night at a local art gallery, feeling a kinship with him as a fellow writer and producer of the arts. Over a Lao beer, he explained to me how he made it to Chiang Mai and how he eventually started the Gate Theatre.
"I started off in Chicago running the Stage Actors Ensemble," he recalls. "Unfortunately, the city began cracking down on small theatre companies in the city and I was forced to close shop."
A player exits, stage right.
But it's not the final curtain call for Stephan. Selling everything he owned, the next act in his play would be one of travel.
"My stops involved Amsterdam, Brazil and Mexico. After Mexico I made my way to Bangkok and eventually Phuket where I had a great time. I met some people there and they were all telling me the same thing: go to Chiang Mai."
Stephan came to Chiang Mai, got acquainted, and noticed the lack of a theatre scene. An idea began to sprout, but he put it on the backburner for awhile. "I went to Cambodia to teach English for a few years," he says, "but eventually I got burnt out and needed to get away for a while. I had made some friends in Chiang Mai so the decision to come back felt right."
The second act of Stephan's life takes some interesting twists and turns as he first got a job playing smooth jazz at the Chiang Mai based, English language radio station known as T.I.T.S. After some time there, he was hired as a theatre arts teacher at the Chiang Mai International School (CMIS).
Entering into a new act of his life, Stephen has thrived in his current role. He helps students hone their acting abilities and not too long ago produced a great rendition of The Laramie Project which is about the 1998 murder of a gay student living in Wyoming. Both students at CMIS and from Prem contributed towards the performances of this piece.
I was wondering if producing Western content would alienate some of the Thais who have never heard of these stories.
"Not at all," Stephen replied. "We have a healthy mixture of both Thais and foreigners see our shows. We did a show not long ago called Land of Smiles which was a Thai story and two thirds of the audience was Thai."
Local theatre is important to any community. It essentially has a three pronged affect: it enhances the image of a city, offers a place to go on show nights and allows aspiring actors to whet their acting chops.
However, with Stephan's name attached to these plays, there is one thing that concerns him. "Mediocrity. Things back in Chicago were a little different in terms of how the business was run. Here in Chiang Mai, that business side of it is…" Stephan pauses to think of the most appropriate word. "Different."
But despite the difficulties of running a successful theatre scene in the city, Stephan has been able to produce some excellent plays.
"I love slice of life plays so when we produced The Dodo Bird, written by Emanuel Fried, I was ecstatic. It's a play that I have been carrying around with me for over 30 years. The play is special to me because of the intensity it brings to the stage. It presents a realistic look at society and portrays people as they are not as they had hoped to become."
As Chiang Mai already has a writers' club and a wide assortment of creative types, I was curious as to how Stephan picks which plays to produce.
"We're able now to have a committee where plays get vetted and then decided upon; however, any scribe, local or otherwise, is free to submit their plays to us and we'll give them a look."
Excellent news for anyone keen on seeing some of their written material produced. Producing such an excellent assortment of plays, however, doesn't come cheap, which is why Stephan is spearheading a fundraising drive in order to keep their operations alive.
"If we are able to achieve our goal of 275,000 THB (equivalent to $8500 USD), we'll be able to become a registered foundation allowing us to legally receive donations and apply for grants."
Currently, The Gate Theatre operates on a shoestring budget and can't afford to pay their actors. However, if they're able to reach their goal, not only will they be able to legally receive grants and donations, but they'll be able to secure a permanent place and produce higher quality shows.
Their next show is Steel Magnolias, but without additional funding, the future of Gate Theatre is precarious.
To avoid a final curtain call on this wonderful organisation, consider donating or being a patron of the arts by seeing their next show October 16-19 at 7pm (3pm on the 19th).
Fin.