The Thailand 180º Book takes the reader on a journey through the country through vivid photographs of the food, culture, traditions and locations that make Thailand such a unique and interesting place. The author George Edward Giunca, a fisheye lens enthusiast, also runs an English-Thai blog about his travels and photography, with one of his recent posts becoming very popular online, and being shared on Twitter and elsewhere by Thai and foreign fans.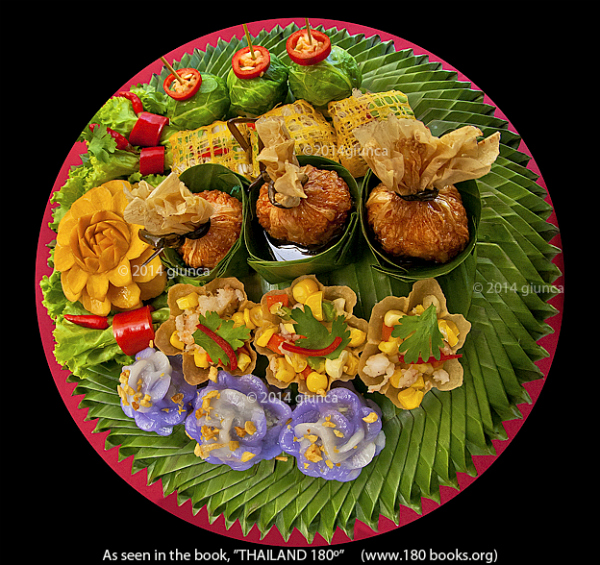 Royal Thai Cuisine Hors d'oeuvres.
George describes the artful dishes in detail for those wishing to learn more about traditional Thai food, their names, their flavours and presentation. Here, he breaks down the dish above from top to bottom:"1) Goong Sorn Glin – Marinated fresh shrimp in lime juice and ginger, wrapped in lettuce leaves.
2) Rhoom – Egg net-wrapped minced pork, crabmeat, and shrimp.
3) Toong Ngern Yuang – Minced shrimp and crabmeat wrapped in crispy bean curd to resemble golden bags.
4) Kratong Thong – Light crispy rice flour cups filled with blend of shrimp, pork, peas, carrots, corn kernels and seasoned with traditional Thai herbs.
5) Cho Muang – Steamed handcrafted flower-shaped dumplings naturally colored with butterfly pea flower filled with seasoned minced chicken."
Some of the other interesting categories on his blog include Exotic Food, Issan Food, Hilltribes, Artisan and Craftsmen, and The North. His book is availabe on Amazon here, and you can watch the trailer for his book here. He also has a series of other books in different locations such as Penang and India.