Rimping Supermarkets will be sharing their love for Australian products from 18th January until 2nd February and everyone is invited to come and join in the many events and promotional offers of "Australia Unlimited".

Rimping also opened a new branch at Maya Mall, which opened on 23rd January, with grand opening promotions, special prices and food tastings. The new branch will feature a cheese bar, which will be the first one in Chiang Mai, and will have a Japanese and Korean theme throughout the entire store. Rimping are continually attracting new nationalities of customers and hope to appeal to their fans in the area.
The "Australia Unlimited" features specially-imported Australian products, such as meats, cheeses and wines – all you have to do is look out for the Australian flag in the shopping isles! You can keep up with their special promotions and event on the Rimping website.
Here we share photos from the opening of "Australia Unlimited", such as the featured products and a simple cooking demonstration with dishes you can make at home: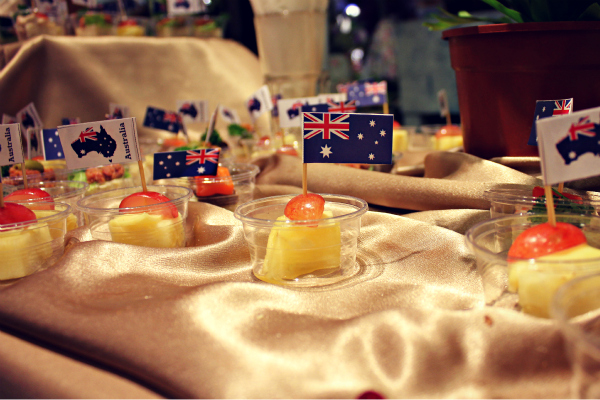 The Australian flag atop some pineapple, cheese and grape appetizers.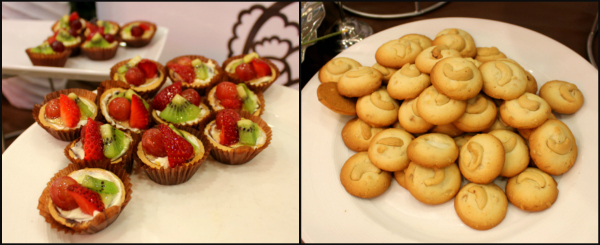 Rimping Supermarkets sure know how to do small sweet treats!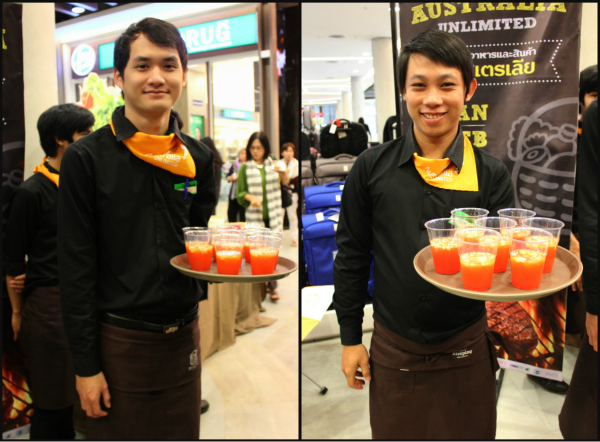 Friendly cocktail servers.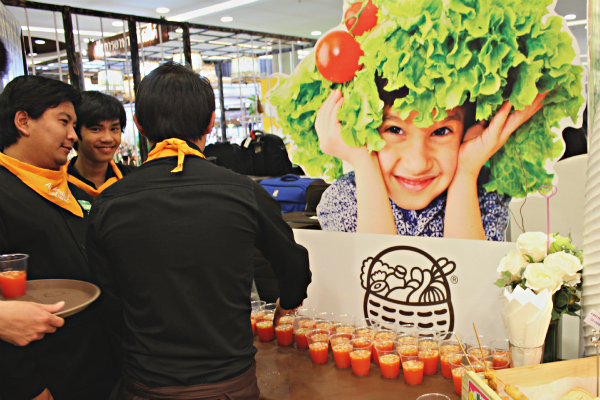 Rimping's famous lettuce kid, and a camera-ready smile from a server.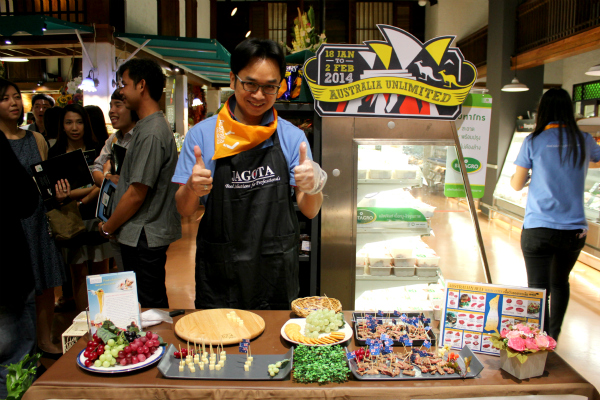 Tasters? Come and get them!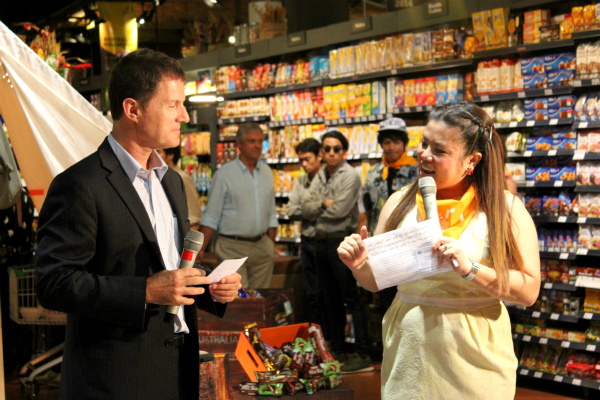 A representative of the Australian Embassy in Bangkok and the hilarious MC.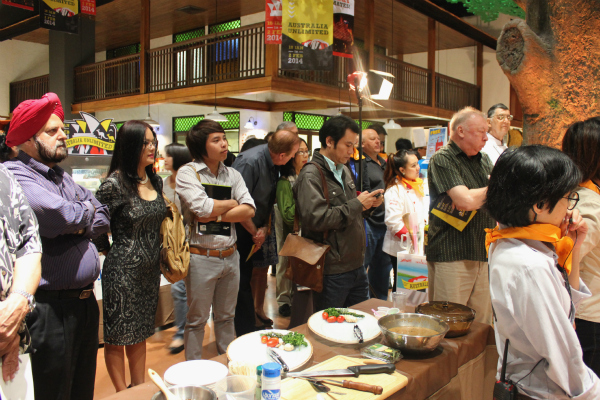 Some of the hungry crowds waiting for their free grub.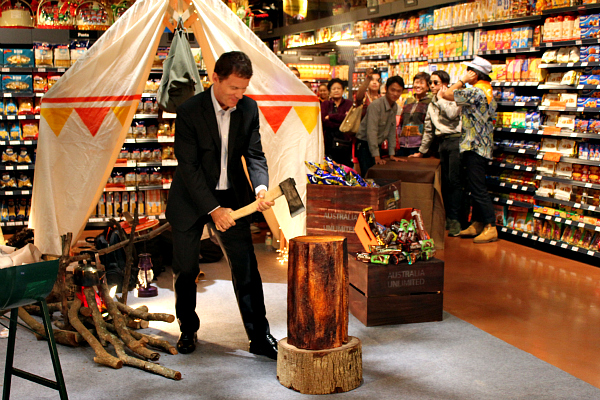 A random act of log-chopping.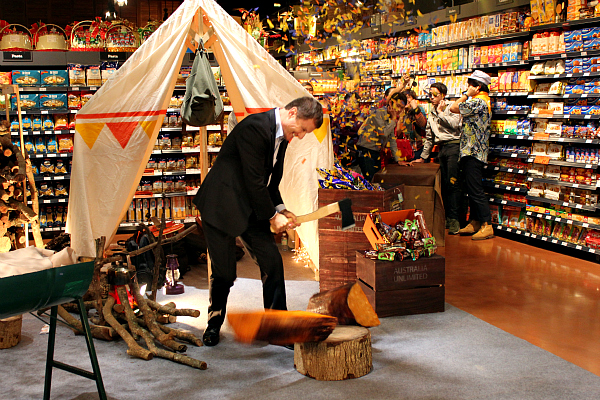 Watch out, lumberjack in the house!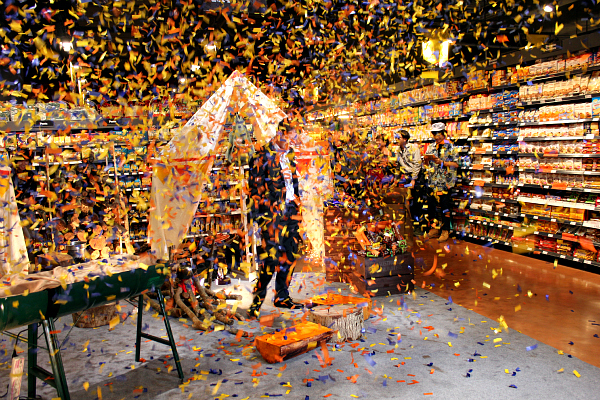 Woo! Colourful confetti!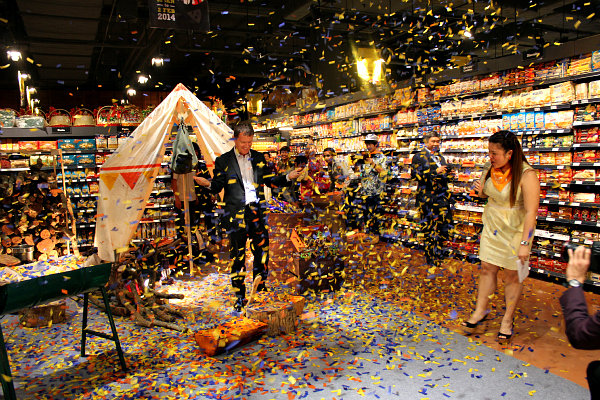 Okay, time to get back to business.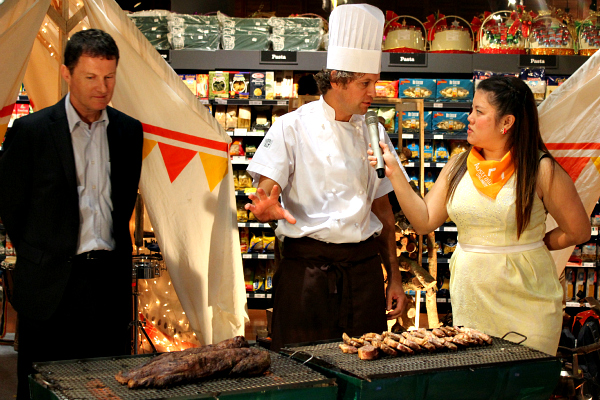 "Chef, what are you cooking for us today?", "Actually, I'm just here to slice the meat…"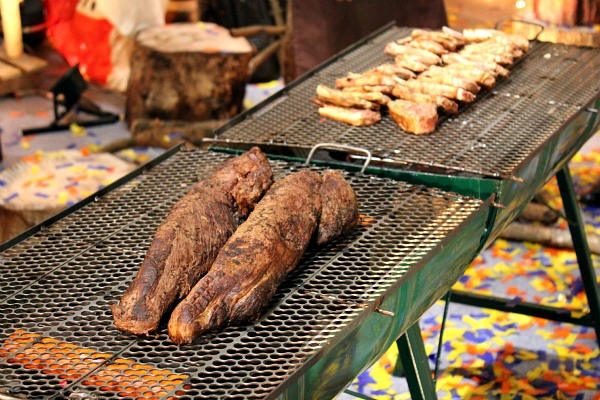 Australian beef and lamp chops, available from Rimping to take home and fire up on a 'barbie'.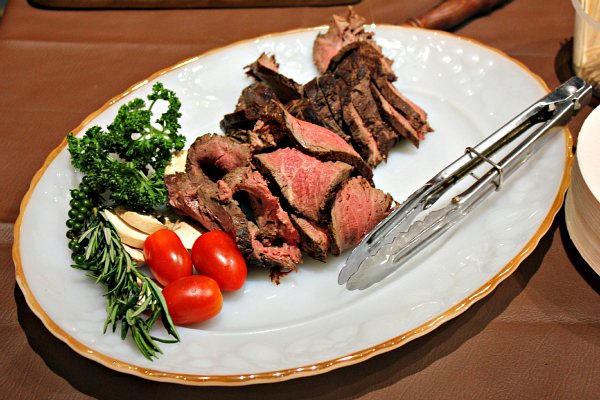 Australian beef. 10 points for presentation!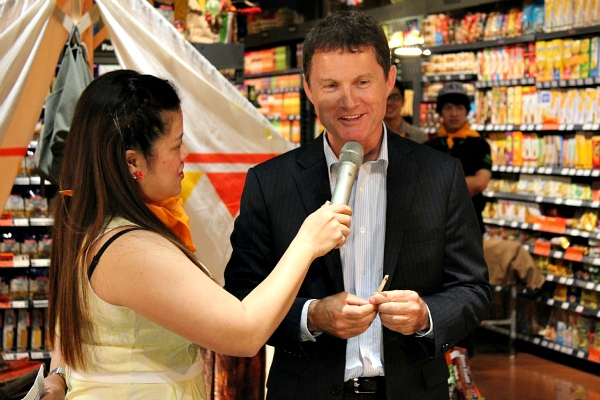 "So, how did it taste?", "Um… mmmmm… er…. mmmmm."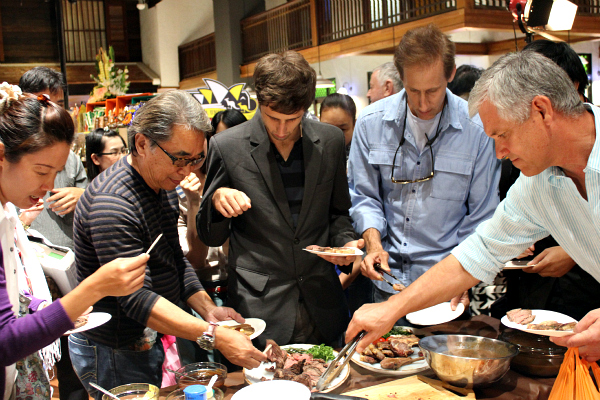 Jumping in for a sample.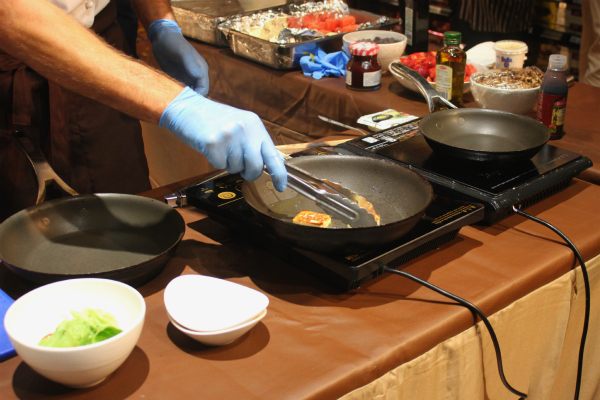 Okay, so the chef did cook after all… Here he fries some haloumi cheese in a pan with butter.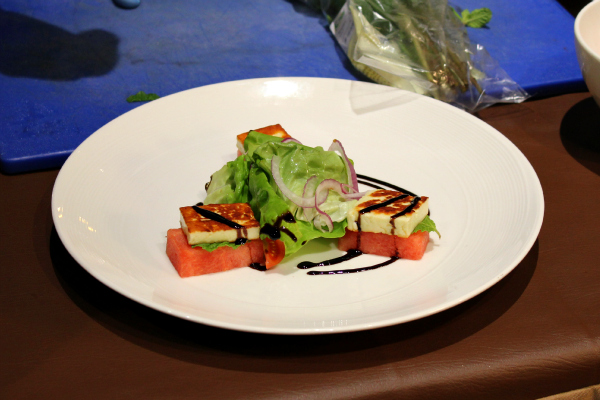 Ta-da! Watermelon topped with fried haloumi and a balsamic reduction.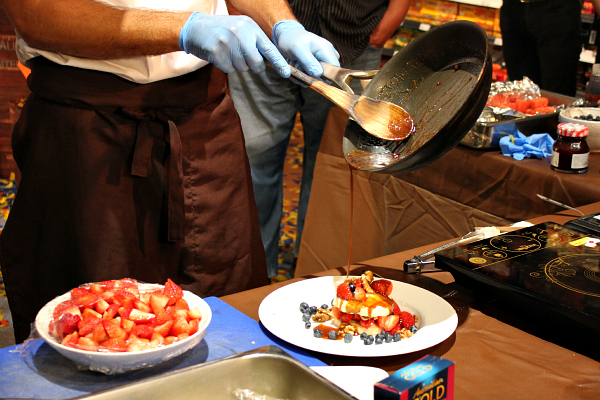 Drizzling caramel onto his Camembert dessert (the caramel is just melted brown sugar & butter).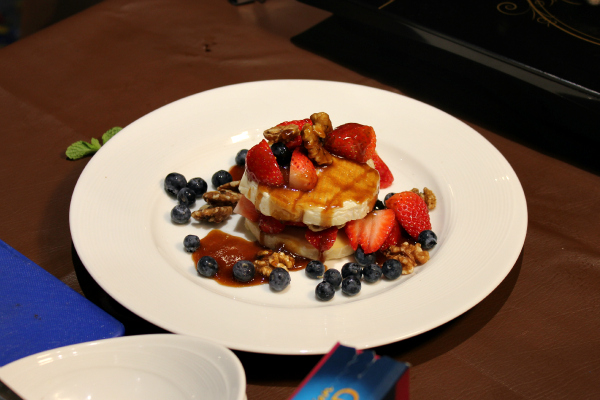 Sliced Camembert cheese sandwich with blueberries, strawberries, walnuts, and caramel.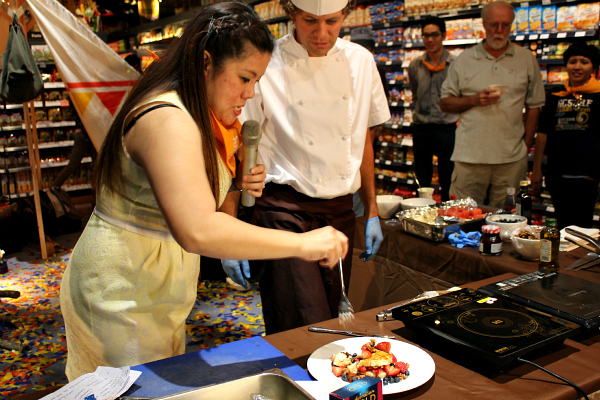 The excited MC attacking the dish with her fork. Grrrr!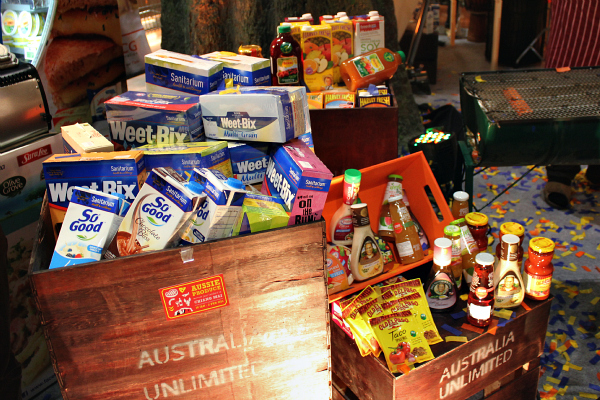 Some Australian products to look out for in Rimping Supermarkets.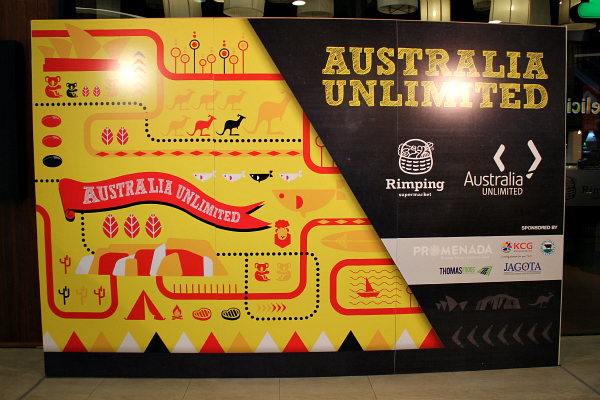 See you all at Rimping!
All photographs by Adrian Fleur. You can see more of her work at Market of Eden.