CityNews – Promenada has a colourful diary packed full of night and day attractions for the run-up to Christmas, making the resort mall Chiang Mai's most popular leisure destinations this holiday season.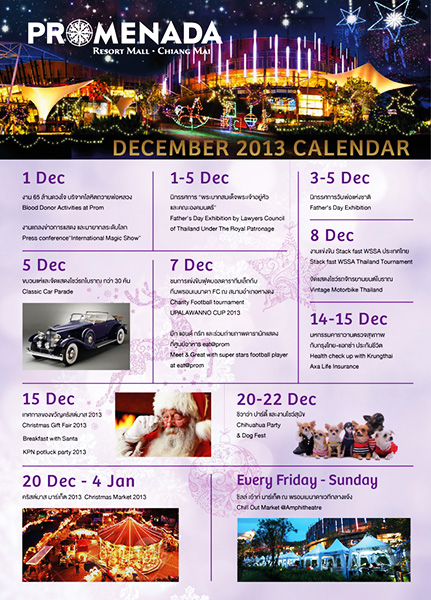 Programme highlights include:
Dec 8:
STACK FAST WSSA THAILAND TOURNAMENT @ Event Hall B
An unusual spectacle in the countdown to Christmas, the flurry of hands moving quicker than the eye can see provides laughs aplenty as Thai competitors in the international cult-hit sport of speed stacking competition to show off their skills and speed! Witness competitors young and old square off head-to-head in an innovative and unusual test of accuracy and balance with this official WSSA-approved competition.
Vintage Motorbike Showcase @ Entrance, Building A
Promenada presents a Vintage Motorbike Showcase, gathering more than 70 vintage and classic vehicles at the entrance of Building A. For those who need something to remind you of the good old days, this is an event you don't want to miss.
Dec 14-15: Free Health Check Up by KrungThai Axa @ Event Hall B
KrungThai Axa health insurance will provide free healthcare check-ups over 14-15 of December, giving families a great opportunity to get expert opinions on the state of their health. Specialists will be on hand to advise on suitable health insurance policies, offering peace of mind with discounted rates available.
Dec 20-22: Chihuahua Party & Dog Fest at Prom @ Event Hall A
A regional obsession with the beautiful and much in-trend "handbag dog" brings this exciting and oh-so-cute three-day foray into the world of petite pets in December. Kids will love the adorable animals on display, along with a large exhibition of animal food, toys, healthcare products and sundries. Don't miss the super-cute action at Promenada's Event Hall A, sure to be popular with shoppers of all ages!
Every Weekend: Chill out market @ Amphitheater
Promenada is already one of Chiang Mai's most celebrated spots for bargain hunting, leisure shopping or just strolling between the wares; for Xmas 2013, Thailand's first resort-style shopping mall will host a special Chill Out Market along the banks of its canal. These weekend events will offer live jazz music performances and a great array of delicious food, to be enjoyed al fresco next to the relaxing canal banks in Promenada's outdoor gardens.
Throughout December: Christmas Celebration @ All area
Promenada offers a perfect scenario for celebrating the festival of joy with its beautifully lit outdoor areas, Christmas Market @Prom, and carol singing performances throughout December.
Highlights:
Giant Floating Duck Replica – From 9 December 2013 to 12 January 2014, visitors will witness a 7-metres replica of the giant floating rubber duck sculpture which has been displayed in many countries all around the world.
Christmas Market @Prom – From 20 December 2013 to 5 January 2014, customers are welcomed to enjoy an outdoor shopping experience at Promenada's Christmas Market. Feel free to relish the winter breeze and variety of products in a resort-style atmosphere.
Live Jazz Performance by "Jazz Banacus" – From 24 – 31 December 2013, Promenada will welcome a talented local jazz band – "Jazz Banacus" – who will perform live and captivate the whole shopping mall with their music.
Kid Activities – During the same period, children can have fun with face painting activity, and occasionally meet Santa Claus himself. Exclusively on 24 – 26 December, enjoy riding a large merry-go-round, something special for kids in this festival of happiness.
Enjoy "more than just a shopping experience" offered by local and international brands and their amazing promotions and discounts, the warm atmosphere and sense of togetherness for which Chiang Mai is renowned, and experience the joy of Christmas Carnival 2013 at Promenada.
For more information and activities, please visit www.promenadachiangmai.com and follow exciting promotions on facebook at www.facebook.com/promenadachiangmai.