Almost exactly a year after being paralysed by a bullet to the spine, Nic Brown looks determined. Sitting in his wheelchair at his guest house, with his girlfriend Bow by his side, Nic is relaxed and upbeat, considering the circumstances, although the strain begins to show as we start to chat. There have been surprisingly few developments in his story in the last twelve months.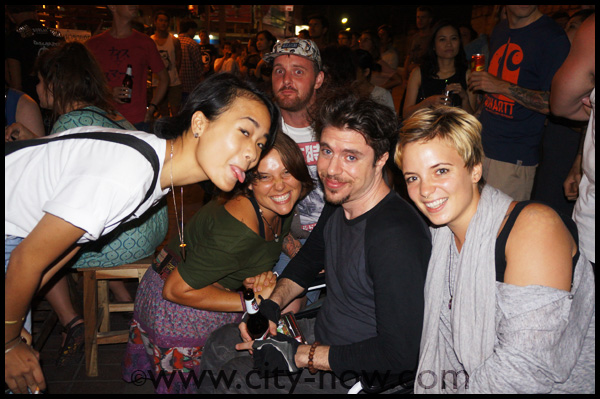 Nic Brown (second from right) with friends at his fundraiser in April
One year ago, Nic was shot and paralysed by a drunken Thai university student named Don Prawinmet at a bar off Nimmanhaemin. You can read his full story here, in an interview he did with CityNews from his hospital bed just after the incident. Today, paralysed from the chest down, Nic is still waiting for justice to be served.
Nic explains that the shooter's family were covering his hospital bills at the time of our original interview. Shortly afterwards, however, he was informed that they all payments had stopped, leaving him unaware of whether or not he could cover his skyrocketing costs. Luckily, the hospital opted to pursue the Prawinmet family for delinquent payments, rather than Nic himself.
Since becoming an out-patient, however, Nic has been forced to cover all costs alone, from medication to physiotherapy to ongoing aftercare. He is currently juggling two hospital visits and two physiotherapy sessions per week as well as keeping up with his daily medication schedule.
The strain of the ongoing trial has started to show. Nic looks tired as he explains his plans to return to Canada when the case sees a resolution. There, he can take advantage of the free healthcare system, and potentially more advanced medical services. Despite this, the trial date is still not set, although more than 12 months have passed since the event. His lawyer still has no clue when justice will be served. Meanwhile, his medical bills are spiralling, as well as accommodation fees and associated travel costs.
While on a recent trip to visit his elderly mother in Canada, Nic received a promising call from his attorney. The Prawinmet family had agreed to pay him a voluntary sum, in the hope that it would reflect well on them in the trial. This would not take the place of any compensation, despite possibly being deducted from the final settlement.
Feeling hopeful, Nic scrambled to find an airline carrier willing to fly him back to Chiang Mai from Canada on short notice, and returned to sign the papers – only to discover upon landing that the family had added an additional clause to this deal: if he was to accept the payment, he would not be able to sue them in a civil trial at a later date. A bitter blow, considering the effort he made (and money he spent) to return to the country. Any future civil trial, pending the criminal trial, would be worth much more to the winner. It is usually through such a procedure that Thai victims will recuperate loss of earnings. Of course, the defence were fully aware that Nic was spending time at home when they made this dubious offer.
In addition to offering (and latterly attaching conditions to) the voluntary payment, the shooter's parents have had Don committed to a mental institute for assessment. The mental testing is ongoing, and has no foreseen completion date. It is for this reason that the case has stagnated – no criminal trial can start until a diagnosis is made – and the reason for the delay is unclear. Nic notes that Don also became a monk for a short time, no doubt in another attempt at painting a positive image of him for the upcoming trial.
Undeterred by the lengthy separation from his ageing mother, who has recently had her own medical emergencies, and understanding that staying in Thailand to participate in direct negotiations with the defence may be detrimental to his health, Nic is refusing to act like a victim. Instead, he is holding out for results. "My life will continue," he says, "albeit, in a very different way than before."
Despite being confined to a wheelchair, Nic is optimistic and already planning future adventures. "Luckily, I got most of my backpacking done already," he laughs. "Laos, Cambodia, India…all the places with a lot of steps and not a lot of lifts! But I still want to see Paris and the rest of Europe."
But for now Nic remains, by his own estimation, "in limbo." Until he has a trial date, he cannot adequately plan for his primary care, let alone future trips, and has been forced to put his life on hold.
In order to push the case forward, he is committed to keeping the case fresh in the media – particularly getting interviews with Thai language publications. Maintaining his sense of humour, he jokes, "You know, I was interesting before I was in a wheelchair, too!"
For more information and updates: www.facebook.com/justicefornicbrown
To help with Nic's medical and legal fees: http://www.gofundme.com/66ajwg