CityNews – Coming from a land where the Highway Code is something of a Bible for new drivers, driving in Chiang Mai has certainly been a (near death) experience.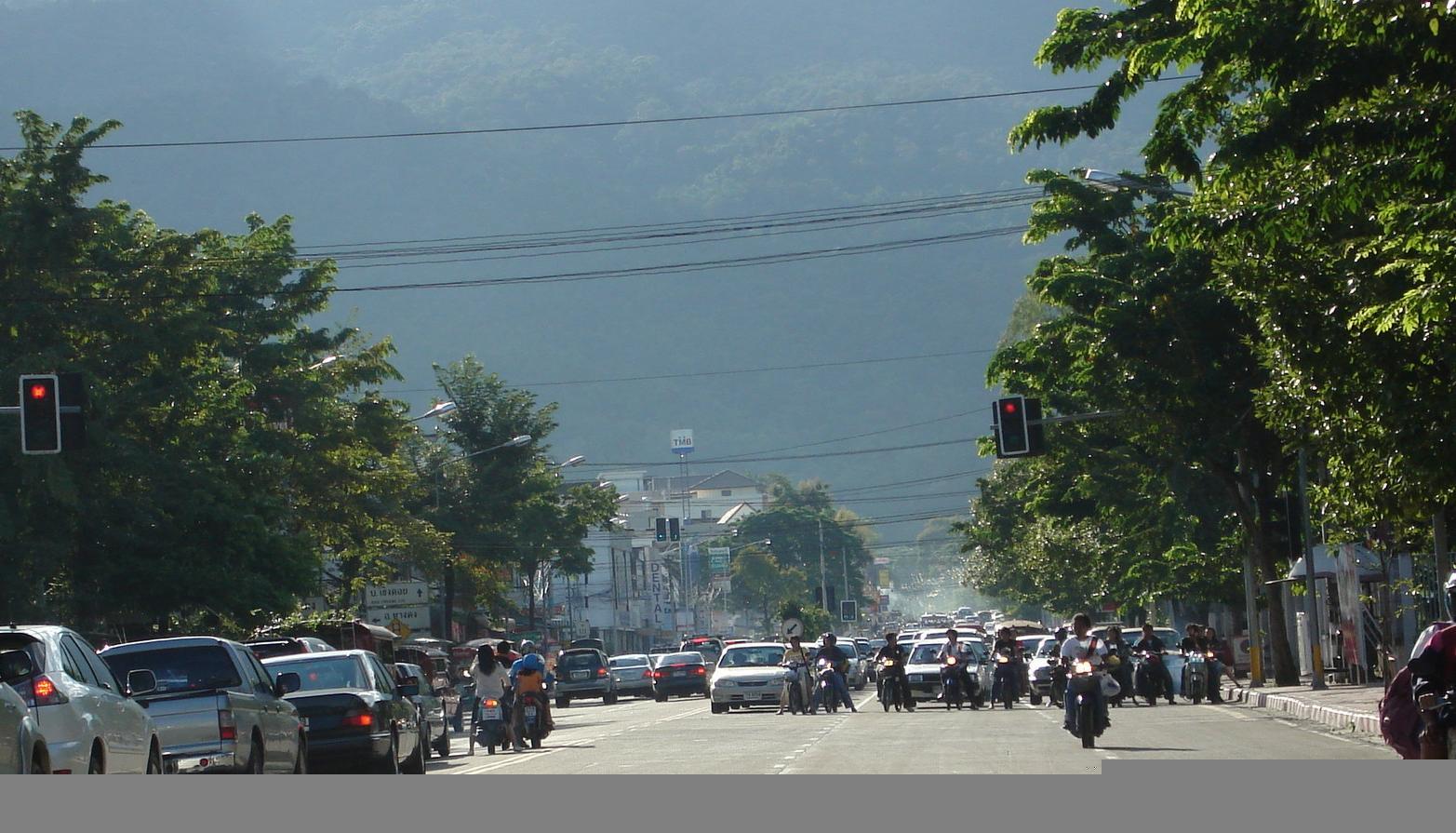 Driving in Chiang Mai can be a hair-raising experience. Photo: Wikimedia.

Gone are the courtesy-based roundabouts of England and the straight Roman motorways – but as I've swiftly discovered, it's not only the roads that are different. Having only got my licence some four months ago, my apprehensive driving personality remains a sucker for the rules, and by rules I mean predictability – something of a rarity here. I would describe myself as a fairly average driver, with the occasional dodgy manoeuvre, which to my amusement (and rather terrifyingly if you think about it), easily places me in the top 50 percent of drivers here in Chiang Mai. While in England I feared irritating other drivers and parallel parking, here in Chiang Mai getting from A to B in one piece is a well-deserved victory.
Having grown up in Chiang Mai until I was nine, I never paid much attention to the danger zone of the roads, often blissfully nodding off as a passenger in the back of the car. Now, however, as the sole force behind the wheel, it's clear that many drivers have been getting away with not even sitting a theory test, let alone a practical one. Back home in Oxford, passing the driving theory test first time is generally considered a great feat. One must artfully navigate 25 photographic questions in a section called 'Hazard Perception', scoring a minimum of 12/25. Then one may progress to the standard 40 theory questions, answering at least 35 correctly – and this is all before the practical!
After observing first-hand the kamikaze swerves of Chiang Mai drivers, I decided to look into the driving rules, which have recently changed, leading to a theory test fail rate of 90 percent in June. It was previously necessary to answer 75 percent of 30 questions correctly to pass, but this has now been raised to 90 percent of 50 questions. There may be hope for the future of Chiang Mai drivers, but in the meantime I have had to abandon all British codes of conduct and take matters into my own hands. The only way to survive the Chiang Mai locals is to drive like them – but with indicating.
Indeed, indicating – it seems to be something of a rarity here in Chiang Mai. In my experience, indicating is either done to excess or not at all. The first lesson to be learned about driving in Chiang Mai is that there are no rules. Or perhaps there are rules, but half the people don't know what they are (see the failure rate for the driving theory test), and the other half choose not to obey them.

Take the middle lane, said the Buddha. Yes we will, said the Chiang Mai drivers. Why bother having lanes when you can be a free spirit? In England we take our lanes very seriously – you choose a lane and you stick to it. If you care to change lanes, you indicate. Upon arrival here, I obeyed the same rules, only to discover that there was some other, invisible VIP lane to which I did not have membership. Hardly anyone in Chiang Mai complies with the painted lanes on the roads. Instead, many choose to operate by this elusive and ever-changing invisible lane, driving in the middle of the road, obstructing both marked lanes so that no other car may pass you – at least not safely.

Driving down the popular hotspot of Nimmanhaemin perhaps epitomises my dangerous driving experiences. I knew it was going to be terrible before I even approached it – the violent merger of three lanes into two near the new Maya mall served as a forewarning. Nimmanhaemin is always horrendously busy, so not only did I have the usual hazards to contend with but this time I was flanked by herds of motorcycles on both sides. As if the random manoeuvres of cars don't pose enough problems, motorbikes add a whole new dimension to Chiang Mai driving. It's not uncommon to see two or three people on one motorbike, sometimes with a baby in tow. Motorbikes, due to their size, are much more capable of flitting in between lanes and zipping amongst other vehicles at a moment's notice, though car drivers can't be reprimanded for lack of trying. If I thought 'middle-laners' were selfish, motorcyclists certainly take home the prize, not even sparing a glance around the roads but instead expecting those in cars to accommodate every impulsive hurtle forward (or backwards, sideways, anything goes). Palms sweating and nerves running rampant, I took the first opportunity to flee down a soi, only to be confronted with the old fear of the parallel park. It's safe to say I'll be putting off driving on this claustrophobic road for as long as possible.
I've been adjusting to Chiang Mai driving for nearly a month now, and though I can't say the fear has fully subsided – I don't think it ever will – I have somehow become a fully-fledged Chiang Mai driver. I'm a little more aggressive than I was when I initially started out, but I still give the occasional slow-lane driver the opportunity to come to the right, despite a lack of any indication. Though I myself may indicate, and though I may stick to lanes, occasionally I feel a glimmer of hope as the car behind me follows suit. Here's to changing Chiang Mai, one car at a time. And hey – I've heard it's not as bad as Vietnam.