Learn about Magical Light Foundation's Winter Distribution Project from Ben Cheong here:
Since we decided to set up Magical Light Foundation in Chiang Mai two years ago, we have been distributing winter clothing to different villages in the mountainous region that borders northern Thailand and Myanmar during the cold months as part of our annual project. In 2012 we went to a Shan orphanage at the border of Fang and Myanmar that was situated on mountainous terrain for the distribution.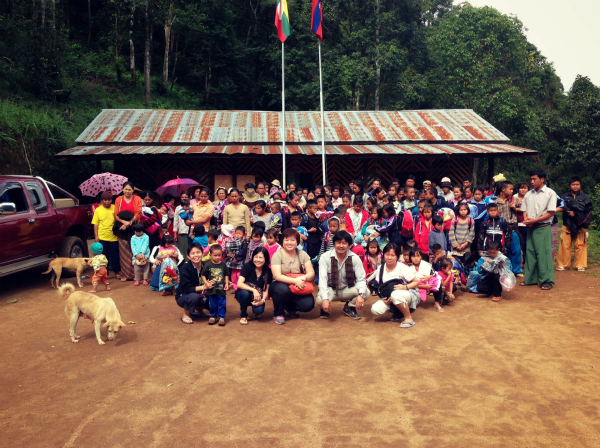 Around September last year, we started to collect used winter wear from friends in Singapore and also raised funds for purchases of thick blankets, shoes and other basic and schooling necessities for our winter distribution project. With the help of friends and volunteers who came to visit Chiang Mai from Singapore, we managed to bring over a few hundred kilos of good quality winter clothing and other donated items for our distribution project.
With our limited resources, we short-listed three villages to do our winter distribution for November 2013. They are Korng Moong Mueang village and Ma Kher Som village situated on the Shan mountain around Mae Hong Son province and Nong Ook village which is about an hour north of Chiang Dao at the northern edge of Chiang Mai Province.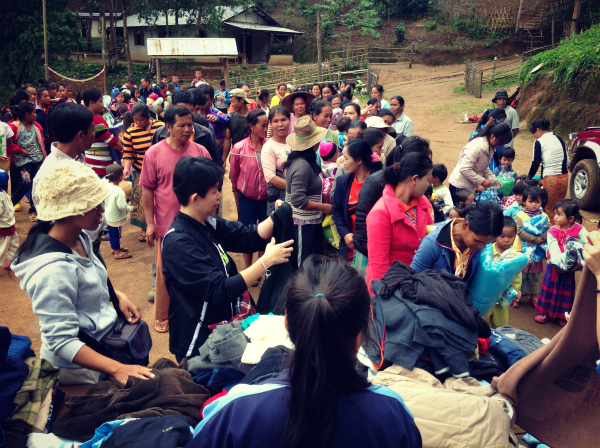 Due to the bulky and numerous bags of donated items we have collected from Singapore, and a few hundred blankets which we had purchased here in Chiang Mai, we had to send most of the items ahead of us to three convenient collection points near the three different villages that we would visit. Magical Light Foundation's staff, permanent volunteers, supporters and four other Singaporean volunteers have to be divided into two teams for this exercise. One team headed to a village near Chiang Dao and the other team headed to two villages around Mae Hong Son.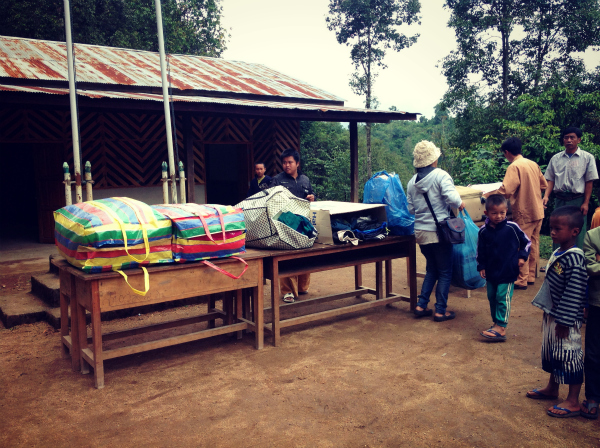 In November 2013, one of our teams took the infamous Mae Hong Son route towards the Shan mountain near the Thai-Myanmar border. After arriving in Mae Hong Son, we went to a local warehouse to collect all the donated items which we had sent earlier. The next morning, our first destination was Korng Moong Mueang village in Shan State, just next to the Chinese village of Ban Rak Thai in Mae Hong Son. This village sits on the Shan mountain slope and the villagers consist of Shan people, the Pa O Hill tribe and Wa people, and they have lived together peacefully in the village for a long time. There are about 100 families living in that village with houses built on the slope of the mountain. Within that village, there is an orphanage and children's home and also a school, the children of which received most of our donations.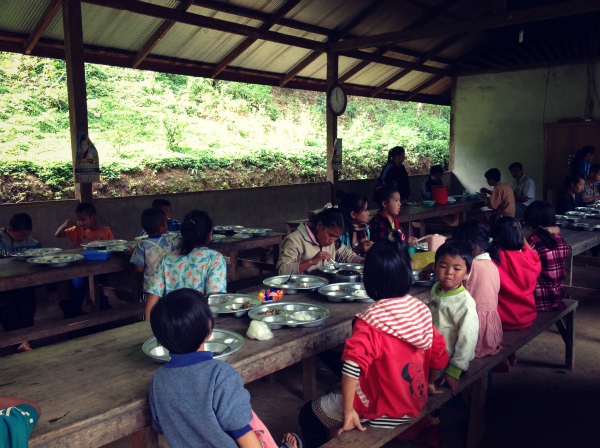 We had to cross the Thai border to reach the Shan village on the Myanmar side with four of volunteers from Singapore. The school and orphanage principal had already organise the children to greet our arrival at the school. There were about 60 boys and girls from the orphanage staying and studying there. Our team immediately arranged the items into different stations: blankets, clothing, school bags, stationeries, food and toys. After the exciting distribution, we took a group photo with all the jubilant kids and went on a short tour of their school, boys' and girls' dormitories, cook-house, medical centre and the rest of the village. We were invited for some Shan Tea and then it was almost time for us to leave the village. The exuberant and grateful reaction from the villagers and children left us with a deep impression and we promised to send more donated items to them in a few months' time.
That's all for now, but there will be more to come about our activities and the foundation's many projects,
Ben Cheong
Founder of the Magical Light Foundation.
Visit the Magical Light Foundation website or Facebook page to learn more and get involved in this great cause.