Magical Light Foundation has been registered in Chiang Mai for over two years, but only recently got approved, and now with the support of their hugely-successful Magical Garden Cafe, their organisation is now becoming more and more popular in the city. Here founder Ben Cheong tells me about the foundation, particularly about building schools in Myanmar, and talks about some moving moments close to his heart.
The Foundation believes in education, and besides building schools in Myanmar, they do many other things: they provide Thai and English language classes for underprivileged children in Chiang Mai and nearby refugee camps; they visit orphanages, refugee camps and other disadvantaged areas with gifts of necessary items like blankets, books and food; they run The Mealbox Project; as well as much more which you can learn about here.
"I started building schools in Myanmar five years ago." Ben says. "The eleven schools I have built in Myanmar so far benefit about 1800 kids every year, but I believe that will benefit many generations to come."
"Many incidents touch me, move me and push me on, telling me I am doing the right thing." He describes a time when he was visiting a small village in Myanmar, and the village chief had told him the people there had been waiting for him for 30 years. "That really touched me. They were just waiting for somebody to come and help them."
Many of the villages in these impoverished places only have access to temple schooling, many of which are run down and not fully functional. Ben says it's important for children to feel proud of their school and their education, and that dilapidated learning environments are not conducive to studying.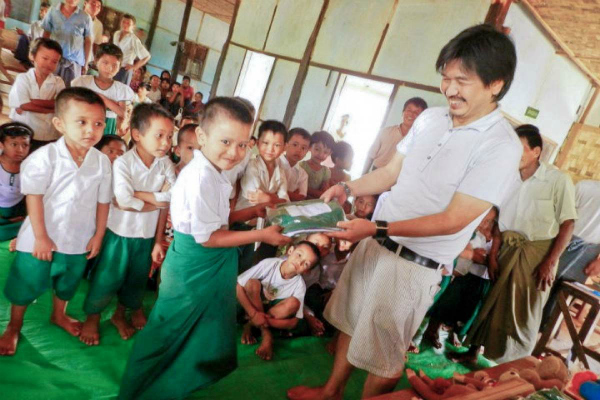 Ben hands a young student a book at the Metta Love school – the third one built by the foundation.
Although Ben has always been involved in charity work, even back in his home country of Singapore, he wanted to affect more people. "Who better to impact than children?" He asks. While Myanmar tends to have a higher demand for farmers more than educated people, Ben says that the country won't advance that way. "People must make a life for themselves, and they can only do that with the advantage of education."
The Foundation's main motto is to empower children through education. Ben mentions that the Foundation came about because he got connected with a Buddhist temple in Singapore. The temple was building schools in Myanmar, and Ben got involved with their team, and it worked. Myanmar experiences a half-year rainy season, while the other half is dry. "That's why the schools get built so quickly," says Ben, "But the country also has typhoons, and I hated seeing schools falling apart during those times. I couldn't bear to think of all those children in danger."
Usually the schools that the Foundation helps to build have 8 or 9 classrooms and school students from grade 1 to 8. After the schools are completed the government and community are responsible for running it and employing the staff; schools of this size commonly employ 4 – 6 teachers and a principal. Ben says the Foundation always donates a few solar panels exclusively for the teachers, so they don't have to work by candlelight in the evenings at the school.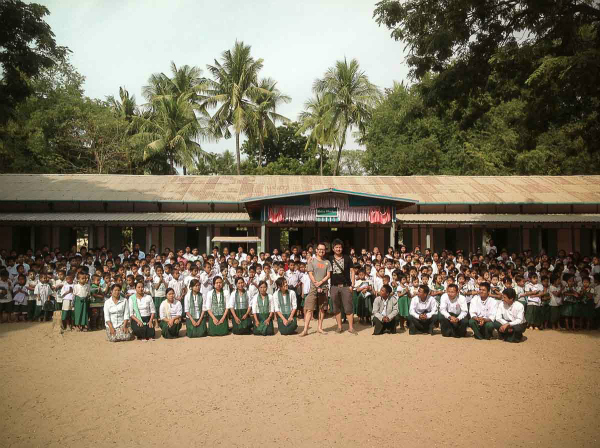 The children outside their school, Metta Wisdom, which was the sixth school built by the foundation.
"I have four conditions for building schools," Ben says, and he begins to list them:
"Firstly, I don't just knock on doors and offer to build schools. I have to have a relationship with the people, and they must understand what will happen."
"Secondly, I don't buy the land that the school will be built on. I don't want to own any land, because land is valuable and that might lead to questions about my foundation. The villagers own the land, and it's their responsibility after the school is built."
"Thirdly, the men of the community must build the school. This unifies the community and gets everybody involved. The builders are contributing to their own people, and this creates pride and a sense of shared accomplishment. Our foundation raises the money for the raw materials, for the cement and metal and so on. But we don't tell the people how they should build their school. They build it how their people have for generations, and it is truly theirs."
"Fourthly, the school fees are $1 a month. That goes towards the teacher's salaries, as teachers in Myanmar make around $25 – $30 a month. If the parents don't contribute anything towards their children's schooling, they might be tempted to keep their kids at home – maybe to look after other kids, or work in the fields. But if they have to hand over their hard-earned $1 towards their children's teachers, they will make the children go to school."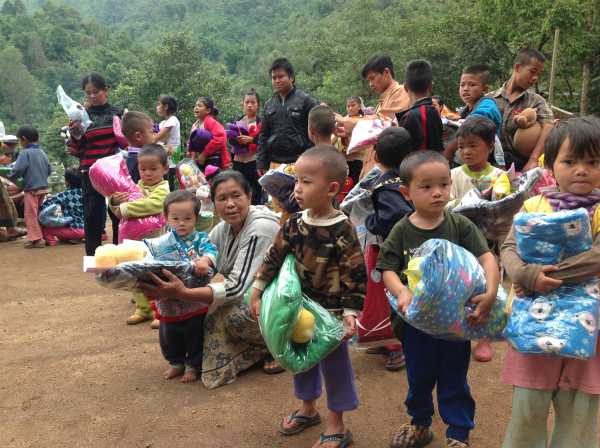 Small children with their gifts of winter clothes and bedding in a Mae Hong Son village.
Ben's next project is a green school in the Shan State of Myanmar, where the school itself will be built from natural materials: grass, sandstone and so on. The land that the school will be built on has a natural spring which will be tapped for fresh water, and solar panels will be used for electricity in the building. Hopefully, this high school, with dormitories for long-stay students, will be built by August 2014. It will be named Metta World, as all the schools built by the Foundation are named after Metta, which is a word in Sanskrit meaning loving kindness, benevolence, and good will, among other things.
"It's not easy work," says Ben, "but I just love it. I'm so lucky to not have to worry about a roof over my head, or food or money. I think this is my calling."
To get involved, visit the Magical Light Foundation website or Facebook page.