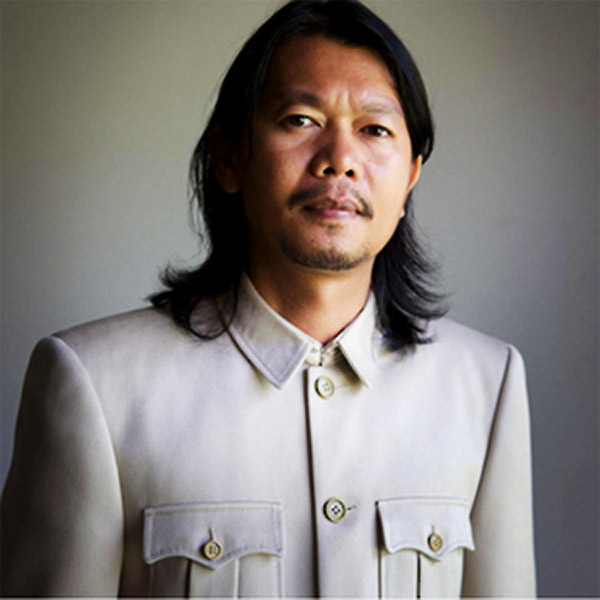 Kamol Duangphasuk: Photo from his Facebook Page
The assassination of the popular Red Shirt activist and poet, Kamol Duangphasuk brings new lows to the on-going political conflict that has troubled Thailand, primarily since the disastrous Amnesty Bill of Yingluck's government last year.
Using the pen name Maineung K. Kunthee, Kamol made his living publishing poems in Matichon during the nineties and working in his own duck restaurant, the Duck Poet Society. Following the coup d'état of 2006 he began to take a more prominent figure within the anti-coup Red Shirt rallies under the banner of the United Front for Democracy under Dictatorship (UDD), and soon became known as the 'Red Shirt Poet' or the 'People's Poet'.
Yet his prominence among the Red Shirt activists was inevitably his demise. The chatter of '112' emanating quietly and refusing to cease has now seemed to take the political stalemate into darker more militaristic paths.
Earlier this month Wuthipong Kachathamkul, aka Ko Tee, implied on a video interview with VICE tv, that the PDRC is lead not by Suthep Thuagsuban, but someone higher up. This saw not only the opposition, but also the Government take swift action to order an investigation into the footage. As a result the police are now receiving growing pressure to find and arrest Ko Tee under suspicion of breaching the Article 112 while the media reports that he is "still at large".
Article 112 of the penal code states that "Whoever defames, insults or threatens the king, queen, the heir-apparent or the regent, shall be punished with imprisonment of three to fifteen years."
On Wednesday April 23, 2014 the vigilantism of an anti-red shirt gunman showed the true audacity and disregard for the law and political discussion of a growing number of extremists, with the murder of Kamol outside a restaurant in Bangkok. With calls from Human Rights Watch to conduct a fair and proper investigation most certainly landing on deaf ears, where can this sensitive issue move to if not yet darker paths?
Kamol's murder is the latest in politically motivated vigilante attacks on critics of Article 112. This is the third major attack on critics of Article 112, following on from the attempted assassination of Somsak Jeamteeraskul, a history professor at Thammasat University in February and the assault of law professor Worachet Pakeerut two years ago outside Thammasat University's Law School.The recent news that a Thai mother and father have openly accused and are attempting to sue their own daughter, who lives in the UK, for negative comments against the Monarchy has shocked many. A prime example of how the climate of fear is encroaching onto everyday Thai people, with fear of repercussions on family members comparable to North Korea's family wide punishments for an individual's political criticisms.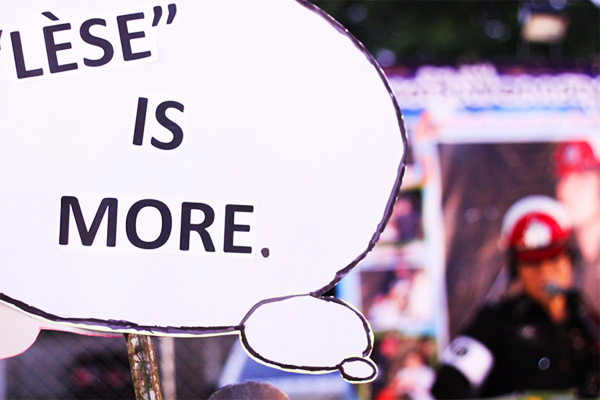 Protest sign. Photo taken in Chiang Mai
With the political stalemate growing every deeper due to the PDRC's botched attempts at toppling Yingluck, the Royal Thai Army's indecisiveness, the recent murder of Kamol and Yingluck's Amnesty Bill and the Thakisn legacy, goes to show the growing lack of confidence in any current institution by many of the more militant groups. This has inevitably led to certain extremist royalist groups vowing to 'exterminate' lèse-majesté offenders under the guise of a new organisation called, quite literally, the "Rubbish Collection Organisation" (RCO). Retired military doctor and leader of the RCO, Rienthong Nanna, unashamedly warned that 'critics would be responded to by violence' has caused even more rifts in the delicate fabric that is Thailand's political future. Reports on the RCO only three days before the murder of Kamol, declaring an establishment of "a special task force of old soldiers", should be indisputable as to who the police should investigate first. However, these logical thoughts die short, again.
The comments made by Rienthong and other royalists over the last few years, such as suggesting freedom of expression and academic freedom do not excuse negative comments about the monarchy, have led to an unprecedented rise in lèse-majesté cases from an average of 2.5 a year in the 1980s to 164 cases in 2009. Partnered with the Computer Crimes Act, banning 57,300 web pages to date, these laws are more recently being abused to cast fear in the Thai people and foreigners alike. The development of such organisations such as the RCO have also been described as a "Rhetoric created to sow divisions and hatred" and "should be put to rest" by student leader during the 1976 Thammasat Massacre, Surachart Bamrungsuk.
Kamol's death is the turning point for many militant activists, both red and yellow. Yet while political protest wages on over the control of the government and a fight for 'reform' before or after an election, what really will come of this underground turf war? Will Thailand fall face first into gangland style warfare before any agreement can be met? The growing fantastical comments coming from Suthep and the PDRC rallies seem to know no ends, and have somewhat successfully placed Thaksin directly against anything Royals. This dangerous action seems to be left un-criticised perhaps due to an endless cycle of confusion on what can and cannot be talked about legally and a sad reality that the Monarchy has yet again been dragged into the political turmoil and is again being used as a pawn for political gain.
The damage that both sides are causing is quickly becoming irreparable, yet the murder of Kamol has shown one thing very clearly. The Institutions are losing the battle. Militant royalists are taking the law into their own hands. Be their motivation genuine care for His Royal Highness King Bhumibol, or as an excuse to eradicate political opponents, it cannot be denied how misjudged their actions really are.
Thailand is a country with such national pride, yet is being ripped apart by many, seemingly unstoppable forces. The red yellow divide is far beyond simple colours now. It has become a Flag, the Thai flag, being paraded by both sides claiming their piece of this ever volatile land. Nation-wide smear campaigns and witch-hunts will only bring this country to its knees, and cause greater alienation from the global community and will certainly harm the face of Thailand forever. Deaths like that of Kamol may cause divides, but it will bring unification as well. Perhaps the murderers have cut off their nose to spite their face but do not yet realise? Or is blind faith for any party really all that matters? One thing is for certain; only true freedom of discussion will ever get Thailand out of this eternal struggle over power, and that will sadly come at a great cost.