CityNews – The latest US State Department report on the issue of global human trafficking, known as Trafficking In Persons Report, has the potential to severely affect Thai-US relations depending on the results revealed next month. Thailand now faces the possibility of ranking lower than ever before on the report, which could ultimately mean facing trade sanctions from the US government – a move which could restrict international trade and weaken the Thai economy.
A poster for the Not For Sale campaign – get involved here.
For the past four years, Thailand has been allowed to remain on the Tier 2 Watch List, which means it is a nation that does not meet the minimum standards set by the US State Department, but is still considered to be making an effort. Now, US and Thai officials are concerned that Thailand may slip to a Tier 3 country, alongside North Korea and the Central African Republic, as little evidence of anti-trafficking progress has been offered to US authorities. However, in practice, the United States is highly unlikely to sanction its old ally Thailand, but the sheer embarrassment of such a massive failure might spur some renewed action against human trafficking in the region.
In March this year, Thailand submitted its 2013 report on its trafficking record to the US State Department, with the Thai Ministry of Foreign Affairs saying the country had made "significant progress" in fighting human trafficking in last year. However, the document failed to include Rohingya people despite Reuters investigations in three countries that publicly highlighted the lucrative trafficking and mistreatment of up to 40,000 Rohingya people. The Reuters investigations prompted the US State Department and the United Nations to embark on their own investigations into the findings, with many US lawmakers calling on President Barack Obama topunish countries where little is being done to combat human trafficking, such as Thailand and Myanmar. After the blunder, the Ministry of Foreign Affairs stated, "We have not found that the Rohingya are victims of human trafficking." The report claims that the Rohingya are not victims of trafficking, but rather of "smuggling".
An infographic highlighting the human trafficking route in ASEAN – see the large one here.
The former ambassador of the Trafficking In Persons office, Mr. Mark Logan, heavily criticized Thailand's submitted report. He said Thailand had inaccurate methods of identifying victims among vulnerable groups, careless investigation, persecution and conviction of perpetrators, and deficient regulations concerning labour brokers and recruitment fees paid by migrant workers. He went on to accuse Thailand of being complicit in cross-border smuggling of migrants, offering little or no assistance to victims, and classing thousands of Royingha people as "smuggled" as an excuse not to include them in the report.
The Foreign Ministry responded by insisting that Thailand has made great progress in trying to resolve the country's human trafficking crisis, claiming that anti-trafficking efforts from January 2013 to January 2014 had considerably improved.
It should also be noted that no findings related to sex trafficking of women and children in Thailand have been mentioned by officials despite this being a serious and persistent problem in the country. Wikipedia states, "The majority of the sex workers in Thailand are foreigners [mainly from neighbouring countries] and more than 60% of females entering the country to work in the sex industry are under the age of 18."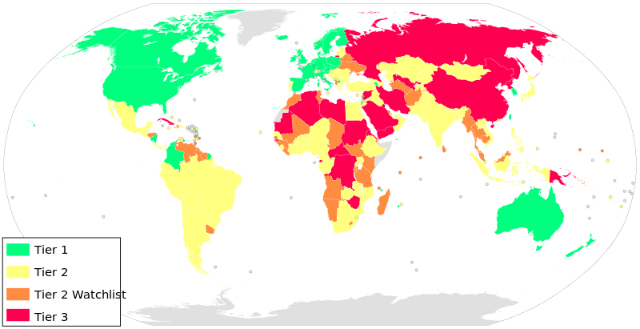 The Trafficking In Persons map for 2013.
Here are explanations of the Trafficking in Persons Report rankings:
(Note that Thailand has been on the Tier 2 WATCH LIST for the last four years.)
TIER 1: Countries whose governments fully comply with the Trafficking Victims Protection Act's (TVPA) minimum standards.
TIER 2: Countries whose governments do not fully comply with the TVPA's minimum standards, but are making significant efforts to bring themselves into compliance with those standards.
TIER 2 WATCH LIST: Countries whose governments do not fully comply with the TVPA's minimum standards, but are making significant efforts to bring themselves into compliance with those standards AND:
a) The absolute number of victims of severe forms of trafficking is very significant or is significantly increasing;
b) There is a failure to provide evidence of increasing efforts to combat severe forms of trafficking in persons from the previous year; or
c) The determination that a country is making significant efforts to bring itself into compliance with minimum standards was based on commitments by the country to take additional future steps over the next year.
TIER 3: Countries whose governments do not fully comply with the minimum standards and are not making significant efforts to do so.