The global fashion industry is coming together to highlight the challenges of the fashion supply chain, from exploitation to pollution, with the inaugural Fashion Revolution Day on the 24th April 2014, when a series of global events and initiatives will highlight the fashion industry's most pressing issues and engage local communities to demand greater transparency throughout.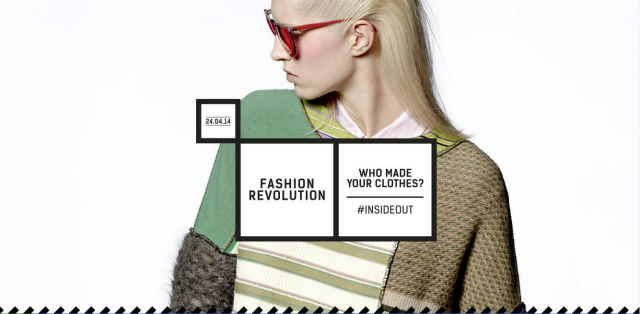 On April 24th last year, 1133 people were killed when the Rana Plaza factory complex collapsed in Dhaka, Bangladesh. Many more were injured.
The textile industry is widely regarded as a major contributor to global pollution but, according to research by Deloitte, 2 in 3 fashion companies are not focused on engaging consumers with regard to sustainability. According to the Australian Fashion Report in 2013 [1], 61% of companies surveyed didn't know where their garments were made. 
Fashion is a force to be reckoned with. It inspires, provokes, leads and entertains. And, from April 2014, it's going to do even more, because we're turning fashion into a force for good.
With one simple question: 'Who Made Your Clothes?' we're asking everyone who's taking part in Fashion Revolution Day to be curious, find out, do something about it, by wearing an item of clothing inside out, photographing it and then sharing it with the hashtag #insideout on all social networks.
That way, people all over the world – designers and icons,  high street shops and high couture, cotton farmers and factory workers, campaigners, academics, the media and any individual who cares about what they wear – can come together to demand greater transparency.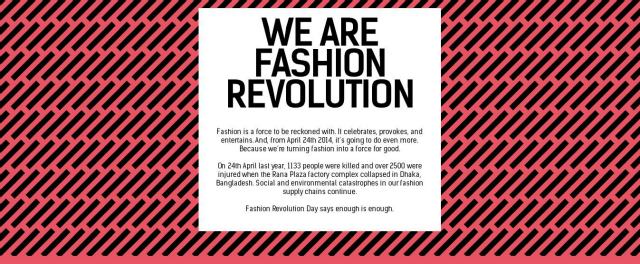 Fashion Revolution Thailand hopes to do this by hosting their own event. At Thapae Gate on the 24th April, a number of students, tourists and ethical producers will show up with their clothes on inside out and ask the question 'Who made your clothes?' The clothes themselves will answer the question. The volunteers will be asked to research who made their favourite piece of clothing and then attach a cut out speech bubble which would tell you where this piece of clothing came from. This is the first awareness campaign of its kind in Chiang Mai and we hope it will force people to stop and question the origins of their own apparel.
Over 50 countries around the world will be holding their own event in support. Global events will include a mass catwalk in the centre of Barcelona; a workshop in Nepal on how to clean up waste water from dye houses; a fashion show in Bangladesh with producers wearing the clothes they make; a touring exhibition in Swaziland documenting the lives of local artisans and fashion boutiques the world over will turn their window displays #insideout to show their involvement.

Supported by some of the biggest names in ethical fashion, including activist Bianca Jagger and journalists Lucy Siegle and Tamsin Blanchard, Fashion Revolution Day marks the anniversary of the Rana Plaza factory disaster in Dhaka, Bangladesh, but represents much more than that, as this is only the beginning of a long journey of transformation.
Over 20 celebrities, including eco-fashion icon and Fashion Revolution Day Board member Livia Firth, retail expert and broadcaster Mary Portas and television and entrepreneur Jo Wood, have already lent their support to the campaign by being photographed with their t-shirt inside out by iconic British portrait photographer Trevor Leighton.
As well as the multitude of global events to mark the day, there will be a series of global 'social media takeovers' hosted at @Fash_Rev. These are scheduled events, held on Twitter, Facebook and Instagram to allow like-minded people to connect and discuss a topic of choice. Subjects for discussion will include how to revamp unworn clothes, first-hand accounts of life for workers in factories that supply our best-known retailers, Twitter Q&As from organisations such as Greenpeace, Fair Trade Foundation and Centre For Sustainable Fashion, as well as Facebook mini blogs from Fashion Revolution board members and supporters.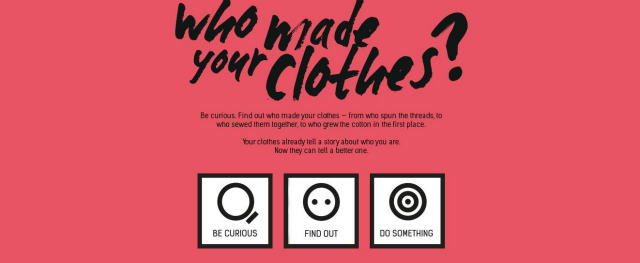 "The idea for Fashion Revolution Day came to me in the bath," said Founder of Fashion Revolution and ethical fashion pioneer, Carry Somers. "I saw that the Rana Plaza disaster could act as a catalyst, with the heightened awareness around ethical fashion providing a window to bring about real change. Fashion Revolution Day represents an exciting opportunity to reconnect fashion-lovers with the people who made their clothes."
"Fashion Revolution Day promises to be one of the very few truly global campaigns to emerge this century." says Baroness Young of Hornsey who set up the All-Party Parliamentary Group on Ethics and Sustainability in Fashion. 
Co founder Orsola de Castro says: "With one simple gesture (#insideout), we want you to ask: 'Who Made My Clothes?' this action will encourage people to imagine the thread from the garment to the machinist that sewed it and all the way down to the farmer that grew the cotton it was made from. We hope that Fashion Revolution Day will initiate a process of discovery, raising awareness of the fact that buying is only the last step in a long journey involving hundreds of people: the invisible workforce behind the clothes we wear".
Find out more at www.fashionrevolution.org. Like Fashion Revolution on Facebook and follow @Fash_Rev on Twitter.
To get involved, contact: Harry Mcilroy – e-mail: macsmail@hotmail.com – phone: 0917266648
[1] The Australian Fashion Report launched 19th August 2013 by Baptist World Aid and Not For Sale Australia