A famous M5 student who has become a sensation for his outspoken views, which are controversial to many Thais, has revealed his latest bout of sass by rejecting a prestigious award.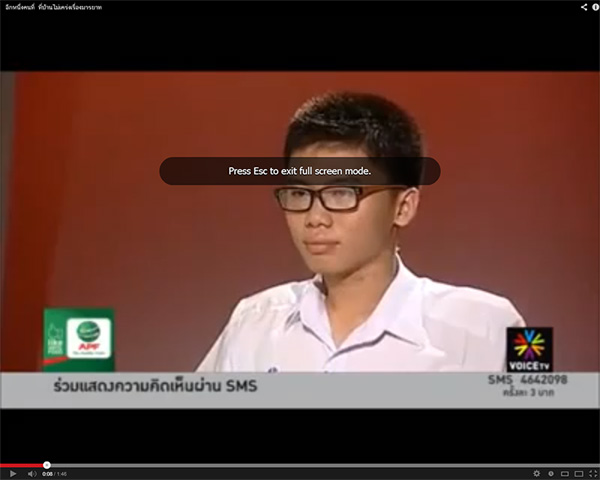 The National Human Rights Commission offered Netiwit 'Frank' Chotipatpaisal a nomination for an award, which Netiwit promptly rejected. The nomination for the Human Rights Youth Award was for his involvement with the Thailand Educational Revolution Alliance, which has helped overturn laws after months of campaigning for change in Thai schools.
Netiwit has said that he doubts the NHRC is sincere about human rights violations, judging by their indifference to the political violence towards protestors in 2010, as well as their lack of concern about the country's limited freedom of expression.
Perviously, Netiwit had sent a letter to the NHRC on behalf of the Students for Education Reform group, and never received a reply, which added to his suspicion of their apathy about human rights.
The rejection letter that he wrote to the NHRC, in English, follows below:
A Letter of Declination of the Nomination for Human Rights Youth Award and a Proposal to National Human Rights Commission of Thailand
Dear Chairperson of the National Human Rights Commission of Thailand and the Committee
Recently, I have been informed by one of the commissioners that Professor Amara Pongsapich, the chairperson of Thailand NHRC and Ms. Visa Benjamano, commissioner of Thailand NHRC, have kindly nominated me as a candidate for the Human Rights Youth Award winners. Owing to my contribution to Thailand Educational Revolution Alliance, which fights for human rights in school, especially in hairstyle rules, I am very pleased by the news. It is an exciting news for a juvenile. However, I would like to decline the nomination because:
1. I am not good at sending my resume for consideration for any award.

2. How many of the commissioners are there who truly care about human rights? How about the 2010 military crackdown? It seems like you ignored the people who were affected, even though they are all human as well. Their freedom of thought and speech was violated.

3. On behalf of Thailand Educational Revolution Alliance, I once sent a report on human rights in school to the NHRC, but I received no reply. So how could I know whether the commission is sincere about its vision and goal?
Accordingly, those are reasons for declination. Human rights in school are still severely violated, like hair rules. Freedom of hairstyle is still limited in many schools. Even the Ministry of Education pays no attention to students' freedom and rights. Therefore, the 21th century vision of becoming an ASEAN community and citizens of the world would become meaningless. In essence, my proposal to Thailand NHRC is for the commissioners to be actual supporters of universal human rights. Do not cling onto conservative Thai culture. Under such an ongoing circumstance, I feel for the commissioners. So I would like to express my concern as well.
Finally, if you are sincere and truly support human rights, which include rights over one's own body, the winner of Human Right Youth Award this year should be "all Thai students who are fighting for and supporting human rights in their schools". They are the true human rights activists, who have put up with social sanction in schools by their friends, teachers, or even the Ministry of Education. If you grant the award for these students, I would express my deepest gratitude to the present Thailand NHRC.
Best regards,
Netiwit Chotiphatphaisal
student
*I would like to nominate Mr. Tai Panitan Prueksakasemsuk, a student of Thammasart University and the son of Mr. Somyot Pruksakasemsuk , for the award recognition either as a representative of his father or a youth award. If possible, doing so would restore the prestige of the committee.