No superhighways, ring roads, or concrete roads. The main roads to Hang Dong and Doi Saket were tree lined 2 lanes…No Tesco, Carrefour, Big C or Makro. Tantrapan and Niyom Panet catered to consumers but TVs made in Japan cost $450. $1 was 25 baht.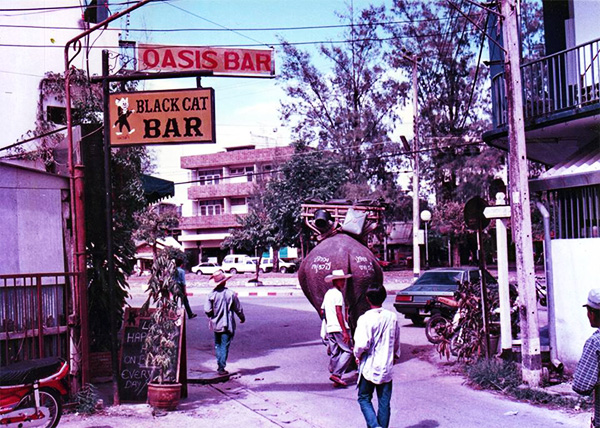 End of Ratchamanka Road and moat in late 80s (All Photos David Unkovich)
Traffic was mainly trucks, buses, working pick-ups and Honda dreams. Lots of students rode bicycles. Cars cost a small fortune and were confined to the very rich. Westerners couldn't own a car. A big bike was a 125 Honda Wing. Then 150 2-stroke racers came out and they were the fastest local bike on the road. Big bikes were available from Japan but it was very hard to get spares and repairs, waits lasted 4 or 5 months, officially they were illegal.
The fax was taking over from the telex but phone lines were scarce and offices charged $10 to send a page to England. An overseas phone call took hours at an office. Beer was a choice between Singha and Amarit, and it was cheap, $1 for a small bottle. Thai brown alcohol with ice and coke was the 'get drunk' drink.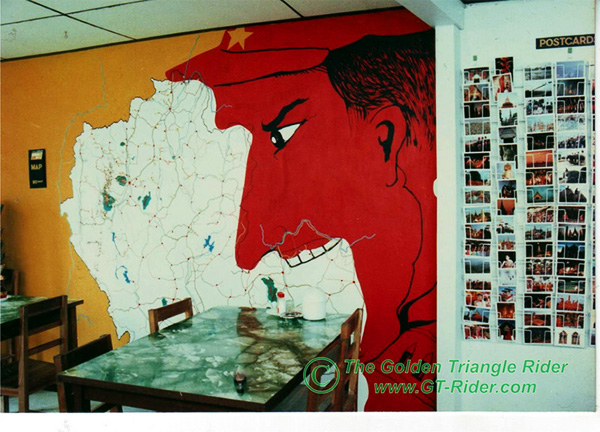 The only bookshop back then. Communist threat?
Loi Kroh was a road of temples, not girlie bars. Moon Muang and Thapae Gate was where it happened. Darets and Top North cornered the back packer trade and there were maybe three foreign run bars where you could play pool and darts with girls who said "you handsome man."
A take away bag of food in the market was 3 baht. Western breakfast was flat, square toasted white bread, two fried eggs, warm ham and tomato ketchup.
Instant was the only coffee, always with sugar and creamer added. The main source of decent western food was the Bierstube, German sounding, but all Thai owned and run. We all got bread, oats, marmalade, cornflakes etc. at Kasem. David Unkovich had the second hand book shop, café, and the place to look at a map showing northern Thai motorbike rides.
There were only three reasons to go back across the Ping River: heading for the railway station to leave, using the main post office to send a parcel home, or to splurge on a night out at the Riverside restaurant.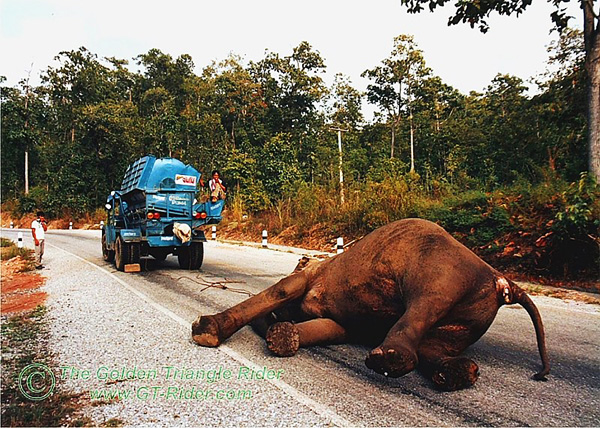 Trying to move an elephant that died in the road
There were no high rise condos. It was a quiet drive through the countryside to go to the university or zoo. Nimmanheamin was a politician, not a traffic jammed shopping district. You could clearly see Doi Suthep unless it was raining. Visa runs were train trips to Penang taking a week in all. Laos and Burma were not open for tourists.
Foreigners didn't have proper jobs (finance, insurance, real estate) and marriage to a Thai was rare. After a long stay here you had to get tax office clearance to leave the country. The immigration office had maybe ten customers a day.
Next time you complain about the fetta, bemoan the lack of your favorite rye/oat bread or have trouble booking Air Asia on the internet while sitting in Starbucks give it a thought. Always changing, maybe better, maybe not.