Following some controversy concerning Chiang Mai Expats Club former president Alan Hall, including defamatory rumours on local web forums that Hall may have used the club as a marketing tool for his businesses, changes have been made at Chiang Mai Expats Club. However, new president Nancy Lindley, hailing from Michigan, USA, says the recent stories concerning Alan Hall and his financial investments company, PFM, is in no way a consequence of the recent changing of the guard.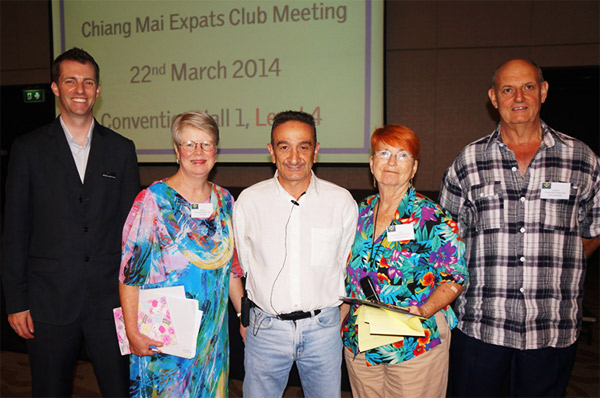 Nancy Lindley, second from left
Lindley, who has been retired in Thailand since 2008, was on the board of the club for three years before she was elected to become the new president. The situation vacant she explains, came about because Hall resigned due to health problems.
The board now consists of:
Nancy Lindley – President
Lucy Coombs – Secretary
Trevor Dobson
Charles Gross
Jenny Croyston – Sponsor Manager
"It was a question of who was going to step in," says Lindley, "and I was happy to step in."
She says Alan Hall and his associate Richard Prouse were "fully cooperative" during the transition, and left the club with what she called a "healthy bank account."
"Any concern that Alan was taking money is totally unfounded," she adds, and states that Alan Hall resigned because of ill health.
Alan Hall, says Lindley, presently has nothing to do with Chiang Mai Expats Club. "Alan's businesses are no longer sponsors," she explains, telling me that Hall has pulled his sponsorships from the club, and is now in the process of re-structuring his businesses.
Her contention is that the Chiang Mai Club has never been anything but a guide for local expats, and while services offered may be those of the sponsors, she believes those services are of great help to people in need.
Lindley is a case worker with Lanna Care Net, a service set up by the British Honorary Consul and the American Consul to help the foreign aged in Chiang Mai when in times of trouble. She says the Expats Club is there so people won't need to rely on the help of others when they, as she puts it, "come to the end of their stay."
If we can help people when they first get here, they won't need Lanna Care Net," she says, "so many expats live isolated lives, and then trouble comes back to bite them."
The club does offer all kinds of interesting and helpful advice, as well as giving useful talks designed to inform Chiang Mai Expats. Most of the 500 or so members (around 100-150 turn up to meetings) are new to Chiang Mai, or are retired in Chiang Mai.
Lindley says she does not feel the reputation of the club has been affected following some online negative comments, and she adds that after the resignation the former president the audience was invited to put questions to the board and no one asked about the change in presidency, or the rumours circulating around the internet. Lindley does not want to comment either on the rumours about PFM.
She does say that, "Alan rescued the Expats Club, without him it would have ceased to exist. He brought in better management skills, staff, time, energy, and turned it into a professional organization."
Halls businesses including PFM and Chiang Mai Insurance are no longer sponsors of the Expats Club, although, "parts of Alan's businesses may still re-apply," she adds, "and be considered just like any other applicant.
The Expats club meets:
2nd Friday of every month 10 a.m. -12 at River Market restaurant (next to Iron Bridge, Charoen Prathet Road). Buffet breakfast, or just coffee or tea, available. Next meeting April 11th. More informal gathering.
General Meeting with guest speakers at Le Meridian Hotel. 10.30 a.m. 12. is 4th Saturday of every month but not in April or December.
www.chiangmaiexpatsclub.com