For most expats on an extended stay in Thailand, a visa run is inevitable. Over the course of nine months in Chiang Mai, I managed to foul up some aspect of every border crossing, both to Mae Sai and Vientiane.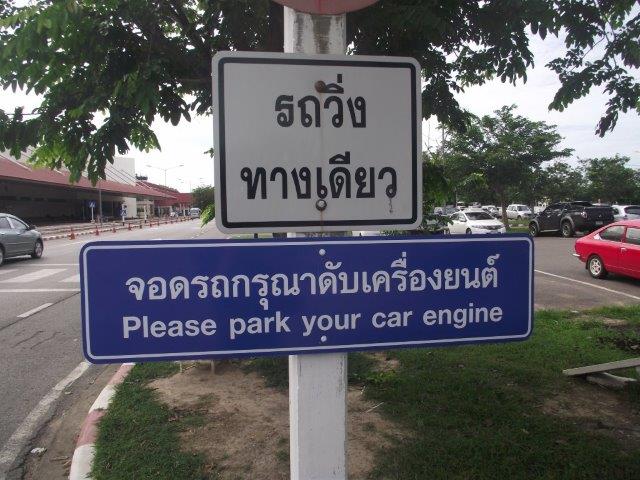 In each case, the visa process is relatively simple. A border hop into Burma via Mae Sai involves showing your passport, walking across a bridge, and paying for a new two-week stamp. There is a wider range of visas available from the Thai Embassy in Vientiane, Laos, which can accommodate workers, students, volunteers, and long-term tourists. The process is a bit more complicated than at Mae Sai, but if you read the embassy signs and ask a few questions, it is still simple enough.
The potential difficulties, however, lie in the transportation quandaries.
Hippie Stank
At the time of my first Mae Sai run, I had just arrived in Chiang Mai, was staying at a cheap guesthouse, and so booked the advertised minivan package. It was convenient, I suppose, to be picked up and dropped off, although at the expense of a bit of coin, a whack of comfort, and a surfeit of travel time.
The trip from Chiang Mai to Mae Sai takes about four hours, provided traffic conditions are normal. Depending on the pick-up order that morning, you could easily expect an extra hour added to both stages of the trip, so what is an eight-hour ordeal becomes ten, and for about 300 baht more. It's also worth noting that there is only one stop, in Chiang Rai, for a pee break.
These factors alone would have kept me from taking a second minivan trip, but my resolve to try the bus was underlined when the AC stopped working. We had just squeezed back into our intimate quarters on the way home from Mae Sai. Everyone looked up as the fan, above and behind the driver's seat, sputtered a slow death. What had previously been a mild odour from my left-hand comrade became airborne nam phrik, a biting concoction of his discomfort, with patchouli undertones set against a general distaste for bathing.
Fecal Proximity
My subsequent Mae Sai runs were by bus. While not the ideal way to spend the day, it is a step up from the minivan experience, although there are still some prudent guidelines to follow.
The most important is simple: buy your ticket at least two days in advance. The buses don't always sell out, but the good seats go quickly. When this short-notice affair happened to me, I was quite excited to see that the very back seats were still available. Hindsight says I'm foolish for not guessing why that was.
Most of the buses have a toilet. The toilet is at the back of the bus. The bus is air conditioned, but the toilet is not. And since many people in Thailand choose to bin their toilet paper instead of flushing it, well, I think that's explanation enough. The woman seated beside me laughed when I pulled my t-shirt up over my nose, but when the next death waft hit her, she blinked tears and burrowed into her lapel. In other words, if you arrive at the Arcade station and seats are only available in the last two rows, tell yourself the bus is sold out and seek alternative transportation.
A Ticket and a Half
On another short-notice occasion, Greenbus had only a one-way ticket left to Mae Sai, but all the tickets coming back were taken. But fear not, the kind attendant declared – you can get a ticket back from Chiang Rai. All I had to do was hire a minivan from Mae Sai to Chiang Rai. Oh good.
I lined up on the curb of the Mae Sai station, awaiting the next minivan. I had no ticket, as they are sold by the driver. By the time he arrived, there was a substantial crowd. Twice the number of humans, to be sure, than the minivan could accommodate.
The driver hopped out and threw open the rear sliding door. The locals, knowing the process instinctively, bolted and battled to claim a seat. Along with the four other farang in my midst, I stared dumbfounded at the ordeal, wondering how on earth I would get back.
After another inquiry, I discovered there was a bus leaving shortly for Chiang Rai. It cost only a few baht more than the minivan, and it looked mostly roadworthy.
No assigned seating and no toilet in sight – I grabbed a spot on the back bench. The other few open seats were gone in a minute. Then the bus boss – I don't know what else to call her – started loading the cargo. She filled what I thought was every remaining inch with luggage, and then started pushing more people in on top. The aisle was full when we left the station, and as I marvelled at her achievement, she whistled at the driver to stop and yelled for everyone to squish some more.
Sleeping Pills, More or Less
Some people can hop on a bus and happily doze for hours. That's not me. Once I'd got the Mae Sai routine down, it was still an arduous journey, even with a good audio book and no wafting funk.
If you find yourself in love with Chiang Mai, you had better consider a jaunt to Laos. The Thai embassy in Vientiane is a short hop across the border, and they can outfit you with a range of visas, including the Non-immigrant B (needed for a work permit or educational stay), and the 60-day single-entry or double-entry visas for long-term tourists.
The most difficult segment of the Vientiane run is the bus ride from Chiang Mai to Udon Thani – approximately 13 hours each way. From there, you need to get to the Friendship Bridge, which is another hour to the north, just outside Nong Khai. Your best bet is to latch onto anyone also headed to Vientiane. Pool your bartering skills and split the costs on a ride straight to the bridge, and again on the other side.
At the outset, my main concern was surviving the first 13 hours. On the advice of a friend, I went into a pharmacy to inquire about drug-induced sleep, but they didn't sell sleeping pills. I asked after alternatives, and she recommended an antidepressant with sedative side-effects.
I had faith in her professionalism, and so I downed three yellow pills as I settled into my window seat. Apart from the blasting AC, for which I was happy I wore trousers and socks, my journey melded time and space into a fuzzy and even comfortable dream.
Upon arrival in Udon Thani, I was still soaring. Moon-eyed, I didn't think to recruit travel mates. I vaguely recall crawling into a tuk tuk to transfer to another bus station. From there I took a bus into Nong Khai. And from there another tuk tuk, which more or less delivered me to the Friendship Bridge.
More or less: we stopped along the highway at an 'immigration agency'. A very kind and uniformed woman explained the visa process in perfect English. She helped me with the forms, and even exchanged some baht into US dollars for the Laos visa.
I began to sober up when she gave me the final bill – four thousand baht. The perk of using her service, she said, was a free ride into Vientiane. As my visa was 1000 baht, and the Laos entry was 1400, this free ride was somewhat closer to 2500 baht.
Practice Makes Perfect
I sorted out a 600-baht-a-night guesthouse only two blocks from the embassy, and found a decent restaurant up the street, but I absolutely failed to understand the difference between the single- and double-entry visas, so whereas I thought I was saving myself a cool 1000 baht, I was ensuring an otherwise unnecessary return trip to Vientiane in two month's time.
When the time came, I couldn't face the bus again, especially not when I learned that flights to Udon Thani ran for 2500 baht or less. So I booked what seemed like an efficient itinerary. I would leave Chiang Mai at 07:45 and be on my way to the Friendship Bridge by 09:00. I'd drop off my visa application like a pro, check into the same guesthouse, pick my passport up the next day, and fly back to Chiang Mai that evening.
Of course the airport shuttle to the Udon Thani bus station left five minutes before I got through security. And rather than suck it up and jump in a tuk tuk, I decided I had plenty of time, and so sat under a tree with a book to wait for the next shuttle at 11:00.
I was at the Friendship Bridge by noon, fully confident of my progress. I bought a minivan ticket, and we set out at 13:00, meandering through the city outskirts until I was the last passenger. It was approaching 15:00 when the driver turned to grin at me. The embassy was now closed, she said, but of course she knew of a good hotel. I asked to go to the embassy anyway and sunk back in my seat. I hadn't internalized a very important part of my first trip.
The embassy is open for applications from 08:30 until noon. Then it closes for an hour. From 13:00 to 15:00, it's open for visa/passport pick-up only.
I walked into the 38-degree afternoon feeling dejected and a bit silly. The guesthouse was full, so I booked into the Saradith Hotel – a block to the north, and a whack nicer for the same price. There was only one option left to me. I set out to find an internet cafe so I could change my flight, no doubt for a hiked fee.
I was quite content to accept my lesson in hastiness, another chapter in my ongoing basic training. But that was when the next panic-borne-of-idiocy set in – I'd left my credit card back in Chiang Mai.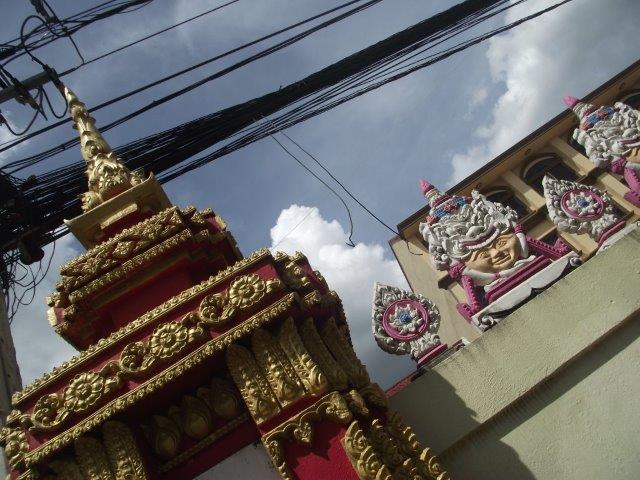 Know Before You Go:
Visa requirements can vary by circumstance and nationality. Visit the Chiang Mai Immigration Office for information about what visa is best for you, and what documentation you will need to bring.
CHIANG MAI TO MAE SAI

Costs:
· Return bus ticket – between 250 and 700 baht depending on class
· Two-week Thai visa – 500 baht
· Lunch in Mae Sai – 30 to 100 bath
· Afternoon beer break in Chiang Rai – 30 to 60 baht
· A day spent in intangible suffering – priceless
Top Tips:
· Don't take the minivan
· Book bus ticket two days in advance
· Get a seat far from the loo
CHIANG MAI TO VIENTIANE

Costs:
· Return bus ticket – 1200 baht (go VIP, seriously)
· Return flight – 2300 baht (price varies)
· Transit to Friendship Bridge – 50 to 100 baht
· Laos visa – 1400 baht
· Transit to embassy – 50 to 100 baht
· Thai visa – 1000 to 2000 baht
· Guesthouse – 600 baht per night
· Food – 100 baht per meal
· Beer Laos – depends upon your commitment
Top tips:
· Don't rush it
· Find a haggle/travel team en route
· Drink
· Ask questions
· Trust no one
David Griffin Brown is a Canadian MFA student adrift somewhere in the Pacific. Aside from writing, he spends most of his time renaming constellations and fighting evil. Follow his travel adventures and creative writing mishaps at http://deathsquadmuffin.blogspot.com
/* Style Definitions */ table.MsoNormalTable {mso-style-name:"Table Normal"; mso-tstyle-rowband-size:0; mso-tstyle-colband-size:0; mso-style-noshow:yes; mso-style-priority:99; mso-style-qformat:yes; mso-style-parent:""; mso-padding-alt:0in 5.4pt 0in 5.4pt; mso-para-margin-top:0in; mso-para-margin-right:0in; mso-para-margin-bottom:10.0pt; mso-para-margin-left:0in; line-height:115%; mso-pagination:widow-orphan; font-size:11.0pt; font-family:"Calibri","sans-serif"; mso-ascii-font-family:Calibri; mso-ascii-theme-font:minor-latin; mso-hansi-font-family:Calibri; mso-hansi-theme-font:minor-latin; mso-ansi-language:EN-CA; mso-bidi-language:AR-SA;}