The recent story of the 13-year-old girl raped and murdered on a sleeper train has shocked readers and caused extreme outrage across the country, with many people calling for the death penalty as punishment for this heinous crime. But now a different rape victim has come forward triggered by the horrific story, raising many more issues with her question, "Why has this happened again?"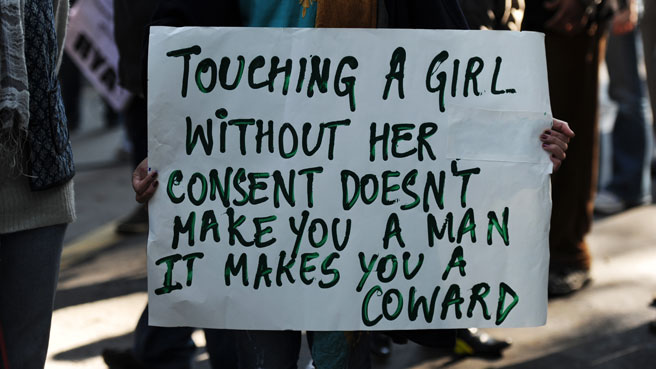 A sign at a Slutwalk protest march, which now take place in cities all over the world.
"I heard about the heart-wrenching incident and wonder how could there be another victim after me? Why wasn't I the last?" These words came from a woman who was also raped by an employee of the State Railway of Thailand (SRT). The incident occurred in her bed compartment 13 years ago, and the woman is still haunted by the event to this day.
"Thirteen years ago, if you even remember. A graduate student was raped in her bed…" She wrote in her letter to General Prayuth Chan-ocha and Prapat Chongsanguan, the recently-sacked Governor of SRT. The woman had been on an overnight train from the far southern province of Narathiwat to Bangkok when the terrible incident took place.
Her rapist was named as Nattapat Chakkachai, and he was sentenced to nine years in prison for his crime. He had tirelessly fought the charge in court, claiming she had consented to sex, and when he was finally sentenced, the court said that he only received nine years because the victim was "well-educated" and "already had a boyfriend". These preposterous attitudes are yet another consequence of the festering rape culture in Thailand, where it is estimated that one woman or girl is raped every 15 minutes.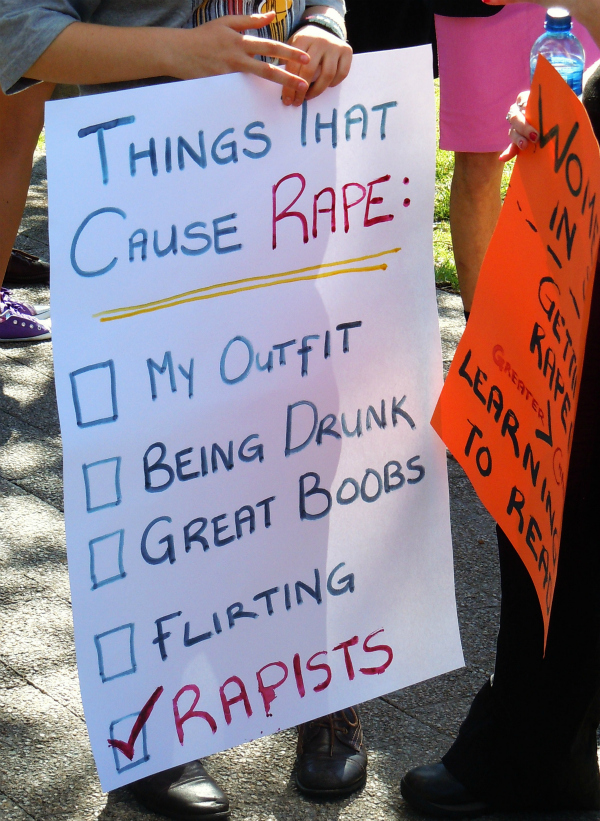 A sign at a Slutwalk in Cape Town in 2011.
But the victim in this story feels that the price she has had to pay is far greater than her attacker's nine years. At the time, she was a successful marketing manager at a private company, as well as working towards her Master's degree. But since the crime took place during a business trip, her company felt compelled to fire her out of embarrassment.
"I had to visit a psychiatrist for years because I hallucinated and could not control myself." She wrote in her letter. "Every night, I have nightmares. I'm afraid of people around me, and I don't trust anyone. It has been 13 years, and I still find it difficult to live a normal life," She now lives in Greece, where she moved to escape the stigma of being a rape victim in her own community.
In her letter, she directly confronts the state railway head Governor Prapat, "Are you sure in the past 117 years that the organization has operated, there was never a rape before this one?" she said. "I'm not sure how you were assigned to this position, but haven't you heard a woman was raped before by your worker? Do you think you still deserve to run this organization?" Prapat responded by asking if his removal would really help the situation at all, yet he was still swiftly fired by General Prayuth in the midst of all the negative attention.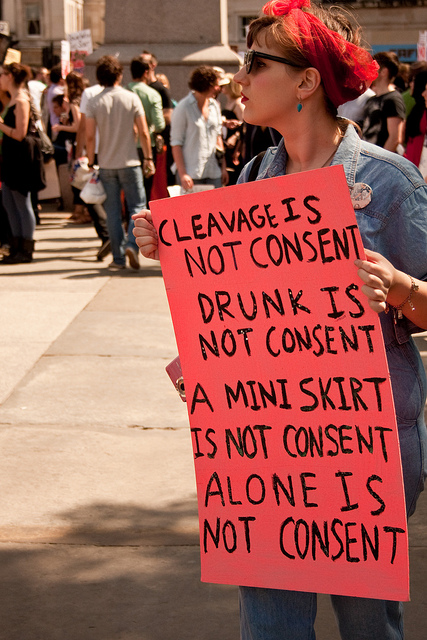 Another sign at a Slutwalk, this time in London in 2011.
She then went on to question whether the railway would try and sweep Kaem's rape under the rug like hers. She asked if their solution was to simply fire the employee and act like everything is over, just as they had done with her case. "Is it time for us to do something to the society in order to feel safe, so that we don't have wonder who would be the next victim." She said. Even though the case gathered huge media attention back in 2001, it did nothing to improve safety standards for women on SRT trains around the country.
Kaem's rapist, Wanchai Saengkao, recently admitted to committing rape before, and now, another disturbing piece of information has come to light in this case. Apparently, a relative of the 22-year-old man had pulled strings to get him a job at the SRT, which has long been plagued by corruption and a crippling inability to change for the better. Despite the man routinely drinking and getting high on the trains, he managed to go unnoticed even after raping two other employees of the SRT. The connection who had secured his job had also managed to conceal his two drug-related prosecutions present on his criminal record.
Now, the SRT promises to improve their background check methods, and has mentioned the possible implementation of female-only cabins. However, there has been no confirmation to whether these compartments would allow male workers in them or not, and in terms of practicality, these sections would pose a problem for women travelling with male partners, friends, or relatives.
Here is a page listing NGOs and organizations that work to prevent and remedy gender violence and rape. Many of these organizations have a presence in Thailand, such as Amnesty International, Human Rights Watch, and V-Day Chiang Mai.