It was the year 2008 when I first got addicted to chat rooms. Myspace chat rooms were one of the places that I escaped to from my real life. Every late night here in Thailand, I sat in front of my computer and made sure that I have my fridge stocked up with snacks and drinks. Then the games began. I found myself there arguing, cursing, and making fun of people… or I ran into a hot guy that can make my night more magical than usual. I would use my best picture as a profile picture, even though most chatters in the room were not able to see your profile unless they were your Myspace friend.
I used to believe that chat rooms were a better way to meet or date someone. You don't have to dress up and go out at night and try to impress someone. You don't have to order cosmopolitans and make sure every your body language is all sexy. All you need is the skill of typing. I always felt safe when I used chat rooms and most of all, I felt I could be myself. All the pictures that I used I had to make sure that they are beautiful. Not just normal, but beautiful. Hundreds and hundreds of picture down to less than 20. My profile can't be simple. No, not simple. For a Ladyboy like me. They have to be perfect. They have to see this beautiful Asian person not a beautiful man. Yes, I am a ladyboy. Transvestite, Cross Dresser or whatever you say to describe people like me.
The Beginning Of Me
When you were born as a boy but always think like a girl, life can be difficult. Not just to you but to people who surround you. You have to overcome them and make them believe that what you believe can be right as well. You have to go against religious beliefs and other people's personal rules to be yourself. When I know that I am walking on the right path of my life trying to be the person that i am comfortable with then for me there's nothing or anyone who can change me from who i really am. A Woman.
Being Who I Wanted To Be
In a chat room, I can be a woman. I can speak or write as a woman I can feel like a woman and say things that I want to say. I don't have to put lip stick on or check my hair every 5 minutes. I can just be me through the monitor. hoping that someone will actually come to me and try to get to know me as I am. Sometimes I failed to connect with a guy. Sometimes the guy turned out to be a loser or even a FAKER. That's what we called it when someone pretended to be another person by using other people pictures. Waas I a faker? In my case I don't think that I am a faker. I used my own pictures, my own name and didn't lie about my location or about what I do in life. I don't think it's wrong, when they assume that I am a woman. For me, I am a woman now but I wasn't born like one.
From time to time I ran into a hot guy in the chat room. Most of the time they were American boys or from the UK. Why? Because for me it's easier to chat with Caucasians who communicate in English. Nothing serious in our conversation. Sometimes we just admire our looks or our personality but end up with a good night. Sometimes we took things further and became online lovers and set our status to "In a Relationship". But really? Seriously, I don't believe in long distance relationship. I don't think anyone will ever want to be in a relationship with me if I actually tell them who I really am.
The Truth/Confession
The confession of Sarah AKA me happened when I met Nick (name changed). When I met Nick he was only 20 years old and living with his parent in Chicago. I saw Nick in the chat room a few times, but we never really talked. In Myspace chat rooms you had 2 options to chat: The first is to chat in the open public area where everyone in the room can see what you are saying. The second option is to have a private chat. I rarely had a private chat with anyone as half of the time besides downloading movies and music I also had to read all the conversation in the main chat room of "20s-30s Single" where I usually hung out.
I never really gave much attention to Nick until one night he popped in the room with a new display picture. He's very cute in the picture. I have to admit that I was always into younger guy and this picture of Nick really got my attention. So I started to chat with him in a private room and it was a surprise that we both got along very well. Talking to Nick really made me feel good. We never talked in a sexual way. When we both felt tired we would just excuse each other to pop more coffee or even red bull so we ccould stay online together. And if we had nothing else to say to each other we just cruised around on Youtube and sent each other songs.
When two people like each other, they start to want more and more from each other. It was no different for Nick and ne. We starting to get serious. It wasn't long until I saw Nick on webcam and knew that he wasn't a faker. He always asked me when I will get a webcam. I actually do have a webcam but I would never turn it on for him. No way he can see me without tons of make up and knowing that the girl of his life actually is a boy. So night by night I lied to Nick and asked him if my looks are more important than my heart. And that was even though I had seen everything that you could see on a web cam (and I mean EVERYTHING). Turns out Nick chose my heart. He trusted me and both of us talking everyday actually made each other happier in life. Nick doesn't have a good relationship with his parents and working as a carpenter doesn't seem to be what he wanted. All he wanted was to save money and come to Thailand be with me so we both can travel together and continue the life that we always talked about.
I remember getting myself ready and online as usual. A daily routine for me for the past 4 months after I first spoke to Nick. Nick told me he had some great news: He now had enough money to come to Thailand and almost $2500 left after purchasing the plane ticket to spend on traveling around with me. Wow. That was a big surprise for me. I didn't even know how to feel. Happy or sad. I left the chat room straight away and locked myself in a "blank" mode. I knew that if I let this whole thing continue I would end up hurting his feelings and even damage his life but most of all it's my heart that will be broken into pieces. I had to tell him. I had to make a confession to Nick that that girl that he loved and everything that he knew wasn't all real. I'm a ladyboy but I do love him with my heart and all the personal things that he learned about us is real. We do have things in common but still. I can't be the mother of his child like he expected. I was hiding from the online world, but kept reading all the messages that he left in my inbox, asking what was wrong and why I'm not speaking to him. I pulled myself together and wrote him the letter that he needed to receive.
I lost him. I lost the love of my life after I being honest and sending him that letter and making my confession. I didn't hear from Nick for 3 months. Not that I continued sending him emails because I didn't know if he hated me or want me to say anything. I thought it's over until one day I got an email. I remember it was 7th October 2008, just a few days before my mom's birthday. The email was short and simple. He said that he's in Thailand right now and he's coming up to my home town Chiang Mai tomorrow and he would like to meet up with me for a coffee. I replied to him straight away saying I would love to meet him after work and also gave him my cell phone number. I didn't slept that night. I had to plan all the things to do on the next day. Get my hair done, nails done, a new dress and most importantly: New high heels.
My phone is ringing. I'm on my way driving to the city while Nick is calling me. We arranged to meet at the restaurant by river, very romantic I think. For me, I was over the 'Us' thing but it would be nice to meet Nick at least once. I'm even ready if he will have only bad things to say to me. Or pull out a gun and shoot me. Or smack me with a pint of beer. I deserve that. We met outside the restaurant. Nick never looked better. It's funny that we didn't act strange or weird around each other. We sat down and ordered food and drinks and start to talk about our lives. What we have been doing during the almost 4 months that we haven't spoken to each other. Turns out Nick has been traveling in Asia for almost two months now and last week in Bangkok he got his wallet and computer stolen after he had invited a Thai lady back to his hotel. That's when he thought of me. That's when he said my picture popped up in his head that I always reminded him of how dangerous traveling can be if you don't study about places or things you should and shouldn't do. Especially Thailand. There are people that are ready to smile and stab you at the same time.
We spent a few days together in Chiang Mai. I drove Nick to almost every sight-seeing spot I could think of and got drunk with him at night and had great memories together. The memories that I can never picture to happen again. For once Nick made me feel like I was born as a woman. For Nick I will always be the woman that once made him happy and comfortable. The lesson learned was that maybe I have to stop to disguise myself and face the fact that it's not the past but the today and the future that I have to live with. Maybe it will be difficult and this world will not happily open their arms and welcome me to this world. But for some, I'm sure they can see me and feel me as another human being as well.
Earlier this year I found out that Nick and his wife Barbara (name changed) just welcomed a new born baby into their family and the little girl's name is "Yim" which is mean " Smile" in Thai.
Nick was to be my last love from Myspace chat rooms since Myspace shutdown the chat room in 2009.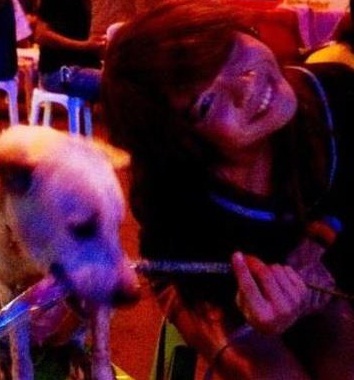 Sarah lives, works and writes in the northern province of Chiang Mai in Thailand. While you can't find her in Myspace chat rooms anymore, you can still get in touch with her via her profile on Facebook.
This article was first published at cupidslibrary.com