Long ago there was a dear little film about The Teahouse of the August Moon. I vowed to visit the original in Okinawa one day. This year, in spite of my family's worried opposition, I plucked up the courage and emailed the appropriate Tourist Office, only to learn that the famous Teahouse was closed to the public several years ago.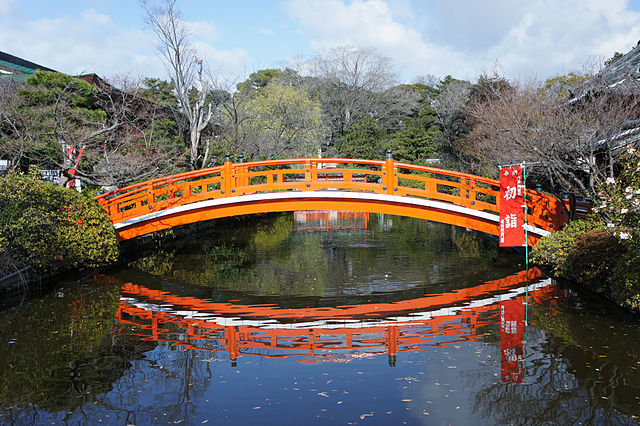 A beautiful bridge in Kyoto.
So I turned to my family and was rewarded with details about a working Teahouse in Kyoto (the Japanese Tourist Board thinks that everyone in Thailand understands Thai so they were no help). Thai friends to the rescue – they took me to a local Tourist Agency who managed the travel arrangements beautifully from Chiang Mai via Seoul to Osaka. The staff kindly wheeled me to the bus for Kyoto, which swept me swiftly to Kyoto Station, where I was carefully handed down, reunited with my suitcase, into a luxurious taxi.
I felt like trying the Japanese way so I booked a room in a traditional Ryokan. I knew I'd cope with a futon, although I am more or less wheelchair bound, but it was the rude awakening to Japanese en-suite bathrooms that really shook me. There was a two-foot high step up to the cabin and another huge step into the bath/shower! Not easily daunted, I scrambled up and washed myself at the basin, but descending was a nightmare until, remembering toddlerhood, I went down backwards.
Breakfast of raw fish, toast and orange was different, but I managed to reach the general store opposite my hotel, and with much help from shop assistants bought myself some edibles. The shop owner himself carried my shopping bag to the hotel for me!
From everyone I met such kind helpfulness and blessed my son for suggesting Japanese phrases to learn to thank them in their own language. The Ryokan owners found me such good taxi drivers, especially one who borrowed a wheelchair from the office and carted me along the path to the amazing Golden Temple, which is inaccessible by road.
He also pointed out all the shrines, temples and castles along the route to the countryside beyond Kyoto. Then we both had traditional cherry blossom cake (wrapped in a leaf) with green and black teas – cake and green tea together was rather strange but the black tea was delicious!
We then returned to Ryokan tired but happy, and ready for another adventure the next day. Among the leaflets on the Ryokan counter was one with the slogan What is Kitchen Nagomi? I discovered that many Japanese people who were devastated by the earthquake, tsunami and Fukushima nuclear breakdown fled across country to Kyoto. They are now working together creating Kitchen Nagomi as "a home for everyone and a symbol of support for recovery in Kyoto".
Of course I had to go there! But that day's taxi driver could not find Nagomi, so my kind Ryokan owner took me in his grand Mercedes Benz limousine. It was well worth it! The food was delicious in the company of such friendly people. Last came the greatest: witnessing the traditional Tea Ceremony at Gion Corner. How exciting to find that as well as Chado (tea), there was Koto (Japanese harp), Kado (flower arrangements), Gagaku (court music), Kyogen (ancient comic play), Kyomai (Kyoto style dance) and Bunraku (puppet play). Fascinated, I stayed for both performances!
What else is left but to return to my beloved Chiang Mai and dream about the next adventure? My 80th birthday!