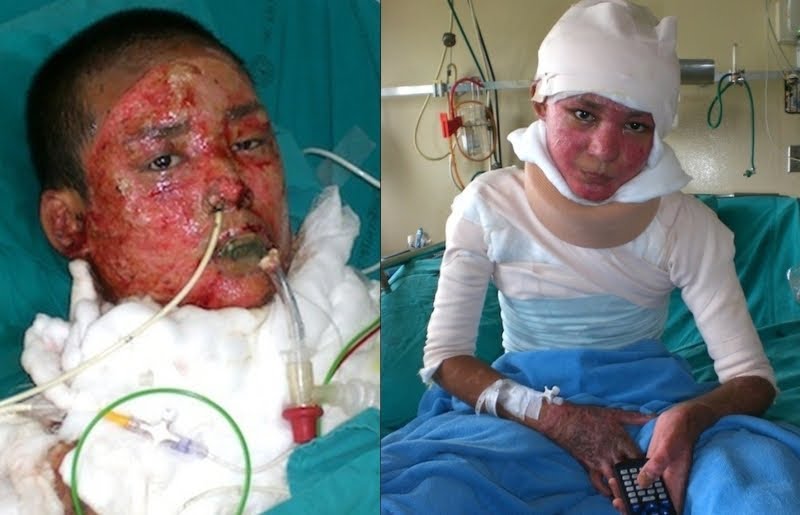 March 2013 – shortly after admission to hospital/June 2013 after ten weeks in the Intensive Care Unit.
This is dedicated to a young Karenni boy called Chaa Nay Choo (also transliterated as Sha Nay Htoo) who suffered terrible burns when trying to save others in the Mae Surin Refugee Camp inferno on 22 March 2013, where 37 people died.
Being stateless, he was not covered by any Thai government health or welfare plan, and would have died from his injuries had help not come quickly from external sources. He was transported from the camp by the International Rescue Committee (IRC) and admitted to the Suan Dok Hospital Burn Unit in Chiang Mai, where, if he was to survive, considerable funding had to be found for the many months of intensive care which lay ahead.
In addition to the IRC's help, and moved by his selfless actions, many compassionate people and organisations immediately came forward to help save the life of the 14-year-old boy, including Baxter Healthcare and Nestlé in Thailand, who donated life-saving medication and nutrients. The Best Friend Burmese Library in Chiang Mai (recently renamed the Burma Study Centre) operated by Garrett Kostin, became a centre for donations, and a Charity Gala Dinner was held on 01 June at the Imperial Mae Ping Hotel in Chiang Mai which raised over 232,000 Thai baht (approx US$7,700).


July 2013, with nursing staff and Garrett Kostin (far right).
For several weeks, the life of the seriously burned hero hung in the balance with several close calls, including one episode of cardiac arrest, plus numerous infections, influenza, bedsores, and fifteen skin grafting operations.
Update 30 September 2013
(Photos courtesy of Peter Biro/IRC)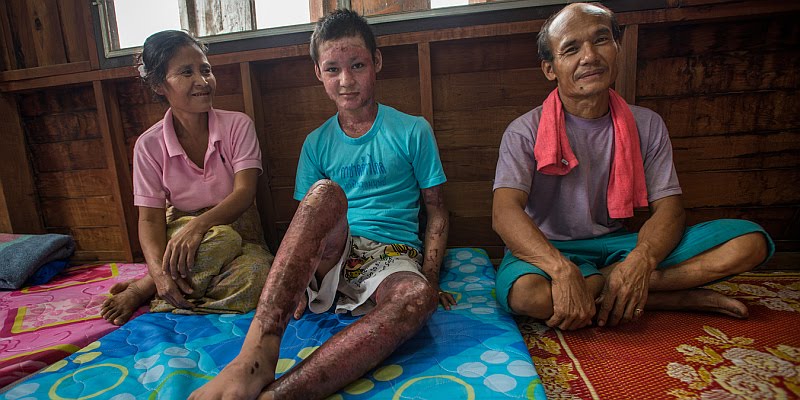 Chaa Nay Choo reunited with his parents.
Six months after being burned, and over five months in intensive care, the boy has returned to the rebuilt Mae Surin Camp and been reunited with his grateful parents. He revealed what he remembers about the fire that destroyed his home and left him severely injured. He recalls that along with an older brother, he was part of a group of five young men who worked to carry others to safety. Eventually, his brother ran away after being called by his parents, and sustained only minor burns. We know now that the other three boys all died.
The last thing Chaa Nay Choo remembers about the day of 22 March is being covered in flames himself, unable to continue helping others, and jumping into the river that bisects Mae Surin camp.
When asked what he would like to do in the future when has grown up, he says "I would like to visit a foreign country, if I have the chance. Then, I would like to come back here to help my people."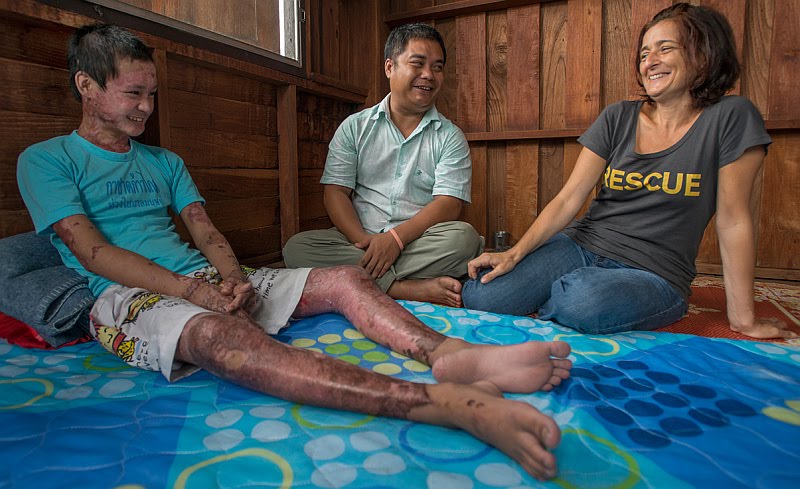 Chaa Nay Choo with the IRC's Christine Petrie (far right).

Still under the IRC's watchful eye, he is currently being looked after in the refugee camp's Health Clinic to ensure that the multiple skin grafts are not in any way damaged, or exposed to infection. When this danger is past, he will be able to return to the family's abode, and possibly even start school. Although he will need to wear special pressure garments on his hands and legs for at least a year, the lengthy series of skin graft operations he stoically endured can be considered a success. His face, which received relatively superficial burns compared to other parts of his body, is healing extremely well. He must wear a brace on his neck for the next six months to ensure that his neck muscles and skin wounds heal properly.
To complete his recovery and prevent possible dangerous relapses, it is essential now that he gets the right diet, medicine, treatment, together with physical rehabilitation exercises. The IRC has therefore developed a 6 month 'patient plan', including regular check-up visits to the hospital back in Chiang Mai where he was treated.

The essential aspects are:

A weekly visit by IRC Staff Doctor to evaluate wound healing, signs of infection, and gauge his developing muscle strength
Assess psychological aspects and provide motivational support
Ensure adequate access to hygiene care and general needs.
His special diet must include:

Protein powder
Vitamin C-rich fruits: (oranges, papayas, guava,..etc)
Medication necessary for wound healing:

Aloe Vera baby lotion (to prevent cracking of granulation tissue)
Vaseline cream / Petroleum jelly (to keep the wound supple, and prevent cracking)
Fusidic acid / Tetracycline ointment if there is crack, or any sign of infection
Physical rehabilitation to prevent scar contracture (twice daily)

Rehabilitation exercises by a trained physiotherapist
Scar massage
If you would like to assist in Chaa Nay Choo's recovery, and help to rebuild his life, please contact James Lenton at the IRC in Bangkok. He can advise what the boy needs most, and how best you can help him.

James Lenton
Deputy Director of Programs:
James.Lenton@rescue.org
This story was published for chiangmaiheritage.com