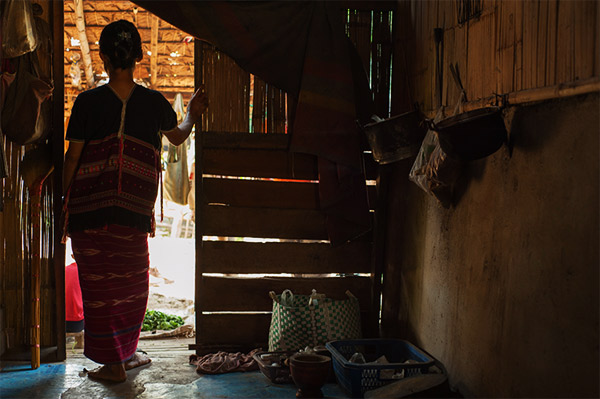 What started off as a small passion project of a volunteer at The Life Skills Development Foundation soon became a dedicated and integral initiative for the Chiang Mai-based non-profit. Limited in resources for media production, The Life Skills Development Foundation (TLSDF) relies on the services of volunteers with specific expertise, and photojournalist, Daylin Paul was the perfect candidate.
To give you some background, TLSDF is a core member of the Child Rights Advocacy coalition, and aims to promote and protect the rights of indigenous, hill tribe and ethnic minority children in upper Northern Thailand. In an effort to establish sustainable practices within these communities, TLSDF implements capacity-building trainings, income-generating workshops and rights empowerment education, among other activities. One of the primary programs, Orphaned and Vulnerable Children (OVC), aims to eliminate the societal stigma towards HIV-affected women and children, while aiding their social development.
In February 2013, Paul, joined TLSDF as a volunteer to simply capture firsthand images of various field sites necessary for donor funding and advocacy, but upon meeting several beneficiaries in the OVC program, he realized his expertise could provide a much larger contribution to TLSDF than originally planned. One woman in particular, Maw, an indigenous Karen tribe and HIV-positive mother, caught Paul's attention immediately. Her story affected Paul to such an extent that he found himself becoming fully invested in understanding the OVC program processes. He would return to converse with Maw many times throughout the next few months, gradually developing a close mother-son relationship with her, despite the obvious language barrier.
In Paul's own words below, he describes Maw's struggles living with HIV in a remote hill tribe, where quality healthcare is rare and social stigmas are rampant:
Maw (not her real name, but her title) is a Karen hill tribe woman living in a village in northern Thailand with her son. The Karen are one of many indigenous peoples that still live a traditional lifestyle in northwest Thailand and in southern Burma. Their traditional lifestyles mean that they are often cut off from modern conveniences and access to information, which we take for granted.
About five years ago, Maw became terribly and mysteriously ill and seemed to be on the verge of death when a volunteer from a local NGO, Rakdek, (also known as The Life Skills Development Foundation in English) helped her to get tested for HIV. The results came back positive, and she began a course of anti-retrovirals, which literally brought her back from the jaws of death and allowed her to continue to care for her son. Rakdek also helped Maw by buying her a pig, which, though it may not seem like much, is a sustainable and appropriate form of income for Maw, who knows how to raise and breed pigs.
So every day, except Sundays when she and her son go to church, Maw walks many kilometers of fields, farmlands and hills around her village to find food for her pig before coming home to take care of her son, who is now a strong, healthy ten year old.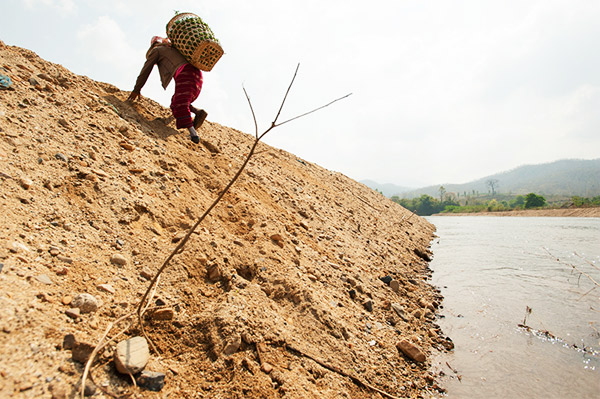 Visiting Maw today, you would never guess she had been so close to death; however, the impact of HIV/AIDS on individuals is not limited to health complications; the social repercussions are often just as serious. Because health education is nearly non-existent in indigenous rural communities, those living with HIV face harsh treatment and judgment from their peers through HIV-related discrimination. Stigma is often contagious, affecting the children, family, and friends of a person infected with HIV/AIDS. Children are especially vulnerable to the effects of stigma and discrimination with some of the social impacts being:
· Ostracism and exclusion from the community and/or extended families
· Verbal and physical abuse, such as bullying in schools
· Reduced self-esteem and confidence
· Withdrawal, depression, social isolation and other psychosocial problems
The effects have dire implications, as the children risk becoming excluded from their communities during imperative years of development. Ramifications are multi-layered, in part consisting of deep psychosocial effects and severe economic hardship.
It is this very stigma Paul and TLSDF intend to combat. Soon after his discussions with Maw, Paul embarked on a mission to bring her story to the public's attention and draw awareness not only to her plight, but also to that of all those affected by HIV in rural indigenous areas of Thailand. Through a successful Indiegogo campaign, Paul collected nearly $3000 from supporters around the world to kick-start his idea of creating a multimedia piece, which would bring the story to life through a unique medium. What resulted was a touching and raw portrayal of the life and struggles of Maw through a stop motion photo documentary film. So, without further ado, here is A Mother's Story by Daylin Paul:
[A Mother's Story, film on Vimeo: http://vimeo.com/80720077]
Through this film, TLSDF hopes to effectively advocate governmental policy for improved health care and social services in indigenous areas. Ultimately, the goal of the OVC program is to ensure HIV-affected children and their families enjoy the same standards of social acceptance, personal development and quality of life as others. By improving local health leaders' understanding of the importance of HIV-related health care, community involvement and social protection, and by building their capacity to lead networks (government, schools, health services and youth groups), TLSDF has begun to establish equal and universal access to high quality, rights-based, gender-responsive health and social services.
A final word from Paul:
We hear so many stories about HIV where people are portrayed as victims suffering, but I think Maw's story is one of hope and strength. For me it's about how a mother's love and will to survive has given her the strength to not only recover from the brink of dying, but also to live a kind of physically challenging lifestyle that most "healthy" urban people would probably not be able to do for six days a week.
While Maw's story has become one very close to my heart, it has an impact that extends beyond both her and myself. If this work is exhibited or published, it will be used as a tool to promote greater awareness about HIV in rural communities and also about the amazing work that Rakdek is doing to help people who live outside the scope of our modern influences. Many people living in cities and with access to television and the internet may know about the risks of HIV and how to get tested, but out in rural communities it's often the door-to-door work of these NGO's that make the difference between life and death, between family and orphan-hood.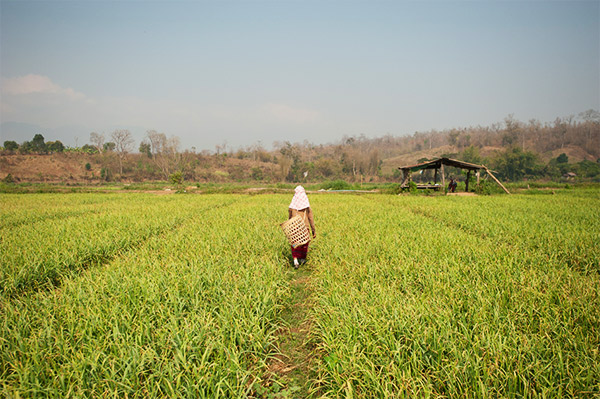 To find out more information about the project, OVC program or The Life Skills Development Foundation, please visit http://www.rakdek.or.th/.
And of course, donations are always welcome!
Direct Transfer can be made at Kasikorn Bank (green ATM):
Bank account name: "The Life Skills Development Foundation"
Bank account number: 414-2-11331-2
OR
Drop a baht in one of the over 70 TLSDF donation boxes located within Chiang Mai cafes and shops. One is at Wawee Coffee on Nimmanhaemin Rd. and another is at Suriwong Book Centre on Sridonchai Rd.
You may visit, call or email at:
114/19 Moo 2, Ban Jed Yod, T.Chang Phuak, A.Muang Chiang Mai, Chiang Mai 50300
+66 053.212757
tlsdf@csloxinfo.com