In a previous feature we introduced you to The Community Based Tourism Network (CBT-N), which has now organized a 31 day trip in March, all around Thailand, to meet and stay with the local communities. Over 20 communities will be visited, with the main aim to help them strengthen the ties between the communities and foreign visitors.

Community Based Tourism is a form of tourism where local residents invite you to share their culture, traditions and everyday life. The Community Based Tourism Institute, based in Chiang Mai, has over more than 10 years of experience with community based tourism. The organization was founded based upon the conviction that tourism can be a tool for community development and with the purpose to let the communities benefit from tourism development.

CBT-I cooperates with many communities in Thailand. These communities are different from each other, since they vary in culture and scenery, but also in their tourism development. The CBT road trip through Thailand has the main purpose to help the communities take a step forward by increasing their self confidence and help them market their tourism product better.

If you are interested in more information on CBT or participating in the road trip through Thailand, don't hesitate to contact the CBT Network (CBT-N) by visiting the Community Based Tourism Network website. You are also invited to follow the trip on the CBT-N Facebook page. For more information email: thaicbtnetwork@gmail.com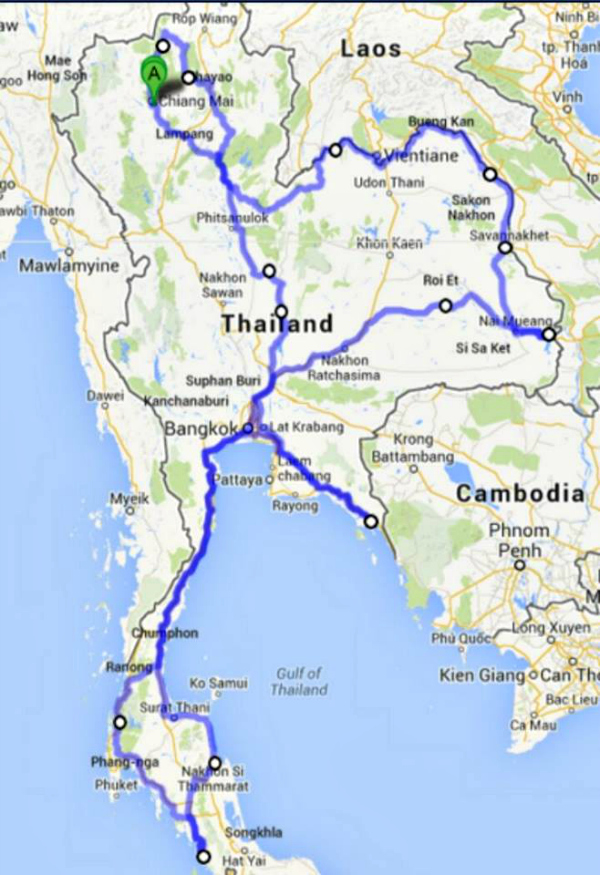 The route of the 31 day planned trip through Thailand.
Contact Information for CBT-I:
Office ::Room 206, Pentecost Building, Payap University, Mae Khao Campus Muang, Chiang Mai, 50000 ThailandAddress ::CBT-I Coordination Center The Thailand Community Based Tourism Institute Room 216, Pentecost Building, Payap University, Mae Khao Campus Muang, Chiang Mai, 50000 ThailandE-mail ::info@cbt-i.orgTelephone ::0-53948286-7Fax ::0-5380-7001