CityNews – The Thai shrimp industry is in danger of facing losses of up to 50 billion baht, due to a disease that wipes out shrimps' digestive systems, and has already destroyed 40% of the country's yearly output.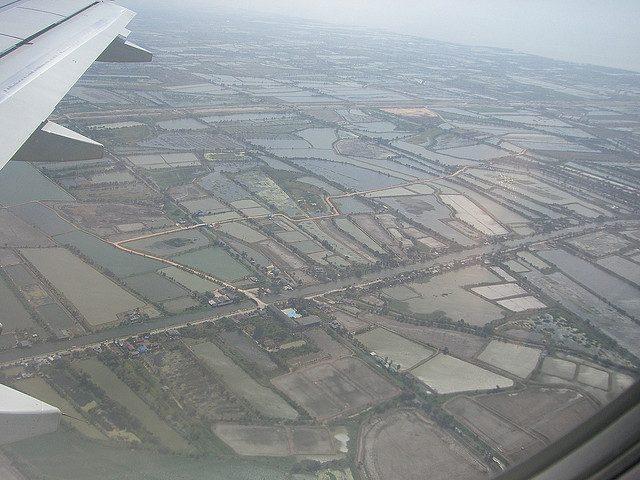 Shrimp farms in Samut Prakan.
The disease, known as Early Mortality Syndrome, was first confirmed in China in 2009, and has since hit Vietnam and Malaysia before making its way over to Thailand in late 2011. When EMS initially broke out in China, most farmers ignored it, and by 2011 the provinces of Hainan, Guangdong, Fujian and Guangxi had suffered almost 80% losses by the middle of the year.
Research by the University of Arizona shows that the disease is caused by orally-transmitted bacteria, which takes over the shrimps' gastrointestinal tract. A toxin is then produced which causes tissue destruction and infects the hepatopancreas (the shrimp's digestive organ). It causes shrimp to die within 20 to 30 days, and there is no known cure.
According to the Thai Frozen Foods Association, EMS has slashed Thailand's annual production of shrimp from 540,000 tonnes in 2012 to 250,000 tonnes in 2013. CP Foods reported that their profits dropped 70% from last year, down to 3.44 billion baht. The Thai Union Frozen Products Group, Thailand's biggest exporter, said that 2013 was a difficult time for the local shrimp sector, after their profits fell 54% from last year.
EMS now occurs in 11 out of Thailand's 25 provinces, and is and will continue to be hugely detrimental to the country's shrimp exporting business. The cost of shrimp has already jumped up by 20% in the United States, while the prices have almost doubled domestically.
However, the Thai Shrimp Association is positive that the industry will recover from EMS, and the situation will improve next year. The association predicted that the country's shrimp production would rise up slightly to between 300,000 and 320,000 tonnes.
However, local farmers and producers remain concerned, as survival rates of Thailand's shrimp have only grown around 10 or 15% since last year, up to 65%.