CityNews – Thailand remains one of the most popular tourist destinations for Taiwanese travellers, especially during the recent 2014 Songkran festival (5-21 April) when air travel from Taiwan to Thailand was reported to have increased by 15 percent with airlines recording an average load factor of 80-95 per cent during the period.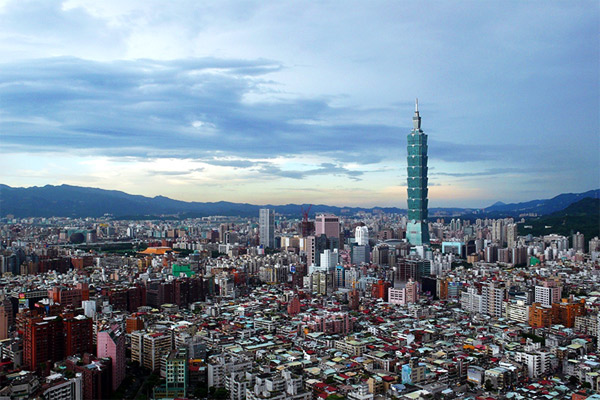 Taipei 101 looking over the city
The Tourism Authority of Thailand (TAT) Taipei Office has attributed the positive coverage by Taiwanese media on Thailand prior to the 2014 Songkran festival as, in part, helping to stimulate the demand of Taiwanese tourists to visit the kingdom during the Thai New Year. Several airlines, such as, Thai Airways International, Trans Asia, China Airlines and EVA Air also offered discount fares for air travel from Taiwan to Thailand during the Songkran period.
The strong demand is also due to the extensive marketing and publicity activities that have been carried out continuously by the TAT Taipei Office. To reiterate the awareness of Thailand as a must-visit tourist destination for first-time Taiwanese travellers and to stimulate repeat visits, TAT is currently organising more marketing activities and events between April and June 2014.
An Amazing Thailand Booth is to be presented at three major travel fairs in Taiwan, including the Taichung International Travel Fair in Taichung City from 25-28 April, the Kaohsiung International Travel Fair in Kaohsiung City from 16-19 May; and the Taipei Tourism Exhibitions in Taipei from 23-26 May.
To promote educational tour routes in Bangkok, Ayutthaya and Chiang Mai, the TAT Taipei Office is lending its support to the Kang Chiao International School to organise a 13-day trip for 172 teachers and students from Taiwan to the three cities in Thailand during 28 April-10 May, 2014. Special activities will include a welcome ceremony with a Khan Toke dinner in Chiang Mai on 2 May and a Muay Thai Live – the Legend Lives stage show at Asiatique the Riverfront in Bangkok on 7 May.
Thailand is considered a golf paradise by Taiwanese golfers, and to attract more Taiwanese golfers to play golf in the kingdom, TAT is organising golf seminars in Taipei, Taichung and Kaohsiung during 2-7 May, 2014. It is also organising the AET & MET  (Agents Educational Trip and Media Educational Trip) golf fam trip for eight Taiwanese golfers to participate in the Governor's Cup 2014 between 14-17 May. During the trip, golfers will get the chance to visit popular tourist attractions in Bangkok and Pattaya.
Mr. Thawatchai Arunyik, Governor of TAT said, "We would like to express our thanks to all the positive and accurate coverage by the Taiwanese media. During the recent street demonstrations in Bangkok, the media in Taiwan has reported that the protest has been peaceful, and that helps publicise a good image for Thailand as a safe tourist destination. Prior to the 2014 Songkran festival, the media in Taiwan highlighted the many fun activities to be expected in Thailand during the Thai New Year, and that also helped to stimulate Taiwanese tourists to want to visit Thailand."
In 2013, Thailand welcomed a total of 502,176 visitors from Taiwan, representing an increase of 27.38 per cent over 2012. In 2014, TAT estimates that the number of visitors from Taiwan will total 520,000.