CityNews – As industry in Chiang Mai grows, so does spending, or so says Mr. Tjeert Kwant, president, CEO and shareholder of ECC International Real Estate.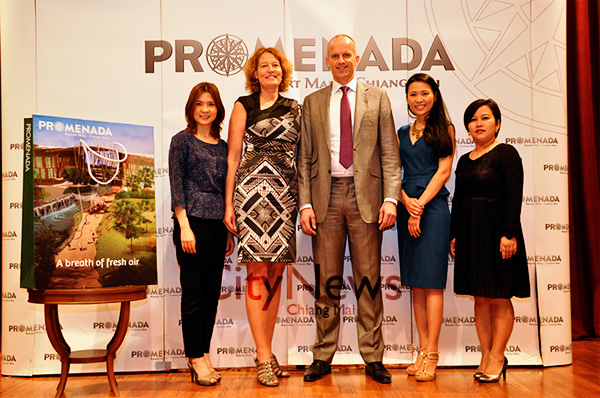 ECC is a Dutch retail developer that has created many successful shopping centers throughout Central Europe. The company has now extended its business to the Southeast Asia area including here in Chiang Mai. Promenada, a resort-style shopping mall, will be coming to Chiang Mai opening on 7 June. Kwant decided to build this new and upcoming mall in Chiang Mai instead of Bangkok. He believes that Bangkok already has grown to its fullest potential, whereas he sees a great future for Chiang Mai, with the opening of this new shopping center being a big step towards it.
Kwant says Promenada will bring a new and very different shopping experience to customers, something that Chiang Mai has never seen before. This massive investment of 2.9 billion baht is sure to impress the public with its ice skating rink and world standard cinema, which will present the European Union Film Festival from 13 June. 'More than just shopping' is Promenada's philosophy. It will mix together leisure, entertainment and shopping and will offer shoppers a choice between local, national and international retailers and restaurants. Local stores like Rimping Supermarket and Uniqlo will make Promenada affordable for everyone. Kwant says that even though this mall looks luxurious, it still has the same products and same prices, just with a different shopping experience. Step into this new shopping mall and take a 'breath of fresh air'. This is one of Promenada's marketing slogans because of it's gardens and nature-like atmosphere surrounding the shops. Kwant wanted to bring Chiang Mai's natural surroundings into the design, which will give Promenada a wonderful ambience.
Is this billion baht, resort-style shopping center necessary for Chiang Mai? Would the act of shopping mix well with relaxation? Even though there will be no large department stores taking away business from local retailers, will the international retailers overpower and draw in more customers? These are all questions people are asking. Until then we can judge this new addition to Chiang Mai for ourselves on 7 June when the soft opening will begin. During this opening there are plenty of activities planned ncluding a live performance by J. Jetrin. The other half of the mall is planned to open on 12 July.
Again, Kwant believes that Promenada will help build a better future for Chiang Mai. He says that it will take time to make it profitable, but his long term vision is a positive one. For more information about Promenada and all of its upcoming events visit www.promenadachiangmai.com.