CityNews – Online food delivery marketplace foodpanda/hellofood has spread to 40 countries in only 22 months – with a staggering year-on-year growth of 100 percent. Having partnered with more than 22,000 restaurants, foodpanda/hellofood is now a global market leader in online food delivery.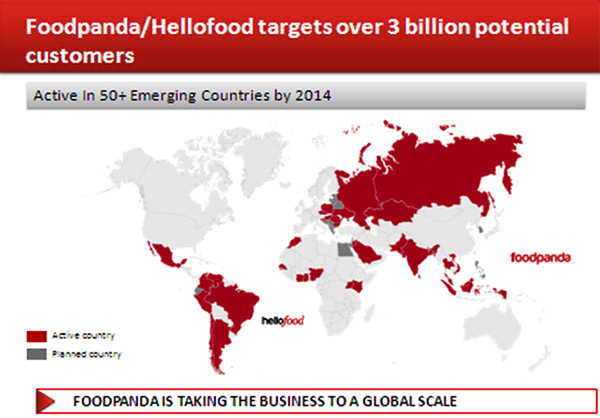 Countries which have welcomed foodpanda/hellofood in the first 2 months of 2014 include Algeria, Azerbaijan, Bulgaria, Croatia, Lebanon, Serbia, Kazakhstan and Uganda, with more to follow later in 2014. The company was active in 20 countries only one year ago, less than a year after launching in May 2012. The Berlin-based startup's rapid rise has made it the fastest expanding Rocket Internet venture to date in terms of country expansion.
''We're a global company," said Ralf Wenzel, Global Managing Director of foodpanda/hellofood "Getting to the new markets quickly gives us a huge competitive advantage. Our accelerated growth is proof that our model works and that our customers enjoy the convenience we offer to them. We have great local teams in every country we operate in and we will continue to work hard to make our products available in even more countries and look forward to the opportunities ahead.''
foodpanda, and its affiliated brand hellofood, have secured US$48 million in venture capital funding from a group of investors among them Investment AB Kinnevik and Phenomen Ventures.
# # #
About foodpanda/hellofood
foodpanda, together with its affiliated brand hellofood, is the leading global online food delivery marketplace, active in 40 countries. The company enables restaurants to become visible in the online and mobile world and provides them with a constantly evolving online technology. For the consumers, foodpanda / hellofood offer the convenience to order food online and the widest gastronomic range from where they can choose their favorite meal on the web or via the app. foodpanda and hellofood operate in India, Thailand, Indonesia, Pakistan, Singapore, Malaysia, Vietnam, Taiwan, Bangladesh, Azerbaijan, Kazakhstan, Russia, Poland, Ukraine, Hungary, Romania, the Czech Republic, Slovakia, Bulgaria, Croatia, Serbia, Brazil, Mexico, Argentina, Chile, Colombia, Peru, Saudi Arabia, Jordan, Lebanon, Nigeria, Morocco, Kenya, Ghana, Senegal, Ivory Coast, Rwanda, Tanzania, Uganda and Algeria. http://www.foodpanda.com/